In my fourth season with Eibar on FM20 we narrowly missed out on going one position better in the league compared to the season before. A poor performance on matchday 38 saw Atleti pip us to 3rd in the LaLiga table. That being said, I would've snapped your hand off to qualify for the Champions League for a second consecutive season. This plucky little club continues to punch above its weight.
I want to see us continue to punch above our weight and that's why ahead of my fifth season in charge I decided to splash a little bit more cash than I had done in previous seasons…
---
Big Money Signings
I'm very careful with money on Football Manager. I treat it like it's my own, and I'm a tight Scotsman. I think there's plenty of evidence of this across the last few years of me playing the game. I struggled to get my head around the amounts I needed to spend with Spurs on FM16 when I jumped ship from Morton. I was constantly scouring and finding value with the Red Bull clubs on FM17. Samo's Stirling was all about buying low, developing and selling high on FM18. I knew I wasn't going to be able to financially compete with Os Três Grandes on FM19 with Vitória so I had to do it differently there too.
The amount of money that clubs want for their players is ridiculous, sums that I could spend, but I'm just not comfortable splashing £30m+ on one player. It's not how I want to operate.

Me, 25/06/2016
FM20 with Eibar has been much of the same so far. Whenever I part with money, it's well thought through. Are they better than what we've currently got in the first team squad or do they have potential that they could become better than what we've currently got in the first team?
Going into the summer transfer window of 2023 and keeping in mind that we've qualified for the Champions League for the second time, I wanted to lay down a marker. The club is financially secure, the Modelo Eibar has been continued. Despite the huge gulf off the pitch compared to our closest rivals in the league table, we're continuing to compete with them. Champions League qualification has pushed the bank balance above £100m for the first time, that's with the lowest average attendance in the league, filling just 37% of the Mendizorroza (Alaves' stadium where we're currently residing, 19th spot in the average attendance by capacity percentage is 74%), the lowest number of season ticket holders and a mid-table income from sponsorship.
Of that £100m, £30m was allocated to me to spend on players. I splashed the majority of it on two. Here are our big money signings.
Pedro Porro
Could he be any more versatile?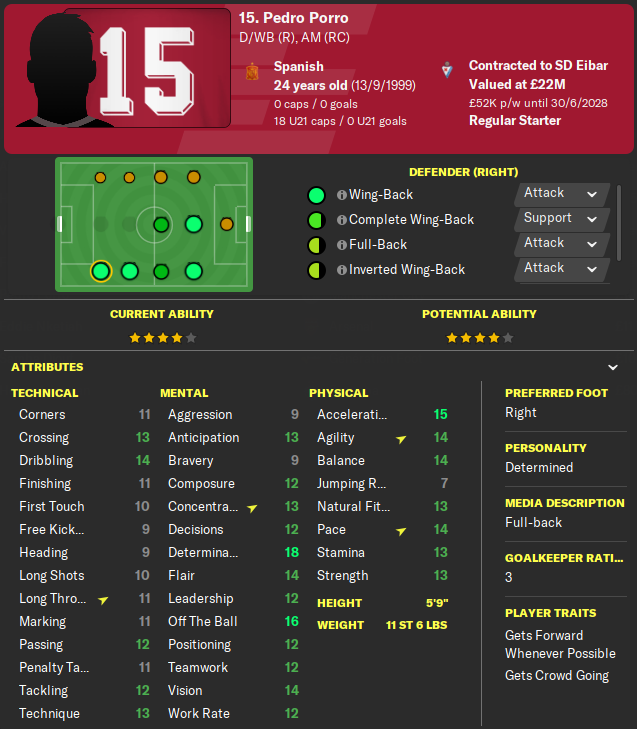 Porro had joined Manchester City from feeder club, Girona, in the 2019/20 season for £5.5m but as with so many players he didn't make a breakthrough there. He spent four seasons out on loan, two in Italy and two in Spain, including a decent season at Valencia. I'd added another couple of Spaniards to my squad on free transfers this summer in Asier Villalibre and Fede San Emeterio, and I wanted to continue that by adding more depth at right-back after Álvaro Tejero left for Almería.
He joined for a new record transfer of £10m which could rise to £13.25m. He's determined, quick and decent going forward from full-back. He's also settled in nicely. He's appeared 18 times over the first half of the season and has averaged a 7.02 rating overall, with a 7.21 from his 12 league appearances. I'd like to see him improve on his one assist so far, but he's chipped in with three goals so that kind of makes up for it.
Eddie Nketiah
He's back.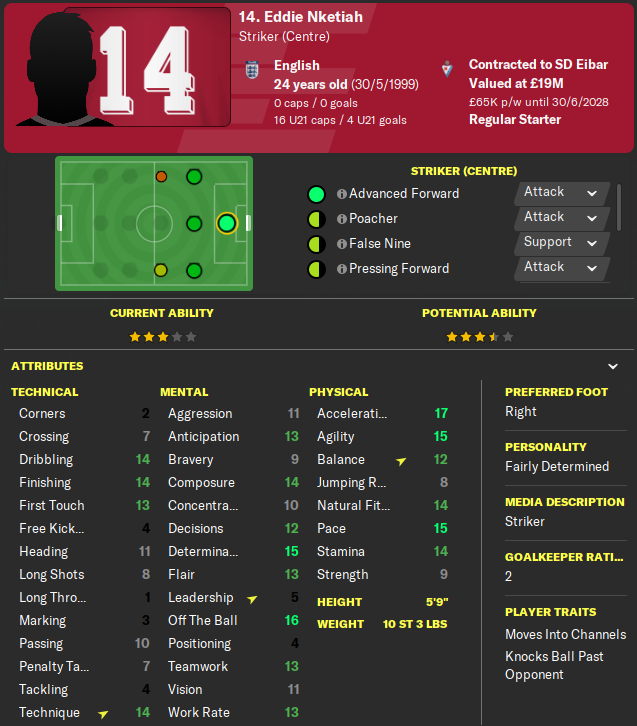 After 40 goals in 63 appearances across two separate loan spells Eddie returns to Eibar and this time it's permanent. Arsenal clearly weren't impressed with his exploits for us and put him up for sale. £11.75m potentially rising to £15.75m means we broke our transfer record for a second time this summer. He also becomes our highest paid player earning £65k a week, £25k a week more than previous highest earner, Thomas Amang. They've got a good relationship though so I don't think it'll become an issue…
What has been an issue though is Eddie's form since he joined permanently. He's got one goal in 15 appearances. How often have we seen players not quite living up to the heights of loan spells after moves are made permanent? The fan favourite has a lot of improving to do if he wants to keep their affection. Then again, we've got some improving to do as a team to be honest.
---
August to December 2023/24
LaLiga
The fixture gods gave us as tough a start to the season as you could have and that affected us up until the start of October. Four losses from the first seven is not a great start to the season and morale was low. My position at the club was even being questioned by some sections of the media as we sat awfully close to the relegation zone.
Tenerife have been the league's surprise package so far and we got the jammiest of wins against them in the dying seconds after throwing away a two-goal lead in the final 10 minutes. The international break followed that win and with not that many players heading off to represent their countries I organised some morale boosting friendly matches (not pictured). That set us up for a run of one defeat in the next nine, with that Villarreal loss coming after Zlatan Sehovic had been sent off.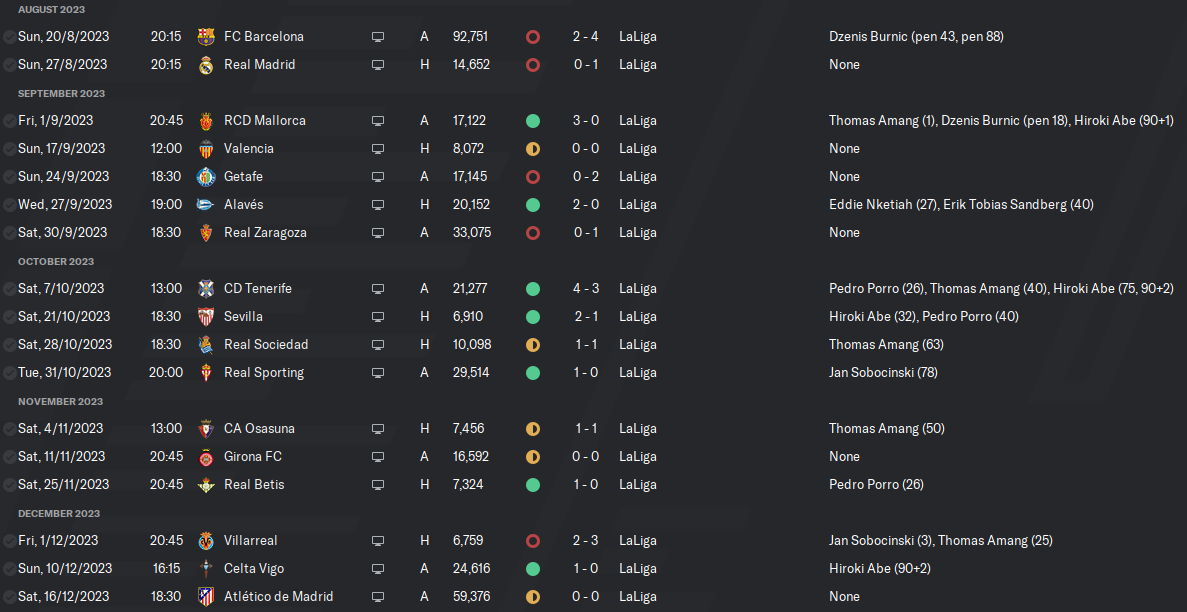 A poor start followed by an upturn sees us sit mid-table after 17 matches.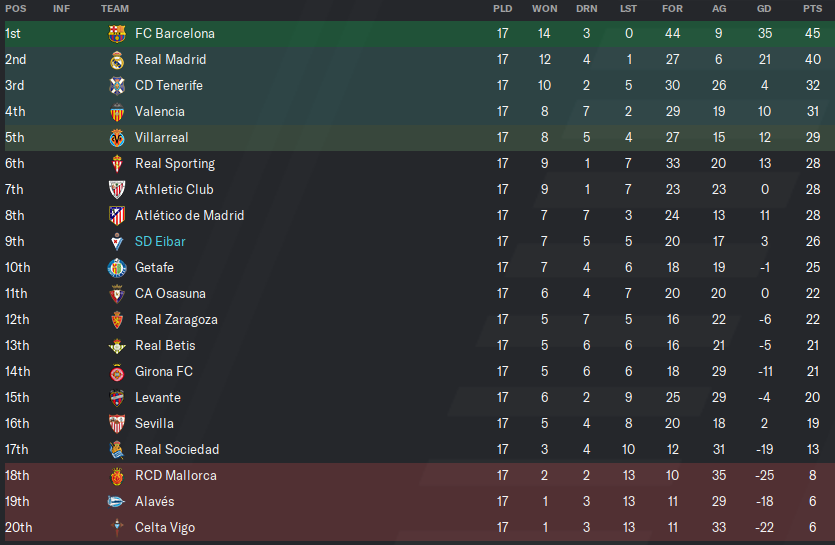 An improvement is needed in the second half of the season if we're going to achieve the board's aim of qualifying for the Europa Conference League. Even after that Villarreal defeat I was being questioned as to whether my job should be on the line, the perils of overachieving I guess.
13 of Tenerife's 30 goals have been scored by this man, Harry Sowden, on loan from us. While it's great to see him doing well on his loan, being top scorer in LaLiga and all, it's rather annoying he's doing it above us in the table. Gian Piero Gasperini hasn't had the best of starts to life at Atleti either but I can see them improving in the second half of the season too. Right now I'd definitely take matching board expectations to finish 7th and secure Europa Conference League qualification for next season.
Champions League

I knew it'd be a tricky group but I'm not happy about not progressing like that. We recorded a couple of brilliant home wins against Bayern and Inter, but got soundly beaten in the reverse fixtures. Two points taken from a potential six against Sporting is the reason we haven't progressed. A 93rd minute hit of the woodwork from Sergio Álvarez which then crawled across the goal-line would've seen us go through to the knockouts for the first time.

Remarkably it's the second time in consecutive seasons we've missed out on finishing 2nd in our Champions League group with eight points. Last season it was on our head-to-head with Ajax, this time it's our inferior goal difference. We've got Anderlecht in the first knockout round of the Europa League.
---
My investment in the squad hasn't really panned out the way I hoped it would. There's plenty of work to do if I want to firstly, keep my job as Eibar manager and then secondly, achieve what we set out to this season. Catch you next time.
¡Aupa Eibar!
---
There's been a huge surge in the numbers of people playing and sharing their FM saves recently. If you're looking for another place to chat all things FM then join the Football Manager Slack group. Download the mobile and desktop apps to keep up to date at all times.
---
We're living in strange times. Things are a struggle for everyone but if you can at all, the below charities are vitally important and will certainly continue to be at this time, please consider donating to them.
Donate to Mind or SAMH – charities in England, Wales and Scotland providing mental health support and care.
CALM – leading the movement against the single biggest killer of men under the age of 45 in the UK, suicide.