I took the decision to change from my trusty 3-5-2 to a 4-1-2-3 in the second half of my fifth season in charge of Eibar on FM20 and it paid off. We climbed from 9th to 5th to qualify for the Europa League again, actually just missing out on Champions League qualification by a point in the end.
I was excited going into my sixth season. The tactical tweak had shown some really promising signs so far and it was a chance to get the team even more familiar with it with a whole season of playing that way. Vamos…
---
August to December 2024/25
Transfer News
I haven't really been touching on transfers that much so far. I've been trying to not bombard you with a barrage of screenshots with no context. This one is difficult not to mention though.
Up until this summer the total I've made from outgoing transfers has been around £27m. Luis had been spotted by my South American scout way back in the 2020/21 season and I was informed he had huge potential. I snapped him up on a free but it wasn't until last season, and the tweak in tactics, that he had his breakout season. He laid on 13 assists and scored a 7.29 average rating. That attracted the attention of Europe's elite, Liverpool activated his £40m release clause and off he went. A huge sale for the club. It was just a couple of days in-game after I'd Tweeted how much he'd progressed since he was 18, maybe a bit of #MythMike at play there.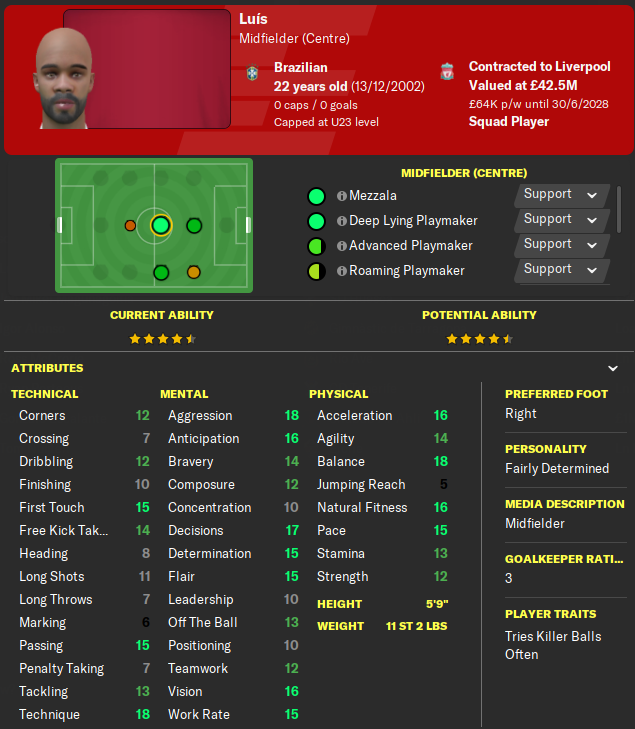 I also lost a Furia warrior, and my captain, in Gonzalo Escalante. To replace those two losses in midfield I snapped up a player I'd had my eye on for a while. Alaves' relegation meant Agustin Baldi was available for £6m. I spotted a bargain at Manchester City as another played I've tracked for a while, Taylor Harwood-Bellis, was available to buy for £1.8m. Finally, it was time for an upgrade between the posts. Get your klaxons out for an FM wonderkid. Alban Lafont wanted to leave Leeds and I snapped him up for a knockout price of £5m, potentially rising to £6m.
All in, not a bad summer of business at all. We also had Harry Sowden, last year's second top scorer in the league, returning from his Tenerife loan. How did the first half of the season go then?
LaLiga
Pretty bloody well to be honest.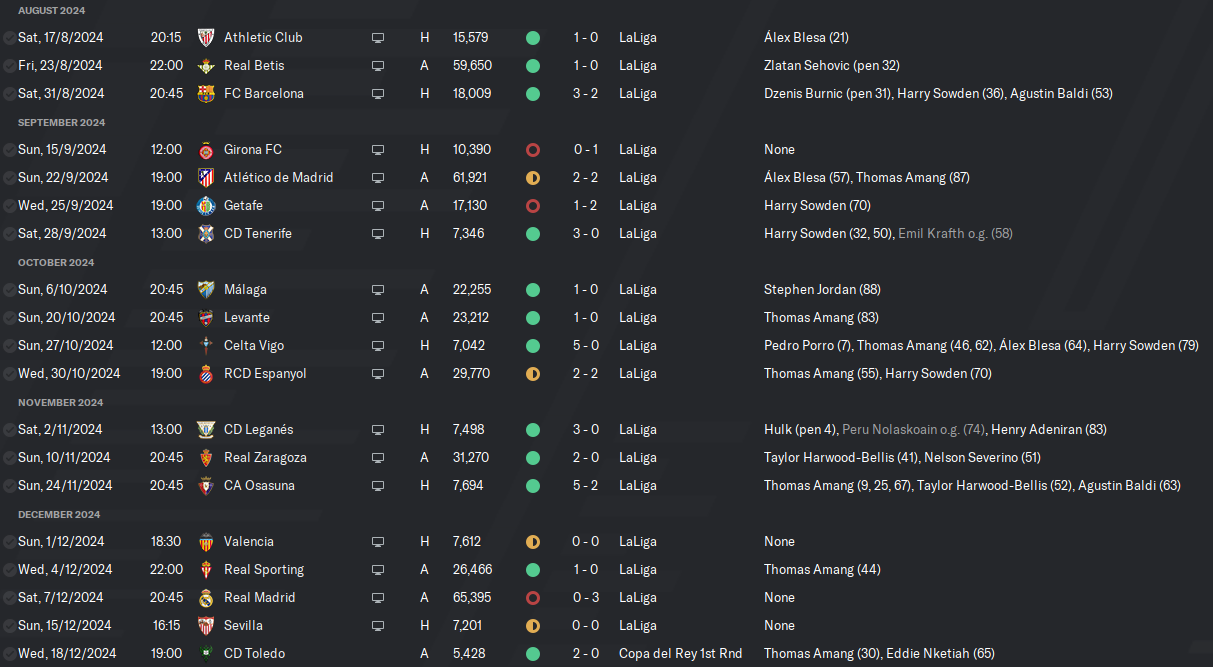 The season started with an absolute bang, two narrow wins were followed by an incredible first win for me over Barcelona. After Sowden and Baldi scored our second and third, I thought a Barca 4-3 win was coming when they got it back to 3-2 in quick succession not long after. To go from that to a 1-0 defeat at home against Girona is just classic Football Manager isn't it?
We've had some great results though overall, the 5-0 win against Celta is probably the best we've played in my time at the club so far, plus another five goal haul against Osasuna. I'm particularly delighted with our 11 clean sheets from 18 matches. Those Alban Lafont and Taylor Harwood-Bellis signings paying off there I think.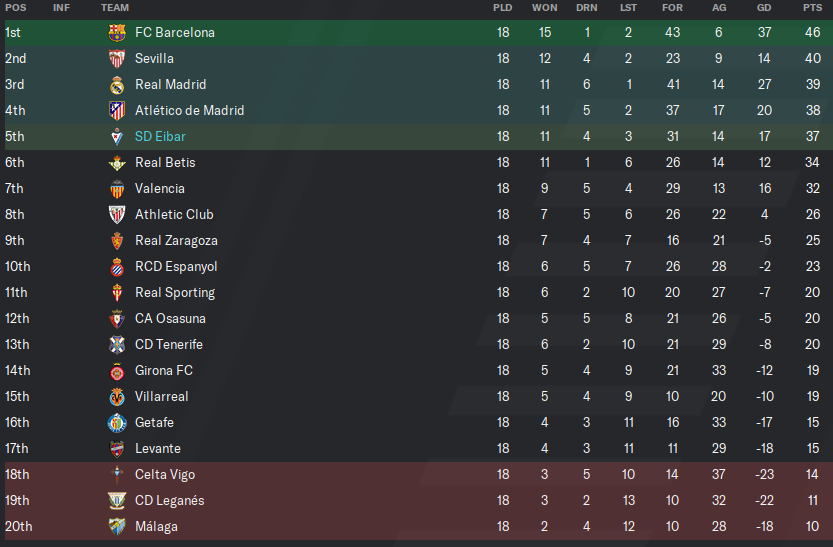 It's tight at the top but I'm delighted at how we're looking going into the second half of the season. Continental qualification remains the aim again and we're on course for it.
Europa League
Is it weird to say I actually like not qualifying for the Champions League? I love the variation in opponents that the Europa League brings you, especially with the addition of the Europa Conference League now too.

We went unbeaten in our group, including a lovely 3-0 home win on matchday one against Roma, and steamrollered into the knockout round. Group winners in the Europa League now head straight to the 2nd knockout round so my opponents aren't yet known.
Does Misfiring Matter?
We're the fourth top scorers in the league, that's not exactly misfiring is it? I'm not talking about the team overall, I'm talking about an individual.
Last summer, I was delighted to bring Eddie Nketiah to the club on a permanent deal. See, look how I excited I was.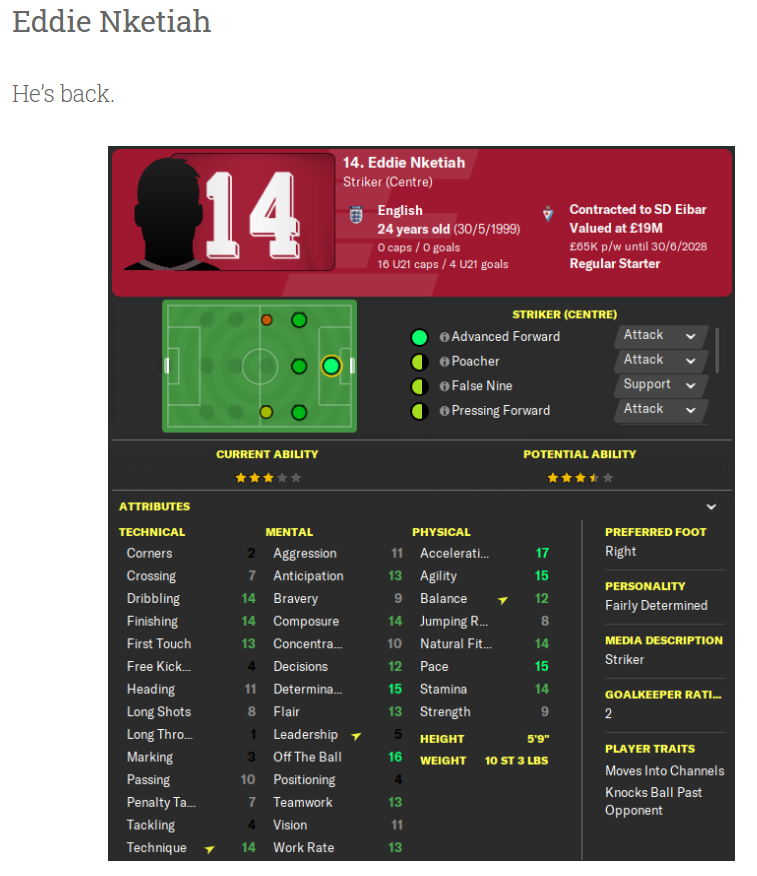 Fast forward a half season from his arrival and he'd scored one goal in 15 appearances. The switch in tactic helped him in the second half of last season and he finished on eight overall. Moving into this season, he's made 17 league appearances and has scored zero goals. Yeah, that says zero. Across his two loan spells at the club he scored 40 goals in 63 appearances. Since his permanent arrival he's got nine in 65.
It looks so poor when you type it out.
Am I The Problem?
Maybe I'm just making Nketiah a bit of a scapegoat. Here's what I said in my post looking at the switch to the 4-1-2-3.
I'm also still undecided on the role for my forward. I want him on the end of our chances, but I felt he'd be cutting a lonely figure if I picked an Advanced Forward or Poacher. Complete Forward feels like it should be the role. Getting on the end of chances and being involved in aspects of the build up play too. Support duty feels like it should be the setting too, with him dropping in a little bit more to create the space for the IFs to move forward but I'm not seeing it as much as I'd like to be.
I also said I would be patient and try and stick it out with the CF(S). I did… until this season where I've switched to a DLF(A). I want my forward role to do everything though. I want him contributing to build up play. I want him taking on players. I want him running on to through balls. I want him getting in front of defenders and on the end of crosses.
Am I being impatient? Am I expecting too much? Am I putting Nketiah under too much pressure? Am I forcing him to do something he can't? I'm arguably doing all of these things. I think I'm tweaking it too much.
(FM) Pressure
He's putting pressure on himself too…
I think pressure is expected here. I've already mentioned those 40 goals he scored across his two loan spells, he was brilliant in tandem with Amang. It led me to splash out £13m on him, which was, and still is, our record transfer fee. Huge for a club of our size.
What's also huge is his wage. I made him the highest paid player in club history when he joined, earning £65k a week. One good thing from his lack of goals is that I'm not spending £11k each time he scores and his bonuses of being top goalscorer in the league (£120k) or scoring 20 goals in a season (£160k). There's expectations on him to lead and be our star man. He isn't delivering on that. Is something underneath the surface affecting that?
Judging Ability
Thinking back to this brilliant post on coach reports from Ondrej/FMRensie, I thought I'd take a look at the opinion of my best coach for judging ability. It's not often I really seek the advice of my backroom staff for second opinions on players once they've been signed. Alberto Giráldez is my Head of Youth Development and has 18 for JPA. He's telling me that Eddie:
Enjoys big matches
Is fairly consistent
Is considered a smart player
Is currently playing close to his potential and is a decent player for most LaLiga sides
Most suitable role is an Advanced Forward and is rated the third best striker at the club (behind Amang and Sowden, who've mainly been supporting Eddie from out wide so far this season)
Great, I'm not misjudging him. He's a good player and importantly he's considered consistent and doesn't shy away in important matches. The only negatives highlighted were around his poor crossing and being poor in the air. Does that tell me something? Lone strikers should probably be able to hold their own up there. Let's look at his attributes again but highlighting the ones relevant for a Complete Forward this time.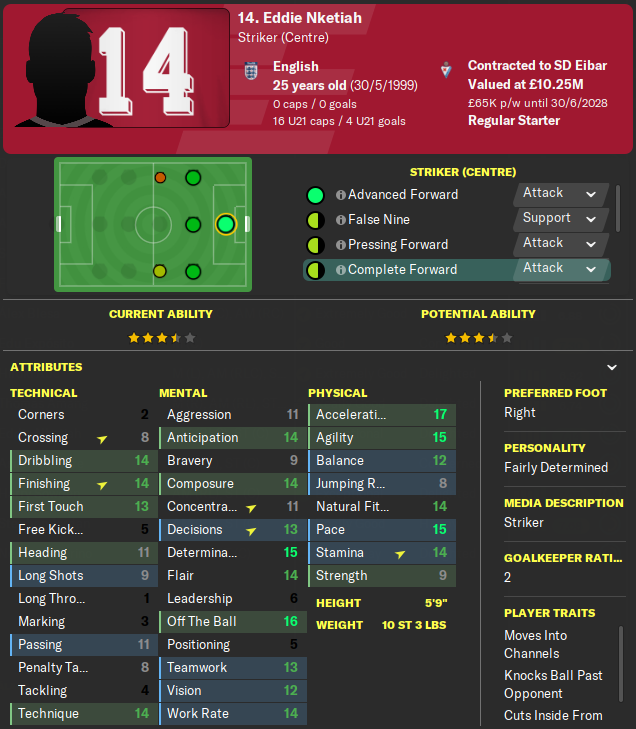 At 5'9″ he's not exactly a commanding presence up top. We're not a long ball team though, we're direct. His speed and movement should suit our style. If you're thinking elite strikers then you'd maybe like to have the finishing, composure and technique up at least another one to 15, throw decisions in there as well. Like Giráldez says though, he's a decent LaLiga striker. I know there's goals in his game, but are goals the be all and end all?
The Decoy/Integral Cog
I think the biggest thing is getting over the expectation that strikers need to be the main goal threat. Strikers need to be the ones scoring, every single game. They don't if your system is good enough overall. I'm sitting here moaning about my striker when we've had the best first half of a season in my time at the club so far.
Nketiah, and the forward role, is the enabler. I'm not going to say it's like playing with 10 men because it's actually a vital part of the system. He is the system, much like Firmino at Liverpool, according to the coaching staff at Anfield. He got man of the match in a 2-2 draw away at Espanyol, laying on assists for both goals. He had the lowest number of touches throughout the side, but covered the third highest distance across the 90 minutes.
He shows strength beyond his 9 attribute here to shrug off Cedric Kipré (18 strength), move into the channel and play a lovely cross for Amang to do what Amang does best (defy his finishing attribute).
I love this little one-two touch to give it back to Sowden and then to occupy Kipré again to make the space for Sowden to come inside and delightfully finish past Axel Werner.
Nketiah is actually our top league assister (four) and to further highlight his role in the side our top scorers are Amang and Sowden, playing mainly in the wide forward roles. Amang has 11 goals while Sowden has eight, starting life at Eibar well after his superb season for Tenerife on loan last year.
What am I going to do?
I swapped Nketiah and Amang for the 5-2 Osasuna win. Eddie on the right, Amang up front. Eddie still played poorly, getting a 6.6 rating. Amang scored a hattrick up top. Two of his goals did come from instinctive play at set pieces, but still.
In the past I've moulded players around systems I've wanted to play. I think I've been quite guilty here of expecting too much of Nketiah on his own. While there was a poor spell on his return to the club permanently where we played two upfront, his goals across his loans came when he was partnered with Amang. Maybe he isn't suited to leading the line on his lonesome.
Amang's superior physical attributes suit him playing the lone striker role better. My starting forward line for the second half of the season will be Amang, supported by Sowden on the left and Nketiah on the right. I can't wait to see what impact it has.
---
Usually when someone does something it makes me want to do the opposite. People throw ads all over their sites, people ask for donations for spreadsheets for things you can easily see in-game or charge a fiver for a tactic, it makes me want to continually do the opposite and play FM for the love of the game.
However, on this occasion, I'm going to copy someone else. FMGrasshopper announced that he was nearing the end of his FM20 save and I'm going to do the same. This will be my last five months of my time in charge of Eibar. I've enjoyed it, hopefully you have too and you'll join me again in a little while for a final post.
¡Aupa Eibar!
---
Things are opening back up and looking as though they're returning to something resembling normal. Things are still a struggle for many though. If you can at all please consider donating to the charities below. They're vitally important and will certainly continue to be.
Donate to Mind or SAMH – charities in England, Wales and Scotland providing mental health support and care.
CALM – leading the movement against the single biggest killer of men under the age of 45 in the UK, suicide.