I've finished my sixth and final season at Eibar on FM20.
How did the season go and how would I summarise my time at the club? Read on to find out.
---
January to May 2024/25
Transfer News
After announcing at the end of the previous blog that this would be my final five months at the club, I took one look at my transfer budget and thought "fuck it".
Annoyingly though, I missed out on two of my top targets. Wonderkid, Pedri, was on the transfer list at Barcelona but he chose to join Napoli for £11.5m and earn £115k a week instead of coming to Eibar, I can't think why. I then missed out on Norwegian central defender, Max Normann Williamsen, for a third time in the save. When he joined Atleti for £1.1m in 20/21 I didn't have that kind of money to spend on him. He chose Betis over us in 22/23, joining them for £5m, and then decided to leave Spain for Torino for £10m this January. Maybe I'll manage him one day.
Last summer I spotted that Filipe André had a £15.5m release clause at Santos. I wanted him but not immediately, I was pleased with my options in the centre of midfield. However, if you set a transfer to happen at the end of the season rather than immediately then release clauses don't apply, so I decided to wait it out. Obviously now with the save ending, the end of the season didn't make sense anymore so I pushed the button in January. In he came, and he's glorious. Two out of three on the Furia stakes, a real "tireless midfielder", perfect for the box-to-box midfield role in my current system.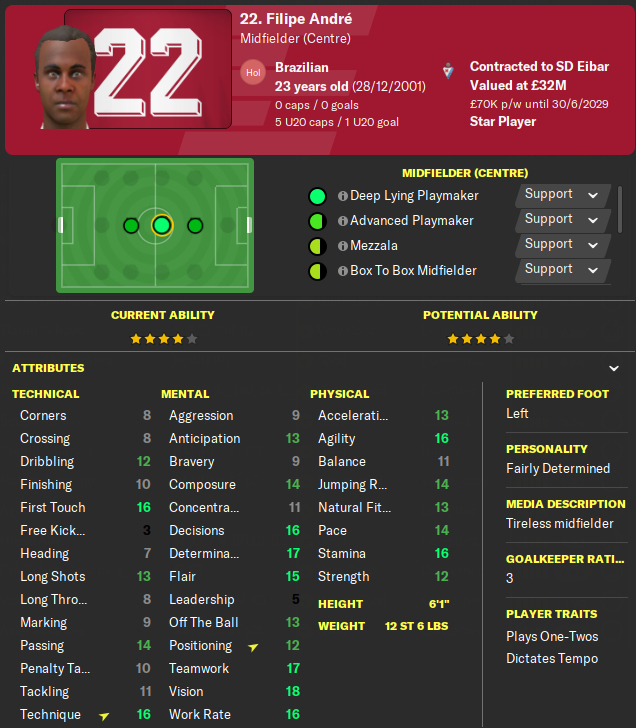 ---
LaLiga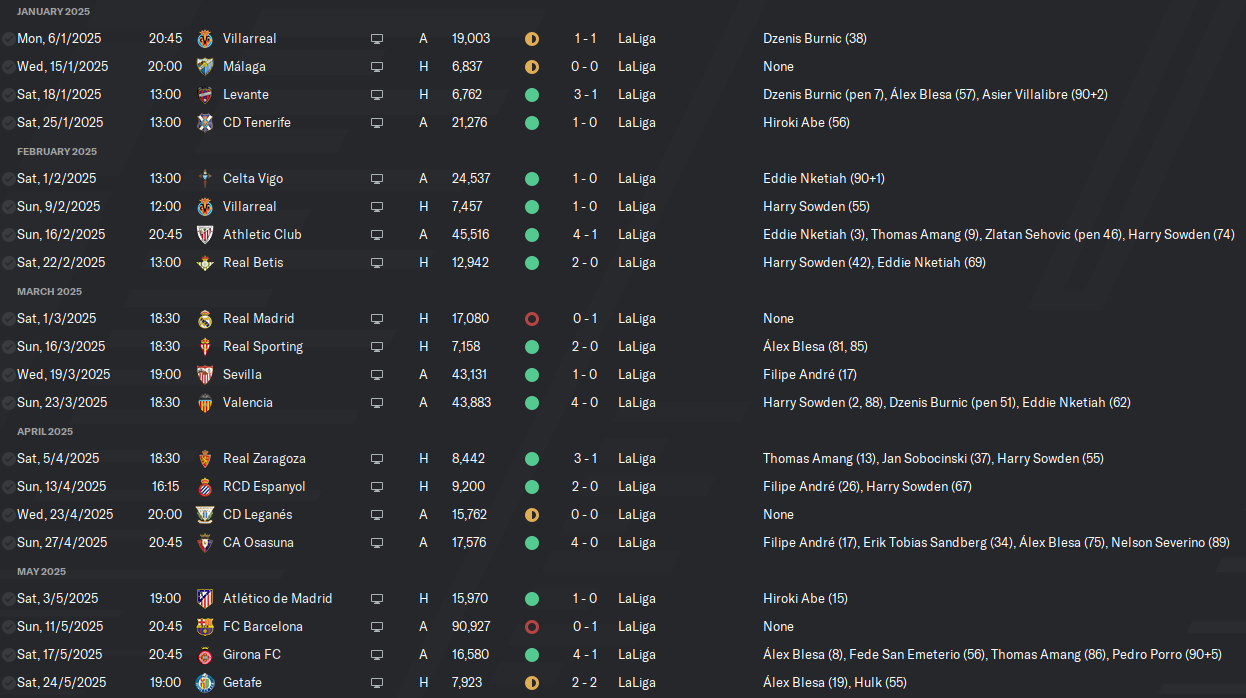 A slow start to the second half of the season with two draws but that quickly turned into two months unbeaten, with three consecutive 1-0 victories which just look lovely.
The only disappointments in the league coming with those two 1-0 defeats against Barcelona and Real, a drab 0-0 against soon-to-be relegated Leganés and the fact I couldn't finish off my time at the club with a win on the final day against Getafe.
Those results look good though, how does the league table look?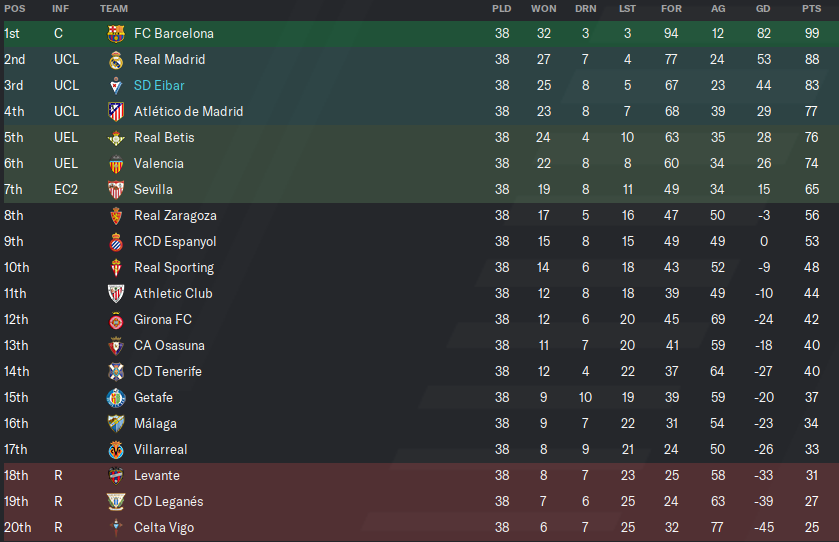 My time at the club ends with our highest ever league finish, 3rd place. Barcelona win the title for the third season in a row and do it with the highest points total of a title winning team across the last six seasons.
With our highest league finish comes our highest points total as well as our most goals scored and least conceded for a league season. I'm actually delighted to have only conceded 23 goals across the season, one less than Real Madrid in 2nd. Don't underestimate the power of upgrading your goalkeeper, Alban Lafont kept 23 clean sheets in 34 league appearances. We only conceded nine goals across the second half of the season, a brilliant record.
Misfiring didn't matter at the halfway point of the season, did it continue in the league? Eddie's move out to the right hand side as an IF saw him finish the season on four league goals, a rise from zero while playing up front in the first half of the season, I'll take that. Amang only scored three while in the striker role across the second half of the season, but his general play was superb and he's been a joy to watch. He did score one goal in particular though which is yet to come…
Europa League
Fate would throw up a tie with an old friend when the 2nd knockout round was drawn.
Harry Sowden scored a vital away goal in a 1-1 first leg draw and a Jan Sobocinski header in the second leg saw us go through 2-1 on aggregate.
We unfortunately couldn't sneak past Manchester United in the quarter final. It was them that did the sneaking as they waited until the 91st minute of the second leg to score the goal that knocked us out.
A European trophy wasn't to be for Eibar, but the glory came from continually competing across the Champions League, Europa League and Europa Conference League. A club this size should've been nowhere near those competitions.
Copa del Rey
Why can't I win progress further than the 4th round has been the question I've been asking myself for the past five seasons. Armed with my reasons as to why I thought I hadn't done well in the Copa del Rey so far, it was time to do better.
We cruised through against lower league opposition in the first couple of rounds, beating CD Toledo and Racing Club de Ferrol by a combined scored of 6-0. Rounds three and four were tougher on paper as we were drawn against LaLiga opposition in Levante and Osasuna. Osasuna had knocked us out in the 3rd round in the 2020/21 season so caution was needed. Luckily by this point at the end of January we were just starting to find our groove, and cruised through winning both rounds 3-1, with Thomas Amang scoring three of the six goals. We were into the 5th round for the first time.
For the past two seasons Real Valladolid in the second tier have knocked us out. Rayo Vallecano had the chance to repeat the feat in the 5th round, but again, a professional performance from us saw us win 2-0.
Harry Sowden didn't just pop up again in a game that mattered, he bloody owned it. A hattrick from him in the semi final first leg 5-2 win against Sevilla saw us all but qualify for the final. A snoozefest of a 0-0 in the second leg saw us go through to our first ever Copa del Rey final, or any final of anything.
Luckily, Barcelona and Real hadn't made it to be our opponents. Sevilla had actually beaten Barca in the 5th round to face us in the semis, while Atleti triumphed over Real to face up to the Furia in the final. We had a good record against Atleti so far in the save, going unbeaten against them across two seasons in 21/22 and 22/23. They always had potential to smash us though, with a 5-0 and 4-0 under their belts in 20/21 and 23/24.
As is now tradition, literal ones of people turned out to follow the match action of the final on Slack.
The first half was a tetchy affair until Hiroki Abe popped up unmarked at the back post atfer Jose Giménez had missed a headed clearance to fire us into the lead just before half time.
Then, with 25 minutes to go, Thomas Amang did this.
What. A. Goal.
It encompasses Furia and everything that Thomas Amang has been for this club since his £475k arrival back in the 2020/21 season. He's been our enigmatic talisman. What a player. Jose Giménez was somehow rated a 7 for the match despite his second error leading to a goal here. Amang steals the ball from him and just runs. He evades Saúl's tackle and fires past Jan Oblak to secure the club's first major trophy. We finally progressed past the 5th round, and only bloody won the thing.
The Copa del Rey final isn't an end of season showpiece, but it felt incredible to win a trophy to all but round off the save and my time at the club.
---
Summary
Can you spot when I took over?
We haven't done too badly for being the smallest club in the league. I've taken Eibar from being a mid-table side to one that consistently qualifies for continental competition and competes against the biggest sides in Europe.
The club has made huge strides off the pitch in my time at the club. I might not be sticking around to finally move in to el Nuevo Ipurua but it's on the way. In my introduction I mentioned the Modelo Eibar. It was all about being financially prudent, and the strides we made on the pitch enabled us to take further ones off it. The club is set up for continued levels of success with major improvements to the training and youth facilities along with the youth recruitment, competing in the fierce Basque region for young talent.
The Furia has been there for all to see along the way, culminating in Amang's incredible clincher in the Copa del Rey final. I've really enjoyed trying to implement a specific style of play and recruitment in my time at the club. We've changed formations over the years but the style always remained. We play aggressively in the opposition's faces, pressing them high and attacking them with fast-paced, direct football. It's been a joy to watch at times.
My players needed to be aggressive, determined and hard-working. There's been a lot of them over the years. Sergio Álvarez was with me for the entire time but eventually was overtaken in the pecking order by Agustin Baldi and Fede San Emetario. Jan Sobocinski and Taylor Harwood-Bellis were the best defensive partnership the club had ever seen, but Ryan Porteous and Paulo Oliveira were just as important in the earlier seasons. Thomas Amang was the embodiment of Furia and his partnership with Eddie Nketiah excited me and then frustrated me.
---
Relive the Journey
Why would you not want to go back and read through these quality Football Manager blog posts?
Eskozia La Brava
La Furia
A Squad Game
We Do Love Playing Away
"The Jamie Vardy Problem"
What Kind of Club Are We?
Being There to Capitalise
The Three Pals
Revolución de Furia
Big Money Signings
Why Can't I Win the Cup?
My 4-1-2-3 Tactic
Does Misfiring Matter?
I've loved my time at little Eibar and I hope you've enjoyed following along too. Thanks for reading. See you for FM21.
---
Things are opening back up and looking as though they're returning to something resembling normal. Things are still a struggle for many though. If you can at all please consider donating to the charities below. They're vitally important and will certainly continue to be.
Donate to Mind or SAMH – charities in England, Wales and Scotland providing mental health support and care.
CALM – leading the movement against the single biggest killer of men under the age of 45 in the UK, suicide.