It's time to get down to business in the Basque Country. I've reached the halfway point of my first season in charge of Eibar on FM20 but before I go into how we've done so far, I want to talk about the unique identity I'm looking to implement at the club from the get go.
---
Player Retention and Recruitment
As I mentioned in my introductory post, I want to bring "the rage" to Eibar. The first part of that is ensuring the players we have at the club, and future signings, fit La Furia style.
I'm looking for hard-working, aggressive players who are determined to do their all for the club. That sentence probably gives you an indication of the attributes I'll be looking at when it comes to the ideal type of player I want at Ipurua. Players getting stuck in, working at full capacity, going beyond the call of duty, that are committed to succeeding and doing their best.
Players like Pape Diop and Iván Ramis might not play every single minute of every single match, but they'll be important figures to have in and around the club. Players that I think will have a big impact on the pitch for us this season are Gonzalo Escalante and Sergio Álvarez. They're in the prime of their careers and they'll be vital if we're to achieve what's expected of us this season. All four are the types of personalities I want at the club too.
This all being said, I'm not going to completely restrict myself on these three key attributes. They'll certainly be preferred and if it's a choice between two players and one has the edge on them, I'll go with him. I'm not going to suddenly rip the squad apart and get rid of all the players who don't have a certain base level for their Furia. Sergi Enrich is nowhere near the type of forward I'd ideally like to have leading the line, but he's the most talented striker at the club right now.
Paulo Oliveira is another similar to Enrich. He's got a great personality, great determination and is pretty hard-working, but his aggression is low for what I'd ideally look for in my central defenders. This being said, he's currently the most valuable player at the club and he's certainly the most talented defender we have. I'd be crazy to cast him aside if I was regimentally sticking to looking at those attributes only.
Right now I don't have the financial freedom to be scouring the globe for players to fit this style or to completely overhaul the team. There's very little in the way of wriggle room in the budget. There might be £5m in the overall balance and the projection come the end of the season is that'll increase to £14m, but with how little we'll make off the pitch this season in terms of season ticket sales, match day income and sponsorship in comparison to some of the other clubs in the league, I need to approach our finances, recruitment and squad management in a much more sustainable way. There's no point going gung-ho.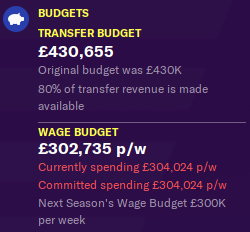 ---
On the pitch
Direct and aggressively in your face, here's my interpretation of La Furia tactic.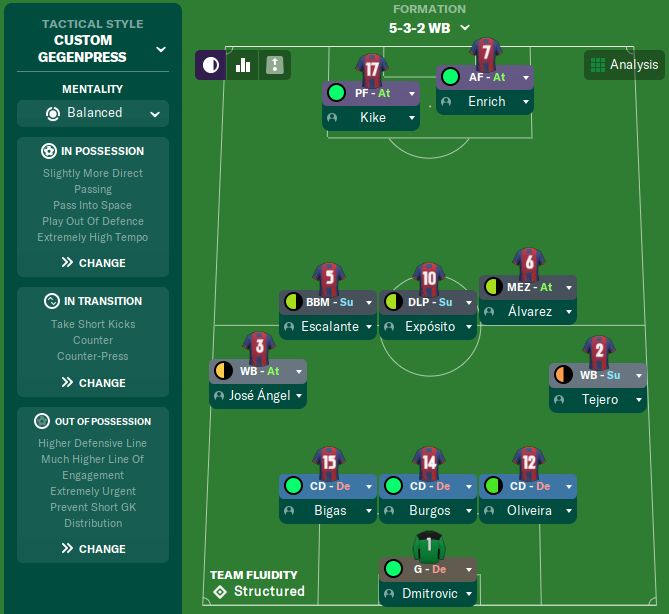 Firstly, the formation. On analysing the squad, I felt our wide options in midfield weren't quite up to my standards to merit playing with wide midfielders. Pedro León, Fabián Orellana and Pablo De Blasis are still good options to keep around the club initially as cover to slot in if needed but I won't be looking to renew their deals that are expiring at the end of the season as they all approach the twilight of their careers.
Our central midfield is strong, as I outlined with some of the players in the previous section, so having a three in there gives us a very solid core, especially so with those three central defenders behind them as well. The wing-backs are key to giving us width both offensively and defensively.
Then we come to my favourite role on the game this year, the Pressing Forward, who partners an Advanced Forward. It's key to the Gegenpress system, chasing down loose balls and harassing opposition defenders. The duty of my PF changes in different circumstances. More often than not he'll stay on attack and look to score himself too, but I have tweaked it to support or even defend too at times to get him closer to the supporting players to act as more of a link man.
The only change I've made to the Gegenpress preset tactical style is to have us playing slightly more direct in our passing. This, coupled with us passing into space, sees us taking the game to the opposition and getting their defence turned. From there, if we don't have control of the ball, we're engaging them as high up the pitch as possible and pressing them extremely urgently.
It's glorious to watch at times and when it works perfectly it's majorly satisfying. One of those instances happened when Real Madrid visited Ipurua.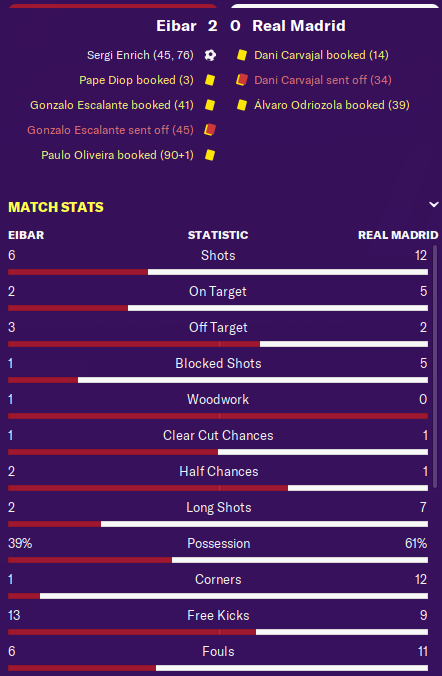 We restricted them to over half of their shots being long, and blocked five of their 12 too. Luck was of course involved, with Dani Carvajal being sent off but it was seconds after our opener that the numbers on each side were leveled up. I didn't anticipate Thibaut Courtois would make such a big error for our second goal, but I like to think that our high energy pressing and preventing short goalkeeper distribution had an effect too.
We made a huge 24 interceptions during the match, with Pedro Bigas making eight himself. We attempted 31 more tackles than them and completed 205 less passes. In your face and direct, love it.
---
2019/20 August to December
The board expects a mid-table finish and the media predicts we'll finish in the bottom half. We're surpassing those expectations so far…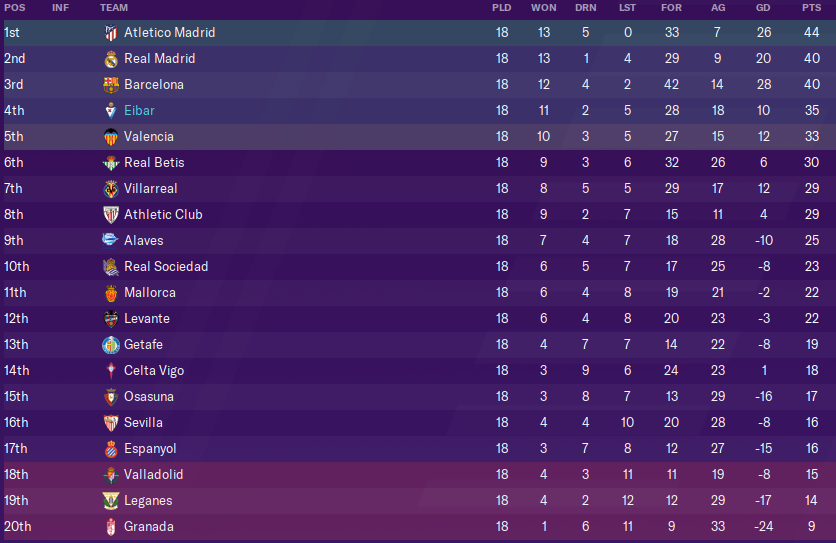 An absolutely brilliant start to life in Eibar and we're flying high in the Champions League qualification spots! Doing it all with the 19th best average possession in the league of 46%, who needs the ball to be successful.
For me, the base of our good form has been our defence. We might be below our league position (7th) for least goals conceded, but we're 4th in the table when it comes to clean sheets, we've had nine of them in our 18 league matches so far. Four of those have come against Athletic Club, Sevilla, Valencia and the mighty Real, as you've seen already.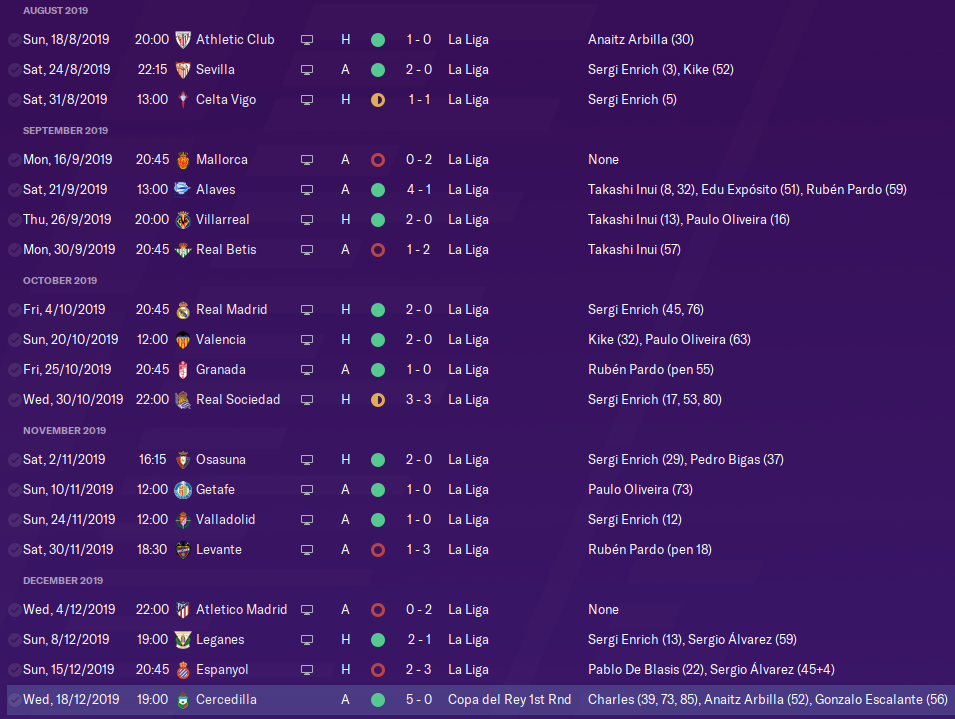 There's only been a couple of instances where we've let ourselves down and haven't performed to the levels of the majority of our other matches. Atletico are having a brilliant season and easily beat us at the Wanda Metropolitano but we were disappointing against newly promoted Mallorca. The defeats against Levante and Espanyol came after magnificent individual performances from Borja Mayoral and Wu Lei, respectively.
Will Sergi Enrich be able to add to his 10 league goals and fire us to Europe in my first season at the club? It remains to be seen. Come back next time to find out or join FMSlack where I update my save in real time while I'm playing it!
¡Aupa Eibar!
---
If you liked this blog, or any others on the site, then I'd love you to consider donating to charity if you can. A few suggested links to some can be found below.
Donate to Mind or SAMH – charities in England, Wales and Scotland providing mental health support and care.
CALM – leading the movement against the single biggest killer of men under the age of 45 in the UK, suicide.