I initially planned a post focusing on my 3-5-2/5-3-2 tactic which had been part of our Furia identity for four and a half seasons. The key word there being "had". After our difficult first half of the season I came to the decision to move away from my trusted tactic.
It served me well and had troubled our LaLiga competitors but it was time for a change. Things had gotten a bit stale, I wanted to see us do something different going forward, to introduce a bit of variation in our attacking play. Enter a classic 4-1-2-3.
---
Shift to 4-1-2-3
If I was an actual Football Manager and not a virtual one, 4-1-2-3 would be the tactic I impose on my side. I think it's pretty perfect. You've got a solid defensive base, a midfielder screening that defence too to give the full-backs some license to go forward. There's a central midfield two that you can instruct to do anything you want them to and up top there's a range of options. Is it two wingers crossing for a big man? Does the striker drop in to lure opposing defenders out to create space for runners coming inside from wide? On Football Manager the opportunities aren't exactly endless, it's a game and we have to live within the confines of it, but there's still plenty of interpretations for you to put together.
Here's how my 4-1-2-3 currently looks after a few rounds of tinkering across the second half of the season.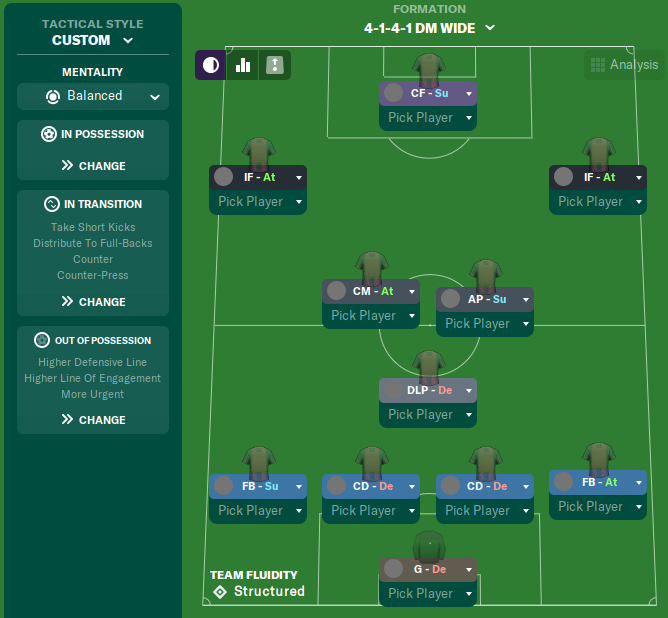 A lot of my thinking when putting a new tactic together is about positioning. I think about the differences in positioning of the roles we can pick from and our expectations of what those roles should do on the pitch. How does the positioning of a Complete Forward on Support differ to that of an Advanced Forward? What about the movement that you can get from the midfield two, if the AP was on Attack would he support the forwards enough in comparison to a Central Midfielder on Attack?
This is how I see the movement and positions changing.
I'll walk through more of my thinking behind it and some of that tinkering in the sections below.
The Forward Line
Our topsy-turvy first half of the season led me to the tactical change and a big part of that was due to my strikers. Thomas Amang had scored seven goals while big money signing, Eddie Nketiah, had scored just one. We were still creating chances but it was all samey. I mentioned before I wanted to change things up and that involved moving away from two up front. It saddened me but going from two to one up front doesn't need to make us less effective going forward, as much as the football da's believe that and shout at their manager to put two up top.
It's only one but it's effectively three. Supporting the man leading the line I've gone for two Inside Forwards. This is for three main reasons:
I'd usually try and vary the wide roles but I don't actually have any natural wingers
Thinking ahead to the future, I've got a group of promising young forwards who could successfully play out wide cutting in
Linking it back to thinking about the positioning of the players, getting the three close together.
Here's our average positions from our 2-0 win over Valencia in the last month of the season. You can clearly see the 4-1-2-3 structure with that three actually almost being three up top as opposed to one.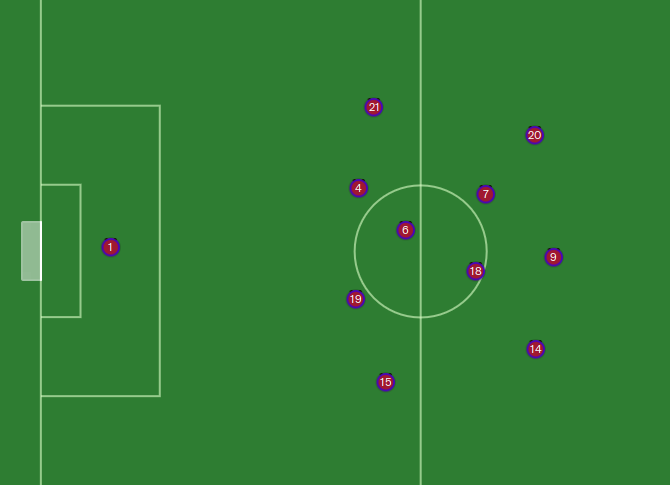 Width
In my previous formation, all the width came from the Wing-Backs. Looking at the formation here, we've also got two additional players out wide in the forward line, however taking their roles into account they vacate the wide areas for the Full-Backs to bomb on and support the attack.
With FMPressure's excellent posts on modern Full-Backs in mind, I tried out a couple of different roles and settled on FB(S) and FB(A) for now. I settled for those roles over others as with the change from five to four at the back we're losing a bit of defensive stability. Full-Back's primary function is to defend but also to provide that width and support going forward. I see that as important, especially with them being our only width but it's something I also see me continuing to try out and test as time with the tactic goes on.
One day I hope to see far less examples of this and more of them actually crossing the ball. Look at how much time and space Porro has to cross it here but he chooses to dally and lose the ball. So many examples of this every single match.
I do love that tiny delay from my three forward players when he receives the ball though. Like "oh, will we go into the box or not? Yup, let's go in." Does Porro really have anyone to aim at? No, he doesn't. Just get it fired across there though, I keep saying to the lads that anything can happen.
Midfield Mix
As part of my three-man midfield in the previous tactic I'd taken to playing two playmakers. This is maybe something you see often in tactics which claim to win all the things and have every single team instruction selected, but it's not something I see us FM bloggers incorporating into our tactics that often.
I've been a big fan of the DLP(D) role since FM18 where it featured in my Stirling 4-4-2 and was christened the Deep-Lying Destroyer. I've had that in my head since then and to this day continue to play a more defensively minded player in this role to screen the defence, assist in breaking opposition attacks down and then moving the ball forward to the our attacking players.
With the addition of a second playmaker, the AP(S), I often see the DLP(D) moving the ball on to him and in turn he'll then dictate the play further up the pitch. He makes things happen with our front three and the supporting midfielder alongside him, the CM(A). Just a classic role. Simple and occasionally effective. With the right player in there you've got yourself a goal threat from midfield. I'm not quite sure I've got the right player to be that yet but he gets in the right positions and that's reassuring.
Match Footage
I changed to the new tactic at the end of January. Two 2-0 wins were followed up by a 1-0 defeat away against Levante, who were languishing down in the lower end of the table. That result could've been the the trigger to throw in the towel for others and shift back to the trusted previous tactic. Signs were promising though, we created a lot of good chances and on another day would've clearly won it. I've seen Amang burst the net before from this kind of chance, though he maybe just reaches this cracking through ball from Burnic, playing AP(S), a little too late.
I'm yet to be sold on my Inside Forwards. They get into some great positions but seem to more often than not make the wrong decision. That could just be the players I have in these roles but it's blocked shots when patience was the preferred option or running into trouble when a simple pass would've sufficed.
Hiroki Abe ended the season with eight goals, but also with less than half of the shots he takes being on target. He runs with the ball often and cuts inside from the left, but as you can see above also just occasionally decides to take a shot at the legs of opposing defenders when he's in a great position one-on-one with them.
I'm also still undecided on the role for my forward. I want him on the end of our chances, but I felt he'd be cutting a lonely figure if I picked an Advanced Forward or Poacher. Complete Forward feels like it should be the role. Getting on the end of chances and being involved in aspects of the build up play too. Support duty feels like it should be the setting too, with him dropping in a little bit more to create the space for the IFs to move forward but I'm not seeing it as much as I'd like to be. Maybe I'm just being restless though as the return across the second half of the season from my forwards was much better in comparison to the first half of the season.
The aspects of Furia are still there in our team instructions and when it pays off and rewards us, it's beautiful.
Our aggressive pressing high up the pitch sees Luis win the ball from Rojas as Girona try and play out from the back. He plays a lovely pass, at the perfect time, to Amang for an easy finish.
That's some examples of our new tactic in action. I still feel like there's some work to do but how have results across the second half of the season been?
January to May 2023/24
LaLiga
The Copa del Rey exit (again) must have been the other final straw for the previous tactic. As I said already, from February onwards we were armed with the new tactic. I wasn't deterred by the Levante setback as we then took four points from a potential nine in that tough run of fixtures against Barcelona, Real and Atléti. From the Real defeat we went on a run of 12 unbeaten, my best run so far at the club. The last month of the season was a particular highlight, going without conceding.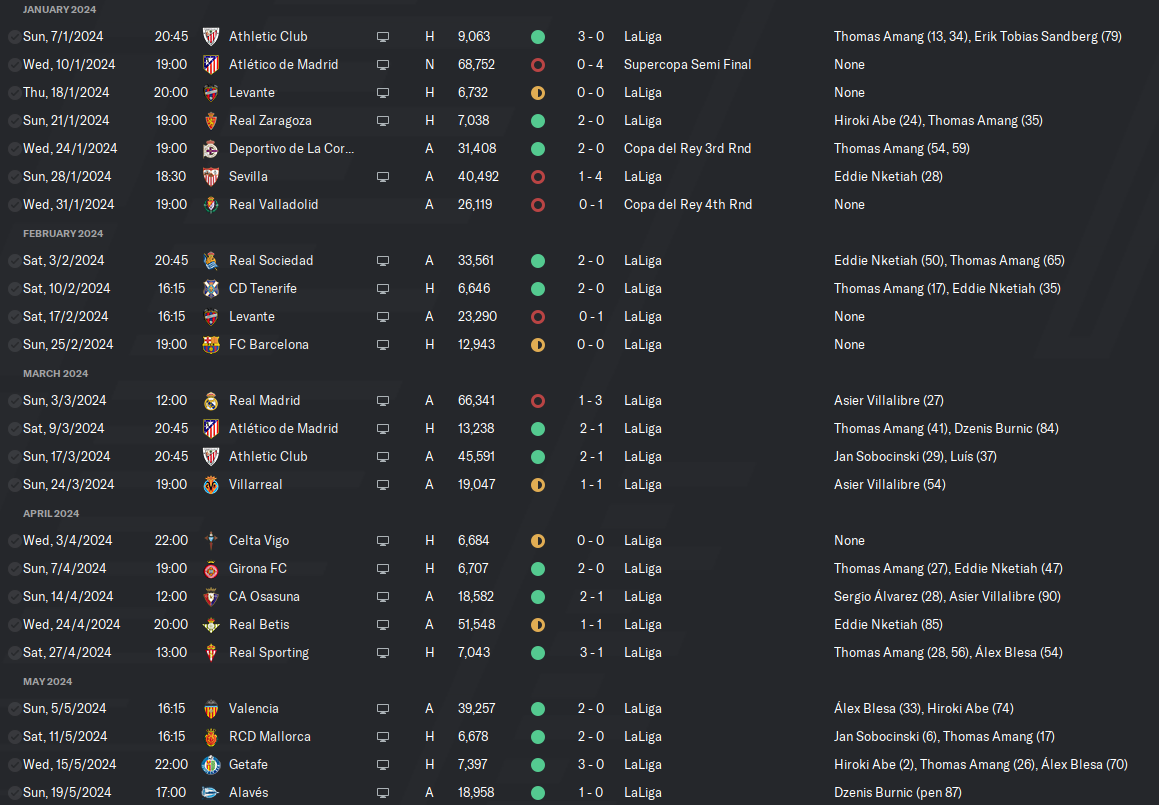 At the halfway point of the season we were down in 9th. That run of form across the second half of the season propelled us up to touching distance of Champions League qualification again. We just fell short in the end though.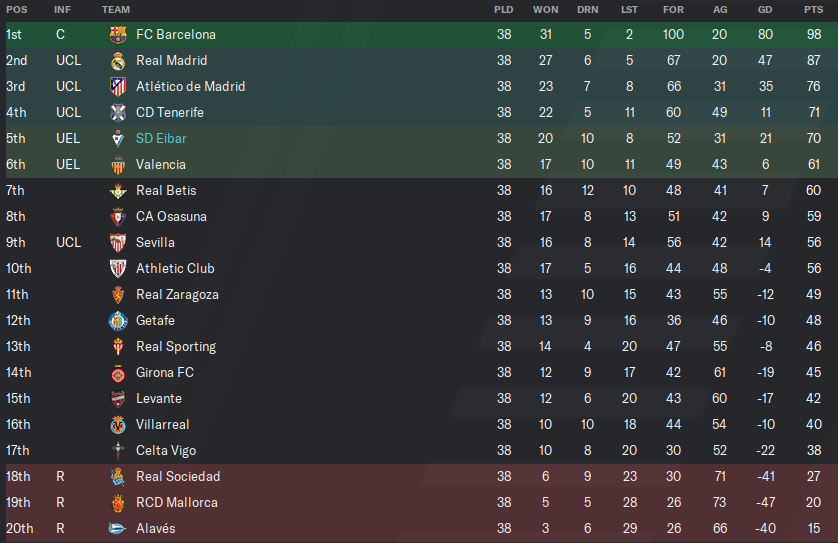 Tenerife's remarkable season, with my loanee Harry Sowden top scoring, sees them qualify for the Champions League at our expense. The big three continue to dominate and Barcelona retain the title.
All things considered, I'm delighted to qualify for the Europa League and we'll give it a right good go. I'm looking forward to seeing what a full season of the new tactic can do next time out.
Europa League
Our 3rd place finish in the Champions League saw us drop into the Europa League. Anderlecht and Rangers were dispatched in the 1st and 2nd knockout rounds, 4-2 and 4-3 respectively.
Sevilla were our quarter final opponents in an all-Spanish tie. At 3-1 up after 56 minutes of the first leg at the Ramón Sánchez-Pizjuán I was feeling confident we'd be progressing to the semi final where I knew we'd be facing Fenerbache. Sevilla hit back though and won that first leg 4-3. Despite dominating at "home" (reminder, we still don't have a permanent home stadium), we couldn't break down their stubborn defence and a 0-0 draw saw them progress.
You might have spotted it from the league table above, but they actually went on to win it, beating Spurs in the final. Atléti won the Champions League too making it a Spanish double on the continent.

---
Hopefully you managed to make it to here. If you've got any questions about the new tactic or you want to absolutely rip into it then feel free to get in touch or leave a comment on the blog.
Like I said, I'm looking forward to getting my sixth season underway and having a full season of the tactic. Let's see what we can do.
¡Aupa Eibar!
---
We're living in strange times. Things are a struggle for everyone but if you can at all, the below charities are vitally important and will certainly continue to be at this time, please consider donating to them.
Donate to Mind or SAMH – charities in England, Wales and Scotland providing mental health support and care.
CALM – leading the movement against the single biggest killer of men under the age of 45 in the UK, suicide.