So far in my time at Eibar we've finished 5th, 6th and 4th. At the halfway point of my fourth season we were sitting 4th in LaLiga, well placed to qualify for Europe again. Even that in itself is a huge achievement for this little club from the Basque Country. All the board are expecting is that we finish in the top half. I think we might manage that, just.
To help us over the line I made a last minute marquee loan signing. Find out who it was by reading on. If you make it to the end of the post you'll also be reading about the changes in the squad in regards to the Furia style I wanted to instil in the squad.
---
2022/23 January to May
Thomas Amang was lacking a strike partner. His performances up top last season with Eddie Nketiah were nothing short of superb. Bartosz Bida has flattered to deceive in his time at the club so far while summer signing, Hiroki Abe, isn't a natural forward. I was happy to plough on with our current options but when a pleasant surprise pops into your inbox on Deadline Day it's tricky to turn down.
He's here and he's beautiful. Eddie has returned! Eibar is now his only favoured club and he feels he's got a great partnership with Thomas Amang. He's back where he belongs, for six months on loan from Arsenal.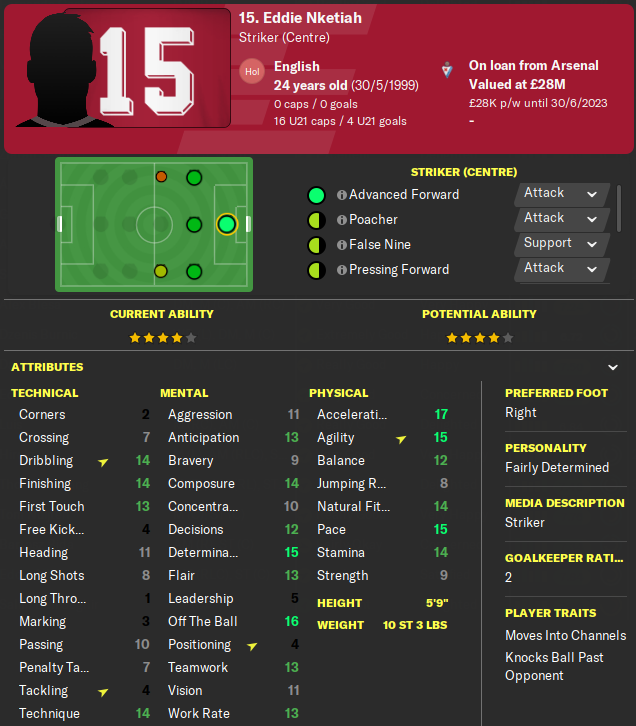 I wanted Bida to be a good player for us. I thought he could be, he's well rounded and has some decent qualities. I was accused of "striker roulette" by some. Maybe I'm being harsh on him as last season he was third fiddle to Amang and Eddie but he was given plenty of opportunities during the first half of this season and was largely useless. The correct term is probably "diddy". If he had chances, he'd spurn them. If he had the ball, he'd get easily tackled. Sometimes you just need to admit it's not going to work out for a player.
Eddie's arrival pushed Bida further down the pecking order and he'd eventually leave the club at the end of the season. Surprisingly I managed to make a £1.5m profit on him. I'll take it and run. He's guaranteed to score against us next season for Tenerife.
With the friends being reunited, could Amang and Eddie inspire us to secure another shot at European football for the club next season?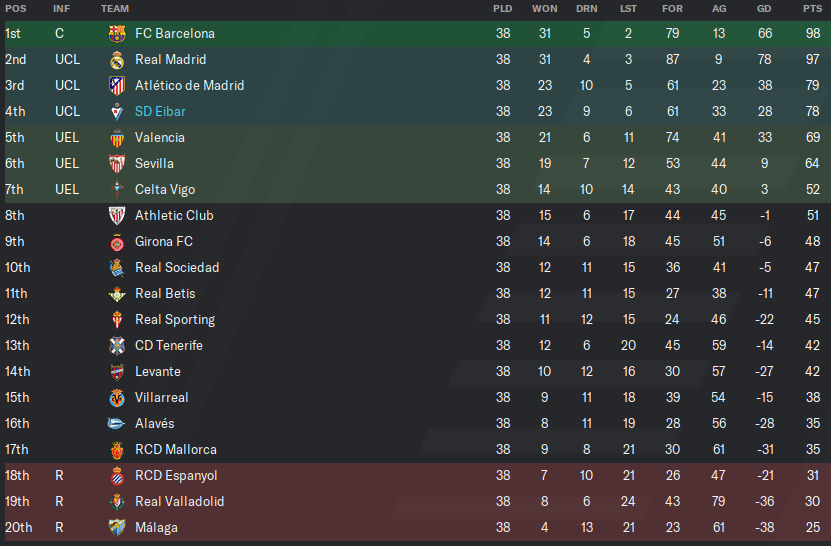 Consecutive 4th place finishes is an incredible feat for our tiny club. The three clubs above us in the league, and at the very least the two clubs immediately below us, absolutely dwarf us on every level.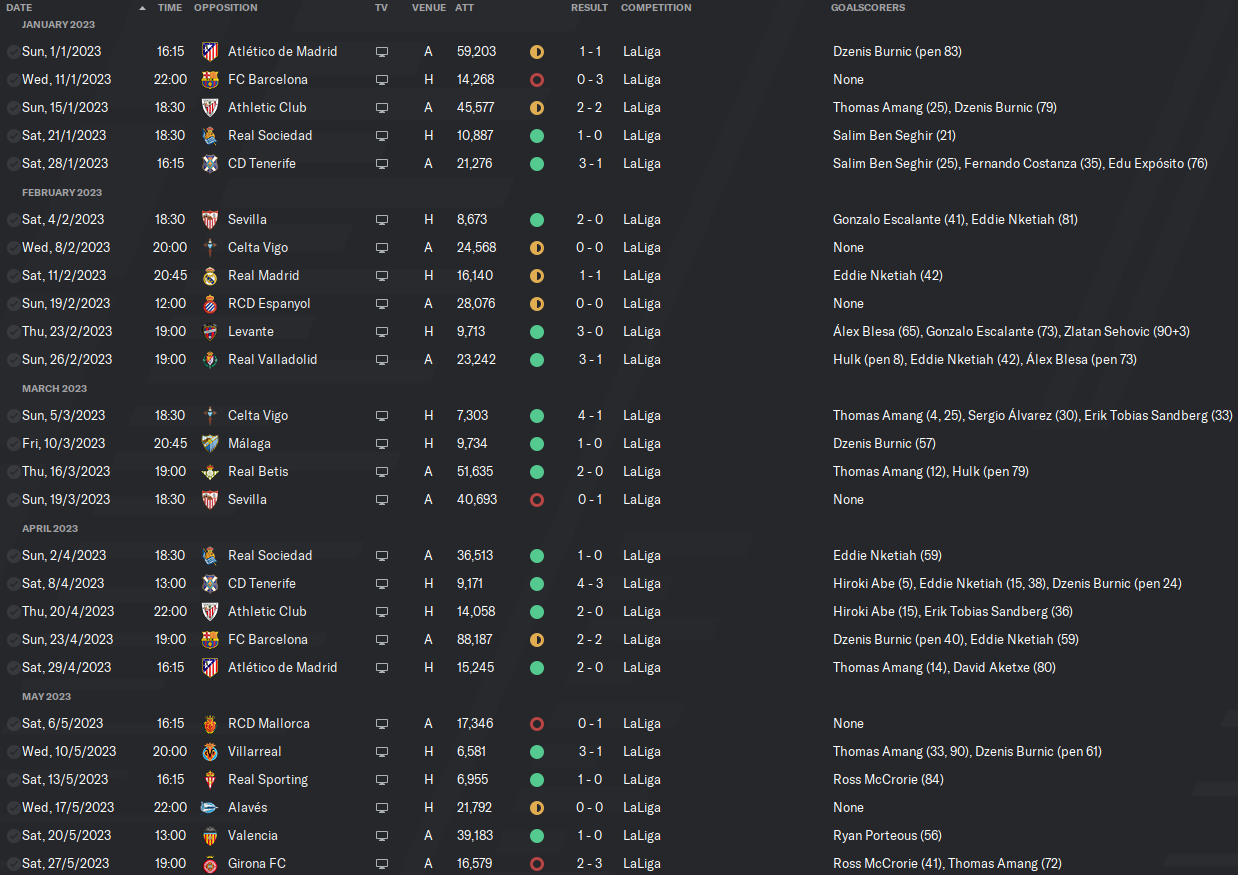 The results don't tell the whole story. We actually sat in 3rd place for almost the entirety of the second half of the season after an excellent run of form from mid-January to late March. Two disappointing defeats in the last month of the season, including that last day defeat against Girona which saw them score in the 87th, 90th and 91st minute to win 3-2, left the door open for Atleti to claim 3rd with a 2-0 win over already champions Barcelona. Annoying, but that's football. I can't complain over consecutive 4th place finishes.
Eddie hit eight goals and laid on three assists across 14 appearances which is a great return, that included goals against Real Madrid and Barcelona as we earned two draws against the big guns. He heads back to Arsenal cementing his spot as an Eskozia La Brava fan favourite.

Amang also hit eight goals in the second half of the season as he finished our top scorer again with 16 across all competitions. The goals were much more spread around the squad this season and we actually scored a couple less in comparison to last time out.
The Copa del Rey continues to be a competition that we just perform terribly in. We've never made it past the 4th round in any season so far. It was a 3rd round exit this season as Real Valladolid knocked us out. As you saw above, they went on to be relegated. There's always next year.
I was looking forward to a crack at the Europa League but it wasn't quite to be. We just squeezed past Genk in the 1st knockout round and things were finely poised with the score 1-1 at half time. They blew us away in the second half though and went on to lose to Gladbach in the final.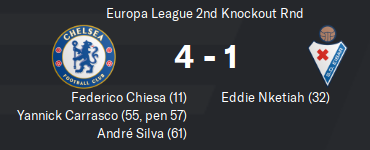 ---
Revolución de Furia
In my early days at Eibar I set out to implement a Furia style of play on the pitch, coupled with players that suited that preferred style. I wanted to bring "the Rage" back to the Basque Region, a style of play adopted by Athletic Club and Spain sides of yesteryear that was heavily influenced by British football, direct and aggressively in-your-face. To do this I needed players that were aggressive in nature, determined to give their all and work as hard as possible for the cause. I think I've managed to implement it.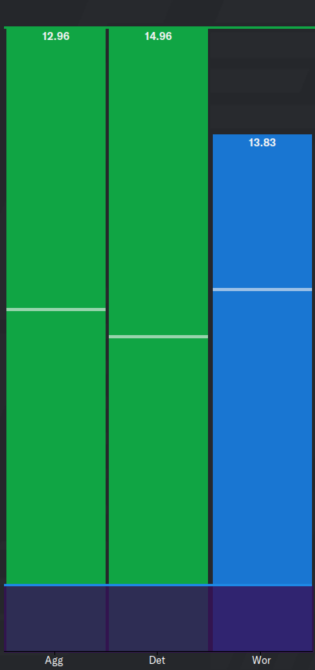 I've had to mould the squad over the years in order to get to where we are now. Changes had to be made across the squad. Comparing the above screenshot to the below from when I took over, I think the changes have been a success so far.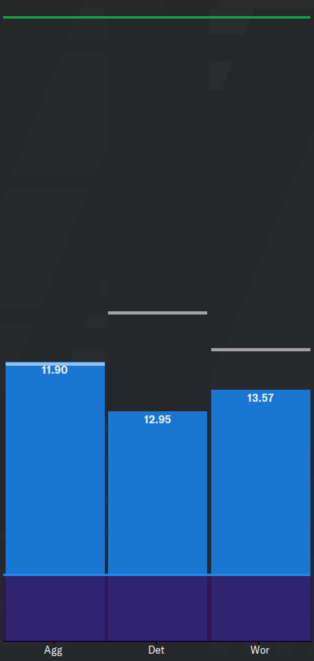 There's been upgrades all over the pitch. José Angel was hard-working but he lacked any aggression or determination, Zlatan Sehovic maybe isn't as hard-working but he's an improvement on the other two attributes. Takashi Inui would be a very good player for another club but he didn't fit in to my preferred formation. He was aggressive and hard-working but Luis is even more so, plus he slots nicely into a position in my side.
Then there's up top. Sergi Enrich performed brilliantly for me in his time at the club, he scored 42 goals in 109 appearances, but as time moves on he needed to be replaced by someone who was a better Furia fit. His time at the club overlapped with Thomas Amang but the latter has proved himself to be my Furia posterboy. I've spoken about Amang a lot already across my posts. He's so fun to watch and his return of 54 goals in 126 appearances is more than decent too, especially for someone who can't finish.
I was tasked with lowering the average age of the squad when I joined. I've done that, our average age is now 24 in comparison to 29 but it's not just been a case of getting rid of older players left, right and centre. Retaining players was high on my agenda too, and continues to be. I identified that Sergio Álvarez and Gonzalo Escalante would have a big impact on the pitch for me, they were in the prime of their careers when I joined. They're both still with me, now aged 31 and 30 respectively, and I'd argue they've both just had their best seasons yet. Their influence on the pitch, as Captain and Vice-Captain, with the young squad we have, can't be overstated.
I'm aiming to give our playing style another injection of Furia next season as I change one of my midfield three roles to a BWM(S). Álvarez or Escalante would slot nicely into that role I feel. It'll be interesting to see how it pans out, more on that when I get it.
The Revolución de Furia is continuous. I'll always be looking for ways to improve the side.
---
We go into season five with a £30m warchest and improvements underway to improve things across the entire club, including our training and youth facilities. We're even armed with some new kits, inspired by our Scottish roots. Huge thanks to SgtRedPhoenix for creating those after he was inspired by my previous post. They're a set of cracking kits, that home one especially.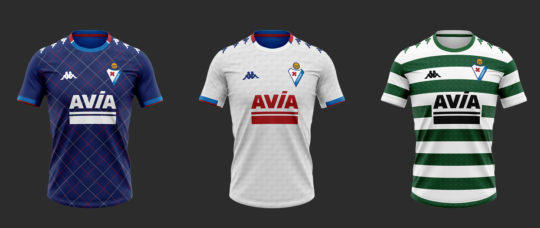 ---
There's been a huge surge in the numbers of people playing and sharing their FM saves recently. If you're looking for another place to chat all things FM then join the Football Manager Slack group. Download the mobile and desktop apps to keep up to date at all times.
---
We're living in strange times. Things are a struggle for everyone but if you can at all, the below charities are vitally important and will certainly continue to be at this time, please consider donating to them.
Donate to Mind or SAMH – charities in England, Wales and Scotland providing mental health support and care.
CALM – leading the movement against the single biggest killer of men under the age of 45 in the UK, suicide.