At the halfway stage of season two we were sitting in the bottom half of the LaLiga table. We'd been turfed out of Ipurua and forced to play our home matches in Alaves' Mendizorroza stadium. This massively affected our home form across the first half of the season, we had the second worst home form in the league with just a solitary win (technically two, funnily enough we beat Alaves away).
A few tactical tweaks would get us on our way, wouldn't it?
---
2020/21 January to May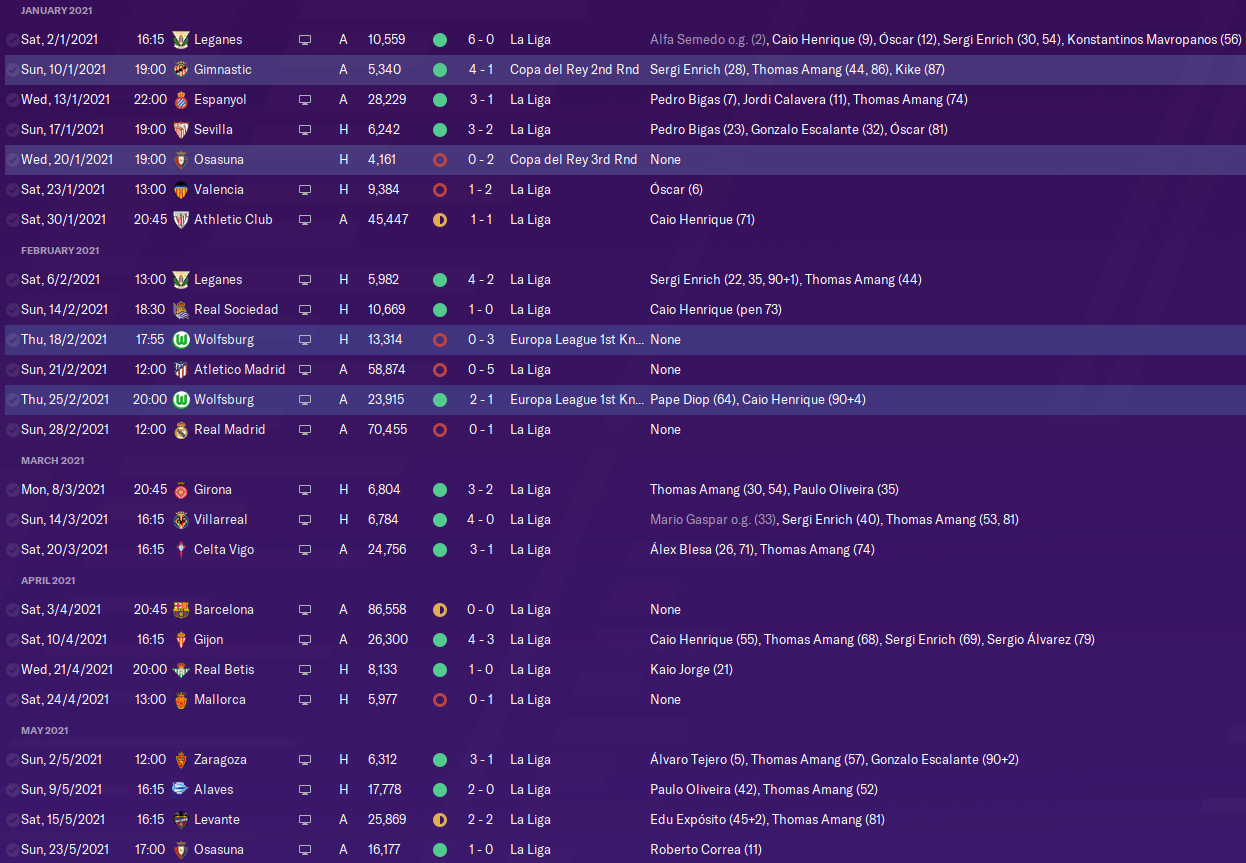 A great start to 2021, making it four league wins on the bounce counting our 3-0 victory against Girona just before the short winter break. I'm determined to make a dent in the Copa del Rey at some point, but it won't be this year. Our poor home form continued, despite beating Sevilla there just days before, as Osasuna put us out. We progressed a round further than last year but it's still not good enough.
February was tough as we put in another very disappointing home performance to all but knock ourselves out of the Europa League knockout tie against Wolfsburg. Winning the away leg was a slight consolation sandwiched between a battering at the Metropolitano and a narrow defeat at the Bernabeu.
Then I started to see things really clicking with those tweaks I'd made. The main difference here was the form of Thomas Amang which I'll get to later. We only lost once until the end of the season and gained two draws against eventual champions, Barcelona, this season. Where did that great run of form leave us in the table come the end of the season?
6th and only five points behind our total from last season. A remarkable turnaround in the second half of the season. I'm slightly gutted not to finish 7th and go into the newly introduced Europa Conference League, but I guess I'll settle for the extra financial benefit the Europa League brings (we made £11m from competing in it this year, a huge amount for us). We'll go straight into the group stage again which is always a positive.
Sevilla's improvement from almost being relegated last season to finishing as best of the rest this time out adds another team to look out for next season, although we've taken maximum points off them in our four matches against each other so far. The top four remains unchanged versus last season, which is great to see actually. The strongest clubs doing consistently well across the season. It'll be a huge uphill struggle to break into it, excellent.
---
"The Jamie Vardy Problem"
"Why don't these things happen more often on Football Manager?" "There should be some kind of dynamic potential ability!" It's been a common discussion point since Jamie Vardy's rise through the English leagues to firing Leicester to their surprise Premier League title. Few saw Andy Robertson's meteoric rise from amateur at Queen's Park to Champions League winner with Liverpool coming, certainly not Rangers while playing against him in Scotland's fourth tier.
I'm not here to offer answers to those points, you can search on Google and the SI forums for the debates on them, I'm here to show you Thomas Amang.
How many of you would look at Amang and pass on him because he's barely got any technical ability or his composure and decisions is too low for a decent striker at LaLiga level or equivalent?
This is the beauty of focusing on a set of specific attributes you're looking for in each of your players. I saw Amang as my perfect Pressing Forward, harassing opposition defences with his 14, 16 and 17 for my La Furia attributes of Aggression, Determination and Work Rate. He's also a physical specimen with 16 strength at just 5'9″ tall. What a guy.
Who could have predicted when I plucked him from Gimnastic in the third tier of Spanish football for £475k that he'd fire in 16 goals across his 38 appearances this season? He was our top league scorer with 12 but he finished just behind Sergi Enrich overall who once again top scored, this time hitting 18 in total. Only 11 of those came in the league though, six fewer than last season.
The difference in the second half of the season, where Amang amassed 13 of his 16 goals, was that I moved him away from his Pressing Forward role over to the Advanced Forward role, and did away with the PF completely, swapping it out for a Deep Lying Forward. I wanted to see more linking between the midfield and attack, but keeping it on an Attack duty sees him carving out opportunities for himself along with creating them for others. Similarly to the tweaks I made previously, I had Amang and Enrich swapping positions and roles during the matches too, again creating uncertainly for opposition defences.
Amang's speed and power makes him a frightening prospect, if he could improve his finishing ability (which I'm working on) he'd take himself to that next level up. Where Enrich got 55% of his shots on target this season, only 49% of Amang's did. We saw the best and worst of him in our 3-1 win against Zaragoza where he had a whopping 11 shots.
Here he is as our DLF using his physical attributes to good effect pouncing on a good ball in behind the defence from Alvaro Tejero. Just 10 for composure and 10 for finishing and he slots it past Zaragoza's goalkeeper, not bad. I love that extra touch to the left he takes. Then he missed all these.
There's a lot of chat at the moment around strikers, one-on-ones and clear cut chances. Amang scored one in this match, he could've had another couple at least judging by a few of these above. I do think there's a lot of improvement to be made on this at the moment, it's surely got to be toning down the number of one-on-ones or clear cut chances because I don't see them making a tweak that'll have strikers scoring hattricks every match. I'm convinced SI are on it. I'm hoping so after this miss…
---
Financial Security
Half of LaLiga's television money arrives upfront at the beginning of the season which was a lovely gift. It enabled me to splash a little bit of money to shape the squad a little bit more to my requirements. Amang arrived in the summer but there was a couple of further deals in January. Álex Blesa was available for just £1.3m from Levante and I snapped him up right away. At just 19-years-old, it's one of those deals I just knew I had to make rather than tracking a player over a longer period of time to ensure he was the right fit.
Similarly to Blesa, the extra bit of financial freedom allows me to snap up a few promising youngster that are flagged to me by my scouts. David Aketxe is a Basque national and joins from Real Sociedad for £240k. He looks really promising for the future. He's got some great standout attributes already, with his high Teamwork and Bravery alongside Work Rate and Natural Fitness.
I've got this thing for Norwegians. They're a talented bunch and Erik Tobias Sandberg joins the club to provide additional options across our three central defender positions. He joins Nicholas Marthinussen and Runar Hauge in our Norwegian contingent.
The money made from the Europa League this season alongside selling a couple of players and the other half of the TV money sees us ending the season with £30m in the bank. I think the summer window ahead of season three will see a few more moves in and out happening to further shape the squad. Let's get going…
¡Aupa Eibar!
---
If you liked this blog, or any others on the site, then I'd love you to consider donating to charity if you can. A few suggested links to some can be found below.
Donate to Mind or SAMH – charities in England, Wales and Scotland providing mental health support and care.
CALM – leading the movement against the single biggest killer of men under the age of 45 in the UK, suicide.