We were there to capitalise in my third season in charge of Eibar on FM20. Valencia dropped like a stone out of the top four and our steady form enabled us to grab fourth and qualify for the Champions League for the first time. A quite incredible achievement for little old Eibar.
The 2022/23 season is a strange one as I'm sure most of you will know by now. You've got the 2022 World Cup to contend with halfway through it, meaning a shorter first half of the season and a mass of matches squeezed into the second. Here's how that first half of the season played out.
---
2022/23 July to November
The first 12 league matches can be split into sections divided by defeats. I was really pleased with our opening couple of matches but a shocking result at home against Valencia brought us right back down to Earth again. I'm still not quite sure what happened, we didn't even play particularly poorly. Their attacking trio of Dani Olmo, Gonçalo Guedes and Son Heung-Min were ruthless.
Our bouncebackability was strong though with four great wins in the run up to our second league defeat, a comprehensive 2-0 win for Real in the Bernabeu.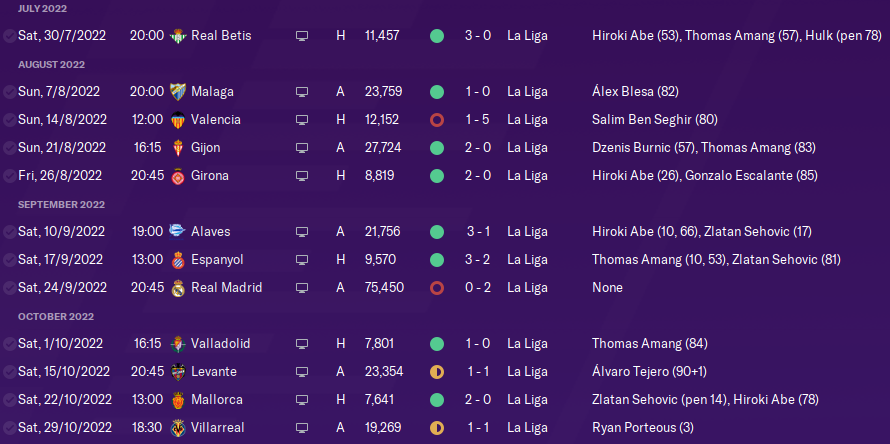 Two home wins without conceding and two away 1-1 draws, in which we salvaged one and threw away three points in the other, rounded off a quick opening to this LaLiga season. Here's how the table looks.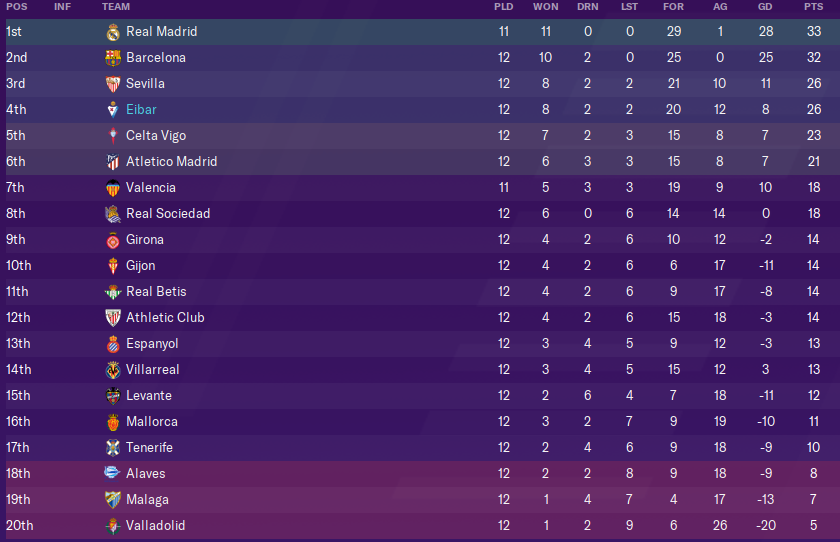 Real and Barca aren't that far ahead of us but neither have lost a match yet so it doesn't look as though this'll be the season our plucky warriors mount a title challenge. I'm delighted to be sitting 4th in the table though at this halfway-ish point. There's still plenty of league matches to come this season, they'll be plenty of twists and turns to happen yet.
We were drawn against Ajax, Leverkusen and Dynamo Kiev in our first foray into the Champions League. My initial thought was that's not a bad group at all. At the very least we'd have a very good chance of finishing 3rd and dropping into the Europa League.

And that's what happened, but in the end I'm disappointed at missing out on progression into the knockouts on the head-to-head record against Ajax. We did ride our luck a little bit though on matchdays four and five. Bida ended a long-standing goal drought to equalise in the last minute against Ajax, while a late turnaround saw us grab three points from Kiev's grasp. If we'd gained a result against Leverkusen in the final group match we would've gone through.

We'll face Genk at home in the one-legged Europa League first knockout round tie.
---
The Three Pals
I mentioned in my introductory post that it's never a surprise to see tartan, Saltires and Lion Rampants on show when you're watching Eibar play. The ties to Scotland have strengthened since I joined the club. Rather than just loving the country from afar, the Eskozia La Brava fan group now have a number of Scottish players and staff members to adore, including me of course.
The first Scots to join me in Eibar were on my backroom team. It's always important to have staff members you trust that can speak your language. Billy Dodds, Duncan Shearer and one of the most talented Scottish players ever, John Collins, joined the club not long after me in the summer of 2019. Dodds is working with the first team squad, while Shearer and Collins are working with the Eibar youth players. Collins' managerial credentials have been questioned over the years but his experience in the game, and model professional attitude, means he's someone I want working with our players on a daily basis.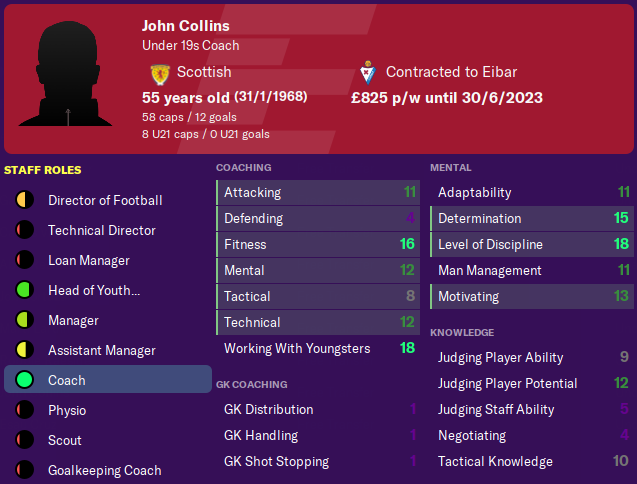 In my third season at the club, Grant Murray joined the u19 coaching team while ex-Hibs Director of Football and Celtic scout, Graeme Mathie, joined to be our UK scout.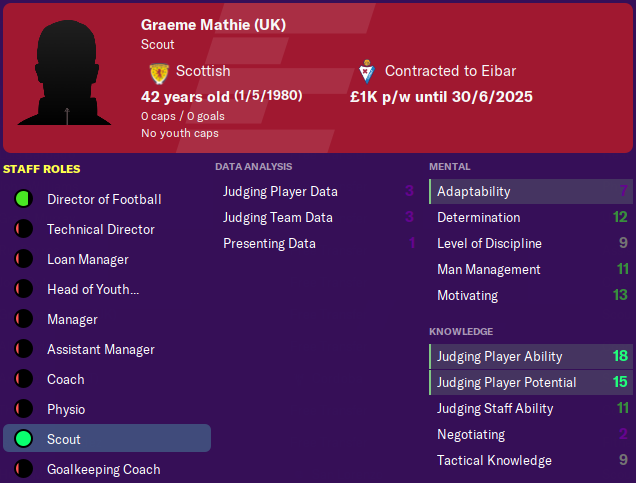 His scout reports backed up my feelings when we were looking to bring Scottish players to the club. The first of those was Ryan Porteous from Hibs just a few weeks after Mathie's arrival.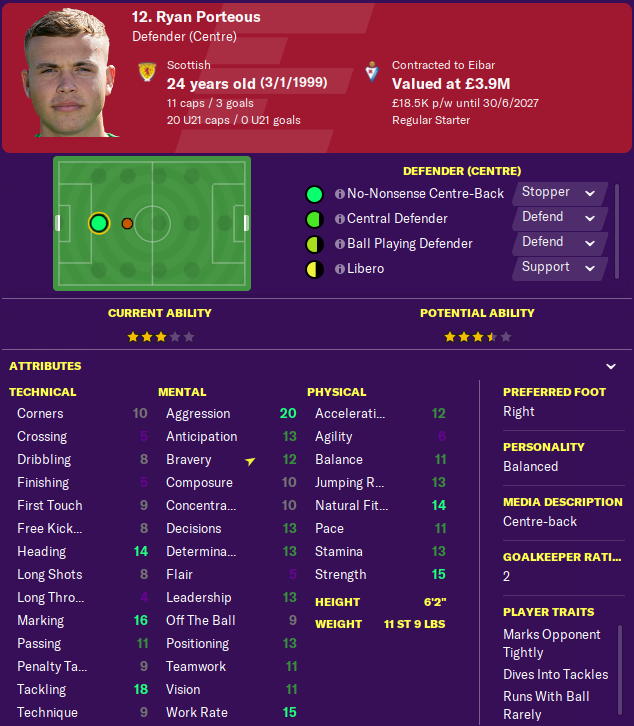 This isn't the first time "Porto" has played under me on FM, he was the captain of my Stirling side on FM18. Remembering that my recruitment policy is looking at players capable of slotting into our Furia style of play, his aggressive and hard-working nature means he is the perfect fit for us.
If I was being fussy, I'd love his personality to be a bit more suited to Furia and he lacks concentration at times too, but his no-nonsense and tough-tackling performances saw him cement a spot in our three at the back formation last season and play regularly for Scotland too. His form has continued this season so far and he's been joined in the first team by two other pals this season.
I'd been tracking Porteous since I joined the club and while I had to pay slightly over the odds to sign him (a potential eventual fee of £7.5m), another player I'd been tracking for a long time that I didn't need to pay over the odds for is Ross McCrorie. He was inexplicably released by Rangers in the summer and I jumped at the opportunity to snap him up.
His versatility is something that attracted me to him, obviously alongside those key Furia attributes again. He hasn't quite been able to hold down a regular spot yet but he's been fine across his 10 appearances so far this season. He'll get there.
The final first team Scot is Allan Campbell. He also arrived in the summer on a free transfer from Motherwell. He faces a huge battle to break into the first team ahead of some of my regulars that've served me well so far, but he's a Furia warrior. He's almost perfect for that Deep Lying Destroyer role I've been a fan of incorporating into my sides over the years on the game.
Alongside the Three Pals in the first team, I've got a couple of younger Scottish players who are out on loan this season gaining vital first team experience. My coaches rate Nathan Cooney very highly. He joined for £300k from Dundee United but is spending this season on loan in the Segunda with Cultural Leonesa. If Stephen Jordan has a good season in the Segunda with Numancia, he could well break into the first team on his return next season. He joined for £350k from Graeme Mathie's old side, Hibs.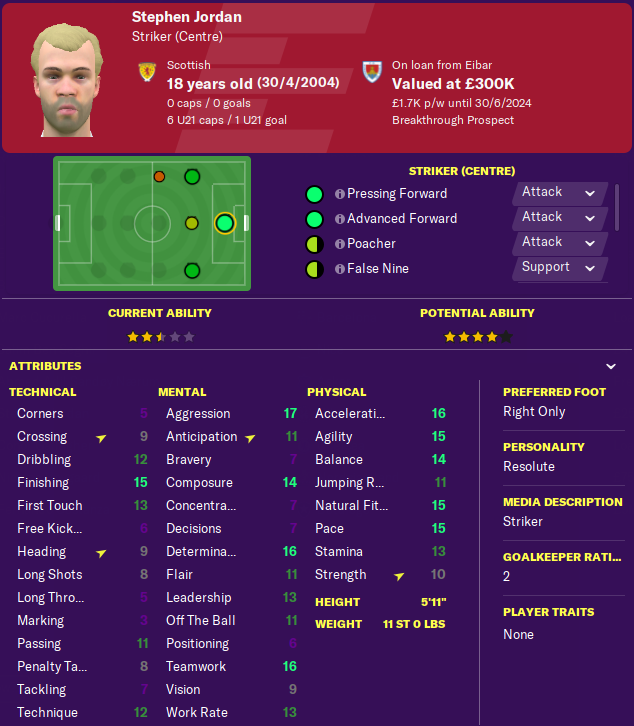 ---
It might be a stupid thing to some or a small thing to others, but I see these little aspects you can bring into your save as the things that keep you going. Those role playing elements that whirl around your head as your clicking continue through the game.
---
We're living in strange times. Things are a struggle for everyone but if you can at all, the below charities are vitally important and will certainly continue to be at this time, please consider donating to them.
Donate to Mind or SAMH – charities in England, Wales and Scotland providing mental health support and care.
CALM – leading the movement against the single biggest killer of men under the age of 45 in the UK, suicide.