My first season at Eibar went very well indeed. A 5th place league finish means we head into the Europa League group stage in season two.
It's a positive financially for the club, but it does mean we have to negotiate a fair few more midweek matches than I was used to during season one. While I had a tight squad contributing to our success last season, rotation will be key in the first half of this season. It might mean a struggle to pick up points too.
Moving House
I wanted to turn little Ipurua into a fortress. I wanted to make it a place teams hated visiting. The vocal Eskozia La Brava fan group getting behind the team and jeering every opposition touch. We did that last season with the fourth best home record in the league.
Unfortunately due to LaLiga rules we've been turfed out of Ipurua. The rules state that clubs that don't meet the 15,000 seat minimum are permitted to use their current stadium for a period of two years. Our two years are seemingly up (although this doesn't seem to have been an issue in the non-FM world).

We'll be making the 40 minute journey to Mendizorroza to share Alaves' home this season. A potential positive is that we might make a little bit more money in gate receipts and matchday income compared to last season. A negative is that I don't have the option to amend the size of the pitch. Last season, I made Ipurua the smallest option possible to me in order to give us another 1% on top of everything else we were doing. It made an impact (in my head).
I've never believed in the need to play any differently whether you're home or away. I'm starting to think I might need to change that belief. We have one solitary win at home all season so far, and have the second worst home record in the league.

Teams attacked us last season. They thought we were there for the taking at all times and 25 times out of 38 we proved them wrong by winning or avoiding defeat against them. That's still happening this season, but it's happening away from home, where we have the 4th best record in LaLiga, behind the big three.

2020/21 August to December
Combining our home and away form together and looking at the first half of the season so far, we're certainly in a much worse position this time round at this stage compared to last season.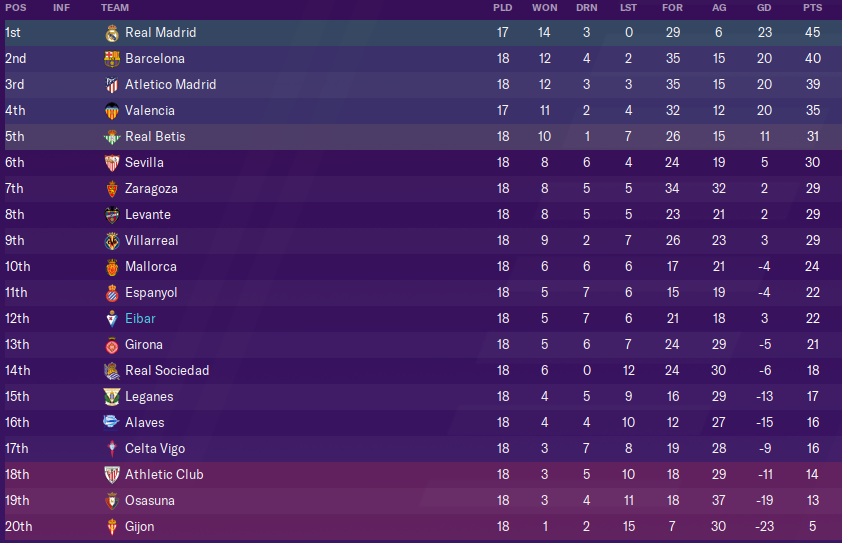 Our performances haven't been terrible which is why I'm not disheartened at all about currently sitting 12th in the table at the halfway stage. We only had three draws across the entire league season last year but already sit at seven at this stage. Those were wins last season and things just aren't falling our way this time round.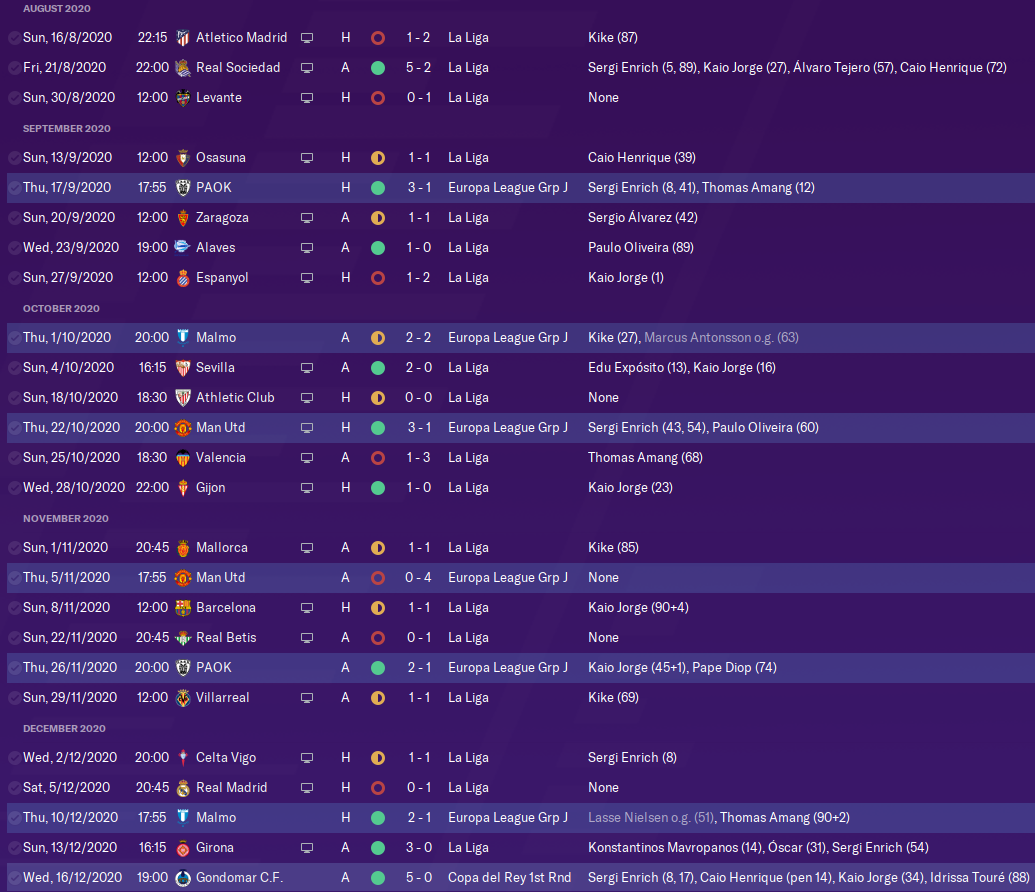 A tough first match of the season against the reigning LaLiga champions was followed up by one of the best performances in my time at the club so far. Everything we hit turned to goals as we downed our Basque neighbours, Real Sociedad, 5-2. It should've been closer than that though, as they dominated the ball and the scoring chances.
I've been encouraged by our form against the big teams again so far this season. We suffered narrow defeats against the big Madrid clubs but managed to pick up an unlikely draw against Barcelona. Brazilian loanee, Kaio Jorge, scoring in the 94th minute with only our second shot on target in the match.
There's been five home matches that I've identified that I'll go through in the following section that we really should have picked up more than the three points we did. These were matches we were picking up more points in last season and that's the reason we are where we are in the league at the halfway stage.
Our league home form hasn't transferred across to the Europa League, where we still have that surprise factor on our opponents. We won all three of our home matches, including another brilliant win over a big opponent. Manchester United fell to a 3-1 defeat in front of an Eibar record crowd of 14,335 at Mendizorroza.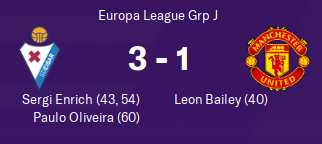 We didn't have the best start to the group as PAOK scored in the first minute of our first group match, but we recovered well to achieve the board's expectation and progress to the knockout rounds. United did get their revenge on us at Old Trafford though, thumping us 4-0.

We'll be facing Wolfsburg in February in the first knockout round.
Tweaking, Tweaking
Last season we averaged 46% possession in the league. At this halfway stage of this season we're up one percentage point on that number. I've identified five home matches we didn't win but where we really should've picked up more points. These were:
0-1 defeat v Levante (2-0 win last season)
1-1 draw v Osasuna (2-0 win last season)
1-2 defeat v Espanyol (2-3 defeat last season)
0-0 draw v Athletic Club (1-0 win last season)
1-1 draw v Celta (1-1 draw last season)
We still ceded the majority of possession in four out of five of these matches, but our average possession did go up another point to 48%. Our opponents are letting us have more of the ball than we were used to last season and we're not sure what to do with it.
I don't want to completely rip up and overhaul our style. La Furia is here to stay. I've just made a couple of little tweaks to how we're set up to see if it'll give us some more impetus going forward. We rely on our Wing-Backs a lot and the first change is to ask them to stay wider so that we're stretching the play and they continue to be an option for an out-ball, especially on the wider Mendizorroza pitch compared to the tighter one at Ipurua. I don't want to disrupt the compactness of our team shape, so that's why I've gone for player instructions there rather than a team instruction change.
I'm a big fan of the Mezzala role, so much so that I've added another one to my side. My Box-to-Box Midfielder on the left-hand side of the midfield has now been amended to a Mez(S). On reflection, we didn't really need the BBM. We've got a good amount of defensive cover with the three Central Defenders and the DLP in the centre of midfield. The Mez gives us a little bit more unpredictability going forward.
And that's the reason for my final tweak as well, unpredictability going forward. I've gone to the player instructions again to ask both of my forwards to roam from position. I want to encourage a bit more movement from them, to get them into different positions for the clearances and out-balls from the back.
Will it work in order to achieve expectations? We'll have to wait and see across the second half of the season.
¡Aupa Eibar!
---
If you liked this blog, or any others on the site, then I'd love you to consider donating to charity if you can. A few suggested links to some can be found below.
Donate to Mind or SAMH – charities in England, Wales and Scotland providing mental health support and care.
CALM – leading the movement against the single biggest killer of men under the age of 45 in the UK, suicide.