Last time out a really good last few months of the season propelled us to a 6th place finish and Europa League football again for this coming season. Finishing 5th and 6th in my first two seasons at the club isn't too bad at all. We're punching well above our weight, our infrastructure is well below the standard that a La Liga club competing in Europe should have.
Heading into my third season I began to question what kind of club we actually are?
---
What Kind of Club Are We?
We've got a defined and unique style of playing. La Furia has been embedded into the club culture, but when it comes to a recruitment plan, there isn't really a specific one in place yet. In the early years of a save, it's all about getting by and getting the best out of the talents at your disposal. As you establish yourself, and get a bit more money in the bank, it opens up avenues and opportunities to shape things the way you want them. What are Eibar's options when it comes to this?
Talent Production Line
We compete in a difficult region to identify and bring through our own promising young talent. Athletic Club are the biggest and best club in the Basque Country with their unique selling point of only playing Basque players. Their ability to produce talent is ridiculous.
Our standing in Spain, and Europe, means we can't expect to keep any exceptional talent that we do produce around for long, specifically young players if they show promise. This has already been the case. Carlos Calvo who came through in my first youth intake got snatched away for £1.2m by Sevilla.
Do you plough funds into improving the first team or do you spend money improving your facilities as a priority? So far, I've gone down the former route. We're currently not set up to successfully develop our own Eibar youth players. Our facilities aren't up to scratch, with average youth facilities, adequate academy coaching and good youth recruitment.
Am I planning to invest in improving our facilities in the next few seasons? There's money in the bank to (£44m at the time of writing) but developing homegrown Eibar talent won't become the focal point of my time at the club for now.
Sign to Sell
This approach to managing a club and signing players is ingrained into me, and a lot of other FM players, I think. Sign a player, usually on a low fee, give him a platform to play and perform, let him move on for a profit, rinse and repeat.
Luis' agent offered him to us after he'd been released by Brazilian Serie C side Sampaio Correa. He joined in January last season and spent some time in the u19s. Atletico Madrid had a £5m fee agreed with him in the summer before his step up to the first team, but he rejected that move and I was able to agree to increase his release clause up to £7.5m. He did make that step up to the first team and has appeared 13 times over the first half of the season.
Dzenis Burnic is a Dortmund youth product that never made the breakthrough at the Signal Iduna Park. His contract expired at the end of last season and he joined Eibar on a free over the summer.
Does the free transfer list get overlooked? It shouldn't. I was delighted to spot Dzenis on there and he's had a great first half of the season, scoring twice and laying on six assists in his 21 appearances.
For signing to sell, the nationalities are certainly something I'd factor in. Of course, if a player is hugely talented clubs will be interested regardless, but Luis and Burnic being Brazilian and German, two nations high up on the country coefficient list, should see them attract interest down the line and make us a good bit of money.
Talent Developers
The situation the club currently finds itself in means that there's a lot of excellent footballers out there who we currently can't afford to purchase. This is where building relationships with other clubs comes in, especially bigger clubs, and having them trust us to be the destination they want to send players to in order for them to get game time and develop.
Just £26.5k per week wages is no price to pay for someone so talented as Eddie Nketiah. He's got 13 goals in 18 La Liga appearances across the first half of this season. We had Konstantinos Mavropanos, a rock at the back, from Arsenal last season too. It benefits us, and it ultimately benefits their parent clubs too.
Across the last two seasons we've had players in on loan from Barcelona, Real and Atletico Madrid too. It's highly unlikely that we'll ever overtake these three clubs and they have a wealth of quality available to them. I'm not complaining if they're happy to provide some of that to us.
A Home for Experienced Talent
Alongside naturally gravitating towards signing players to sell them on, it's no secret I can usually be found purchasing younger players rather than chasing more experienced heads.
While the oldest permanent player I've signed so far in my time at the club might have been 25-years-old, that's not to say I don't have a bit of new found appreciation for an older player.
Gonzalo Escalante is in the peak of his career at 28. He's our captain and Furia warrior in the middle of the pitch. He's contracted for another couple of years yet and I can see him continuing beyond that to be the perfect tutor for some of the younger players to learn from.
Escalante is part of a group of cultural leaders at the club that includes Paulo Oliveira (30), Sergi Enrich (32), Marko Dmitrovic (30) and Sergio Álvarez (30).
So we're doing a bit of all four at the moment. It's never just one to be fair, a combination of a couple will probably be the route I eventually pick to go down. Are there any I've not considered? Let me know how you like to shape your recruitment.
---
2021/22 August to December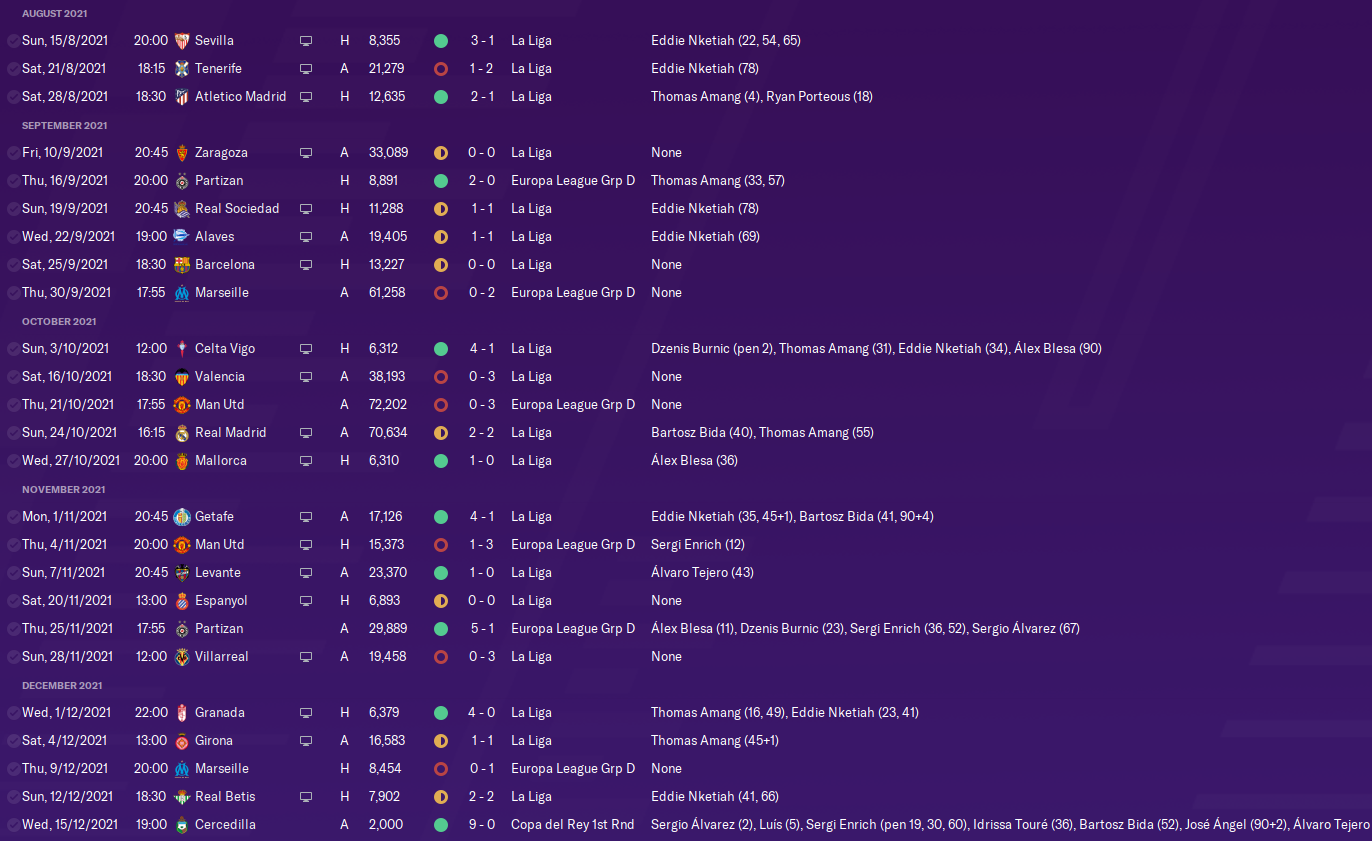 A hattrick on your debut isn't bad at all as Nketiah got off to the best possible start. Amang and new signing, Ryan Porteous, earned us a hard-fought win over Atletico but annoyingly La Liga new boys, Tenerife, beat us in between those two good wins.
Our form looks pretty up and down, when you take into account the Europa League fixtures in there as well. We aren't losing many at all though and that form sees us sitting well in 8th.
We're well placed to push for another European qualification spot for next season. I'll be delighted if we can get Europa League again but will obviously take a place in the Europa Conference League. Whisper it quietly, we're not far off Valencia in 4th spot either…
Our European campaign this season though didn't go the way we wanted.
We can't shake Manchester United as we're drawn against them in our Europa League group for the second consecutive season. Marseille topped the group though, despite us putting in two very good performances against them but ultimately ending up on the losing side. The 1-0 defeat against them in the last group match particularly irked me despite the fact it meant nothing.
I was prepared for no Europe after Christmas until FromElevenOne revealed that he'd spotted some 3rd place Europa League sides dropping into the Europa Conference League! Jackpot! The tournament I wanted to play in all along. We'll be aiming to win it. Whether we can remains to be seen…
¡Aupa Eibar!
---
If you liked this blog, or any others on the site, then I'd love you to consider donating to charity if you can. A few suggested links to some can be found below.
Donate to Mind or SAMH – charities in England, Wales and Scotland providing mental health support and care.
CALM – leading the movement against the single biggest killer of men under the age of 45 in the UK, suicide.