This post first appeared in Issue Two of Latte Quarterly, a quarterly Football Manager e-magazine created by FMGrasshopper, AccordingtoFM, FMAdventure and myself. I'd thoroughly recommend you download all available issues and dive in for a read.
---
"How do I want my team to play?"
It's probably the most important question us Football Managers will ask ourselves. Some find it difficult to answer. We want to set out to win matches obviously but it's getting to that point that is often tricky. Tactics are obviously vital, the quality of the players slotting in to each of those roles in the tactic are equally as important. What about the work on the training pitch?
The change to the way that training works on Football Manager was a welcome one for me and it was also often talked about and requested by so many other players of the game. Why then, into its second iteration on the game, do we still see so many not taking control of it themselves? I really think it could give you that additional percentage of performance that could lead to your side earning the win come matchday. That's why I've decided to go through the reasons why I've set up training the way I have, to gear the sessions towards the type of players I want at the club and how we set up on the pitch come matchday.
---
Style of Play
I've dubbed my playing style on Football Manager 2020 "La Furia". It's a bold, brash and direct style of football that's all about being aggressively in our opponent's faces. We're playing a high defensive line and a high line of engagement too, we press hard and we press high. When we lose the ball we try and win it back as quickly as possible and when we win it back we attack the opposition. I'm looking for aggressive, hard working players who'll fight for the cause and give their all.
That's how I want us to play. How does that go into the training schedule I've set up for my side?
---
Training to Win
Training is about players working hard to better themselves and preparing for that upcoming match. The beginning of our Monday to Sunday training plan is about recovery. La Liga matches are played out over Friday to Monday, but for the purpose of building my base plan, I've chosen Sunday as matchday so our Monday is about a recovery session and a match review session.
Recovery sessions are vital at the best of times but greatly reducing our injury risk, fatigue and improving the conditioning of our players after the effort they put into every match is hugely important. I'd like to hope everyone else does this already, but if you don't, I would definitely recommend filling up the available spaces in your medical team with the best physios and sports scientists you can find. It's bound to have a positive effect on your players.
As the seasons have gone on and more midweek European matches have come into play, the time between matches gets shorter and shorter. I'm not shy in scheduling double recovery sessions on a Friday after a Europa League Thursday night match to get the players in a good position and ready to go again for our league match on the Sunday.
You would like to think that all teams now review their previous match and discuss what was good and what wasn't. I've only recently started scheduling in the match review session the day after a match. It's dedicated to analytically reviewing the previous match (presumably with the data analysts employed at the club?) and it increases our team cohesion, which I'm a big believer in, while also working on our tactical familiarity going forward. It's a great post-match session that still works on what you want to achieve going forward. It's so important to get your players all singing from the same hymn sheet.
Once they're rested and recuperated, the hard work starts all over again. I chose to start off with an overall session. I envisage this as the players coming together and just getting their week of training off to a good start, getting them moving. The description states that it's a session "where the players put a small amount of work into every area of their game". It's good to get each unit together and have them generally working a little bit on each attribute area. It also increases our tactical familiarity, team cohesion and makes the players happier, while slightly increasing their risk of injury and fatigue. It's a good warm up for them because the second session of the day is physical.
I could have the players doing one of the more specific physical sessions, such as endurance or resistance, but I opt for the general physical session as it works that range of attributes, a few of which are absolutely vital to the Furia style of play and my own personal favourite attributes. Stamina and work rate are so important to the system as I expect my players to be able to last the 90+ minutes in each match. We press hard and pressure the opposition into making mistakes. Players already capable of that are high up on my recruitment list, of course, but it needs to be worked on in training too to collectively make us even better at it.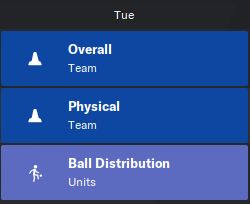 Do you use that extra session available to you? I do, daily from Tuesday to Friday. I think our players can take it. Even with their intensity levels being set to double alongside their individual roles and additional focuses added on top of our daily sessions, their workloads are still only medium. The only day when our intensity goes into orange levels is on Tuesday's with that previously mentioned physical session. The last session on that day is a ball distribution one. Would you believe me if I said the ball retention session doesn't train passing? We aren't known as a slick, short passing side, but the passing attribute covers all ranges of passing. While the defensive unit are defending against the attacking one and working on key attributes for that, the goalkeepers are also working on their distribution too, including their passing and kicking.
The next few days are dedicated to the four game situations that are a key component of Tactical Periodisation, the approach to training that I've written about previously. These are offensive and defensive organisation and the transition from defence to attack and vice versa. We aren't a patient attacking side so we don't train it nor do we play with any wingers so we don't train overlaps. We do rely on our wing backs for width though so we train attacking down the wing and we're unapologetically direct so we of course train that. Alongside training key aspects of our play such as off the ball movement, that (direct) passing again, crossing and finishing it also improves the familiarity with our creative freedom and passing style, plus improving our team cohesion and player happiness. Happy players working as a team is what I aim for.

Chance creation and conversion speak for themselves. We want to create chances and score goals so my players need to improve all attribute areas related to those two actions. Then it's onto our transitions. Pressing is an absolutely vital part of our game, one of the main aims in our style of play is to be in the faces of our opponents. It works on our aggression, tackling, anticipation, teamwork and work rate, all key components of the press. Then we practice restricting the space our opponents can play in when we lose the ball by working on our concentration, marking and positioning, amongst other attributes.
The final aspect of our four game situations is defending. We aren't the strongest team in the league so I put a bit more of a focus on defending in comparison to our attacking training, meaning there's three defensive training sessions on Friday's. Defending from the front is so important in football today and it's no different in my side. The priority of that session is the forwards working on their tackling, marking, concentration and positioning however it also works on the team's overall pressing intensity and marking in terms of tactical familiarity.
There's five defensively focused sessions to choose from from the remainder of the options and there are two final sessions I've allocated for our week putting in hard work on the training ground. Firstly, I choose defending engaged over defending disengaged. It works the players in getting more aggressive, one of the key attributes for my style of play. Then I go for wide defending as opposed to ground or aerial defending. The formation we play is a 3-5-2 meaning that there's only one line of defence out wide. My thought is we need to really put a focus on being strong at defending the opposition's attacks from out wide, plus, again, it also sees us working on that all important tactical familiarity, team cohesion and happiness.
---
Preparing to Win
The eve of a match is all about those final preparations. Depending on whether we're at home or away, there's a slight difference in the amount of preparation we're able to do. My priority is always a teamwork session. This stems from previous versions of the game and the previous way you could set up training. As you've seen throughout, I'm a big advocate of the team gelling and the teamwork match preparation session greatly improves our team cohesion.
Similar to our post-match session reviewing the match, we work with the analysts to preview the match. This increases our team cohesion, slightly increases our sharpness, works on our tactical familiarity and, in my head, enables our analysts to get the players completely up to speed with our opponents and how they play, devising ways for us to defeat them.
Then, depending on the time of the season and our upcoming opponents, I'll choose between match tactics, attacking movement or defensive shape. These sessions give us a slight boost ahead of the upcoming match, alongside some additional benefits with tactical familiarity, team cohesion and certain attributes being worked on as well.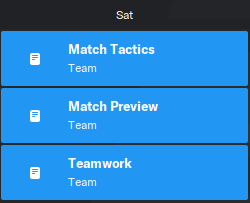 That's how we prepare at our training ground to win our next match, to win three points every week, in order to finish as high up the table as we possibly can. Everyone is entitled to play Football Manager in any way they want, you might completely hand control of training to your coaching staff and still be doing incredibly well. I find I get a much more rewarding experience while I'm playing the game when I'm putting together my training session strategy. If you haven't done it before, why not give it a try too?
Or if you're lazy you can download my schedule from here.
---
There's been a huge surge in the numbers of people playing and sharing their FM saves recently. If you're looking for another place to chat all things FM then join the Football Manager Slack group. Download the mobile and desktop apps to keep up to date at all times.
---
We're living in strange times. Things are a struggle for everyone but if you can at all, the below charities are vitally important and will certainly continue to be at this time, please consider donating to them.
Donate to Mind or SAMH – charities in England, Wales and Scotland providing mental health support and care.
CALM – leading the movement against the single biggest killer of men under the age of 45 in the UK, suicide.