I recently read Wings of Change, a book from Karan Tejwani in which he goes in-depth on how Red Bull has infiltrated the footballing world. Julian Nagelsmann previously transformed Hoffenheim from 17th place in the Bundesliga when he took over to them becoming "one of Germany's most exciting teams", according to the book. His work there attracted the attention of Red Bull and he eventually joined Leipzig.
As soon as I read the the sentence "the German mostly worked around a 3-1-4-2" and the next page on how their overloads and pressing operated, I immediately had a tactic in mind that I knew I wanted to try out on Football Manager. This isn't a tactical recreation, I'm not into that. It's my interpretation, based on literally a few sentences from the book.
So here's the tactic I've called my 3-3-2-1-1.
---
The 3-3-2-1-1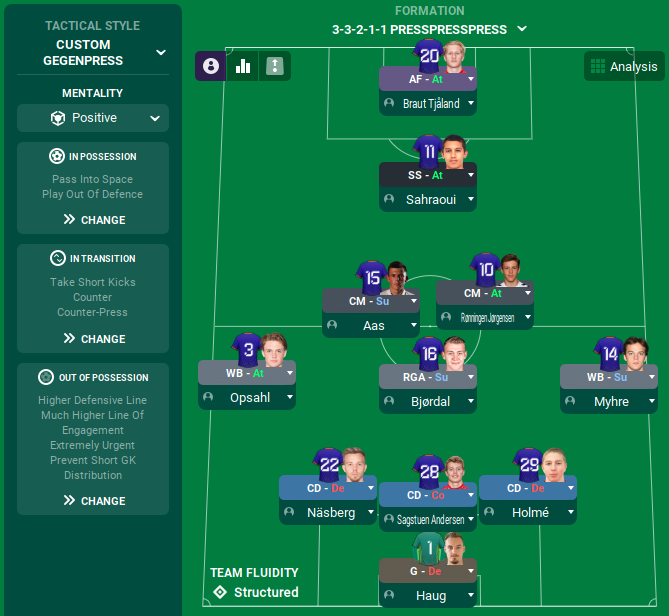 Style
Sometimes it feels like there aren't many FM tactics out there that aren't Gegenpressing in style, so here's another one based on it to throw into the mix.
I find it difficult to create a tactic without it being high tempo, without the players relentlessly pressing and without clicking counter-pressing and countering on. I think that's the way I like my football teams to play. I want the ball hunted down and I want us to break forward at speed. I've only recently taken higher tempo off as a team instruction because I was watching us be too quick going forward and snatching at our opportunities. Of course, with our Positive mentality, our tempo is still slightly higher.
Could it be even more dominating? Potentially if I moved to an Attacking or Very Attacking mentality. For now though I'm happy with Positive.
The biggest thing for me is the coverage across all areas of the pitch. The three central defenders give us that defensive stability. The two central midfielders, with the Regista behind them, enable us to control the middle of the pitch. Our Wing Backs provide width and can push high up the pitch when we've got the ball and the two players in forward positions provide varying options in attack and the chance to build play through the middle, or hit a target from out wide. I'll provide some examples of these situations later on.
While the "Pendeleffekt" isn't easily possible to recreate on FM, I've definitely seen aspects of it. It's essentially a defensive overload to one side of the pitch to limit the opposing players options. For example, if the opposition left back has the ball, my RWB, RCM and Shadow Striker might all have attempts at closing him down and winning possession from him. If any of them are then found out of position, the structure behind them is still very secure.
I think this is definitely one of the most fun-to-watch tactics I've ever created on any version of the game. I've enjoyed all my previous attempts, but I don't think the variety of this one and the output I've been getting has been rivalled.
Key Roles
There's a few roles in the team that are vital and I've outlined them below.
Advanced Forward
We need goals, this role scores them.
Albert Braut Tjåland scored 46 goals in 46 appearances last season as our main Advanced Forward. We have, on average, around 50% more shots than our closest competitor in the league and I think the game actually sometimes punishes us with poor finishing because we create so many chances. Our conversion rate is one of the poorest in the league at just 10%, although obviously with the sheer number of shots we have we're still high goalscorers over the seasons.
Tjåland has had to share the load up top a little bit more this season but he still has 23 goals in 25 starts. His back up, Oskar Siira Sivertsen, has 21 goals in just 12 starts.
You don't need me to tell you what's key for the Advanced Forward role. For me, it's all about the movement, pace and ability to score goals. They're there to do one thing, and one thing only, and that's scoring past goalkeepers.
Regista
Yes, FM21 has some issues with data and what counts as what. That makes it tricky to determine sometimes whether the game is propping up how good a certain player is if you're only looking at things like key passes or average ratings. However, watching the matches, what I see from my Regista is just lovely.
Regular followers of my FMing will know that I'm not usually one for the more unique player roles. When putting tactics together before I've never thought up something that I thought a Regista could fit into from what I wanted overall. This tactic is different. It suits it perfectly and I've been completely won over by the role.
Some will remember my Deep Lying Destroyer from FM18, it's not exactly that type of player I'm looking for in this Regista role, but it's a similar thought process. Its defensive position being in the DM slot, it'd be desirable to have some of the vital defensive attributes, such as Positioning or Anticipation, so the player could have that Kanté-like ability to be everywhere.
Offensive playmaker attributes are obviously so important though because of how much more forward the role operates when we have the ball. It might just be me being bias, but I think the Regista attracts the ball in forward positions much more than a DLP or an AP.
Left Wing Back
I recently sold Tobias Christensen to Bournemouth, a dangerous wide forward that I'd converted into a Left Wing Back when I switched to this tactical approach. He had a great time down that left hand side and while he was, attributes-wise, a terrible defender, it didn't matter too much because it was his forward play that was the reason he was in the side.
With Christensen gone and me turning to his back up, homegrown player Oskar Opsahl, and the difference in the output of the role has been stark. Christensen got 15 assists in his final full season for us. Opsahl is fine, he's got 8 so far this season but he doesn't have that bit of special quality to drive the side forward on the left. I'm really excited to see how Tarjei Loen develops, as he's in a similar mould to Christensen. At 16, he's got a few years developing to do to get to his peak capabilities.
Attacking Movement
The central attacking four are the dangers for us going forward. One tweak I've consistently debated is what to do with those two central midfield roles. Sometimes it's difficult for people to stray away from the shinier roles for the perceived more boring CM roles. They're basically Jack of all trades. They provide stability, they can drift wide if they want to, they can go forward if they want to, they can get into the box if they want to and they can score goals if they want to. Would any of the other central midfield roles do this? Perhaps, but I haven't tried it out yet.
Here's just a few example snippets of us going forward.
As soon as Holm, playing CM(A), sprays the ball out left to Opsahl, Sahraoui, playing Shadow Striker, is on his bike looking for that ball in behind the defence. He pretty much joins Tjåland as a front two occupying the Partizan defenders. You can see Holm sprinting forward too, reaching the edge of the box as the ball hits the back of the net.
Movement is absolutely key, but anticipating mistakes are often as important.
FRJ, more often than not playing in the Regista role, will always keep the ball moving. The metronome of the side operates in that little pocket just behind the midfield two. That more aggressive playmaker side of the role will appear if you've got the player to try it. Siira Sivertson's Off the Ball movement and speed pulls him clear of the defenders here as neither can deal with FRJ's ball that splits them. A composed finish as well.
The counter attacking quality of the side appeared in extra time of Champions League qualifying against Sparta Prague, as we cleared a wide free kick. Holm picked up the ball on the edge of our area and it was instantly five on two.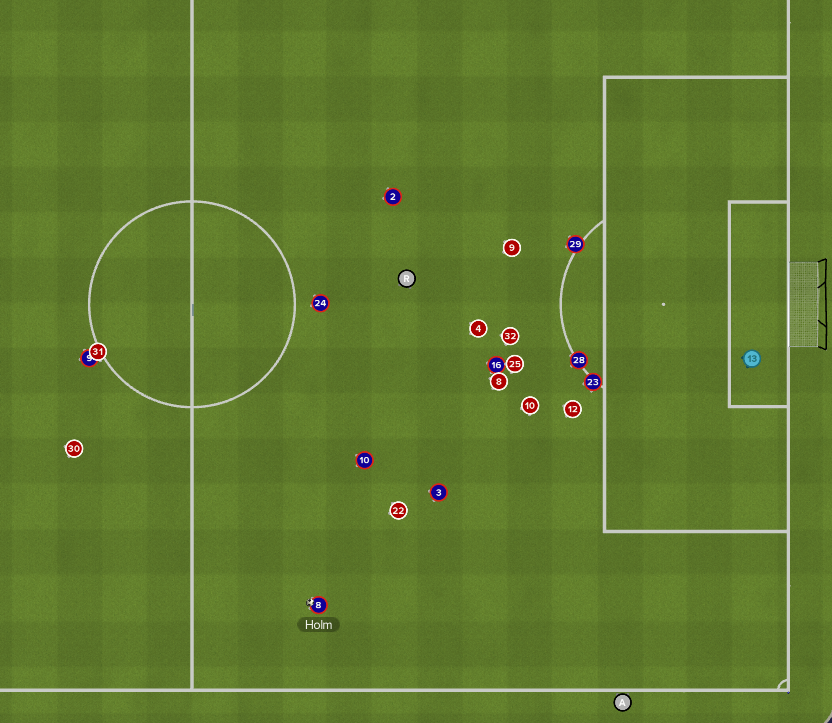 Holm eventually found Siira Sivertson who rounded the keeper superbly to score.
Defensive Positioning
The base of the team is solid, but it can also be quite prone to conceding goals from the chances we do concede. I think this is something that naturally happens when you get to a certain point with the team you're managing, especially so in a league where you're almost completely dominant. Individual mistakes can cost you.
Look at Daouda Bamba completely outpacing Tobias Sagstuen Andersen, playing in that CD(C) role in the centre of the defensive trio. He gets to the ball first, shrugs him off, and finishes superbly to score his second in a shock 3-1 home defeat.
The ideal scenario would be to upgrade the Wing Backs, especially on that left hand side like I already mentioned. They're required to do an extreme amount of work both going forward and defending. If the opposition overload the wide areas then we can be susceptible to that. There's definitely evidence of that when we come unstuck against the more reputable sides once we reach the Champions League group stages.
Download
It's only right you get a little treat for making it this far. You get the chance to download the Samstrøm-ball tactic.
But once you've downloaded it, keep reading on for the important message from United to Prevent Suicide.
United to Prevent Suicide
It's time to shine a light on United to Prevent Suicide. It's a campaign aimed at breaking down the perceived barriers of talking about suicide, as a means of preventing it. Talking saves lives, and we should be comfortable talking about suicide to ensure we can do our upmost to prevent it. You can find out more information on the below website.