I'm putting a huge focus behind developing young players on FM21.
I've spoken before about improving the abilities of young players, playing them in my first team and selling them on. While that could be taken as me doing a solely homegrown save, where I'm only allowed to play my own youth products without signing any new players, I've never once said that. It probably is the overall aim for the save, one day it might well be the case.
One thing I did say in my introductory blog post was that I was looking to make Oslo, and Vålerenga, the destination for promising young players to come and hone their skills. This means I've been recruiting and developing some of Norway's most promising talent. We've been acting like the big team that we should have been, and now are. Here's the approach I've taken to doing that.
---
Domestic recruitment
We're three-in-a-row Eliteserien champions now and Champions League group stage regulars. Players across Norway want to join us ahead of taking that next step to even bigger things.
One player that as soon as I saw I knew had to be mine was Filip Rønningen Jørgensen. FRJ plays for Odds and is a highly talented teenager. Probably one of the most naturally talented players in the Eliteserien.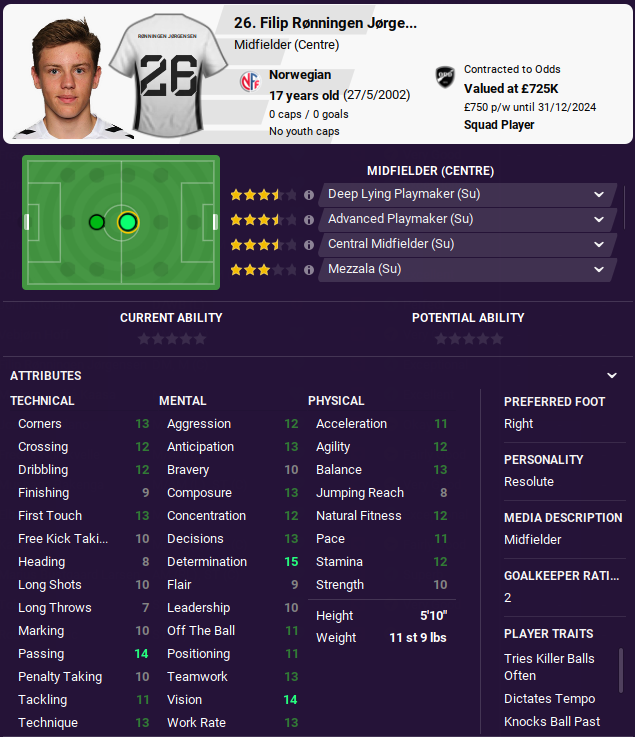 At the end of my first season, after we'd been crowned Champions and had a little bit more money in the bank, I set out on my quest to make him a Vålerenga player. Odds were quoting me £10m+, obviously trying to put me off from being interested. It's at this point I went on a season-long charm offensive.
The first step was sending my Chief Scout on a four-match mission to watch him. This wasn't the only time this happened across the season. I also decided to go and watch Odds a few times myself, as painful as it is to sit there through matches you aren't playing in. I don't really take how players play in other systems for other clubs into consideration in my recruitment decision making, so other than a few flashes of brilliance, FRJ didn't really stand out much when I watched him. It shows him you're keen though.
Coupled with that, I told the press he was our top target. He was, it wasn't a lie. I don't take this approach for every player I'm trying to sign, only for a select few potential stars. A few back and forwards of derisory bids and making rejected enquiries added to the case in FRJ's mind that we were keen. The player was keen too, but Odds stood relatively firm. Armed with another influx of prize money from domestic and continental competition at the end of season two, it was time to swoop. Is a £6m fee too much for him? I don't think so.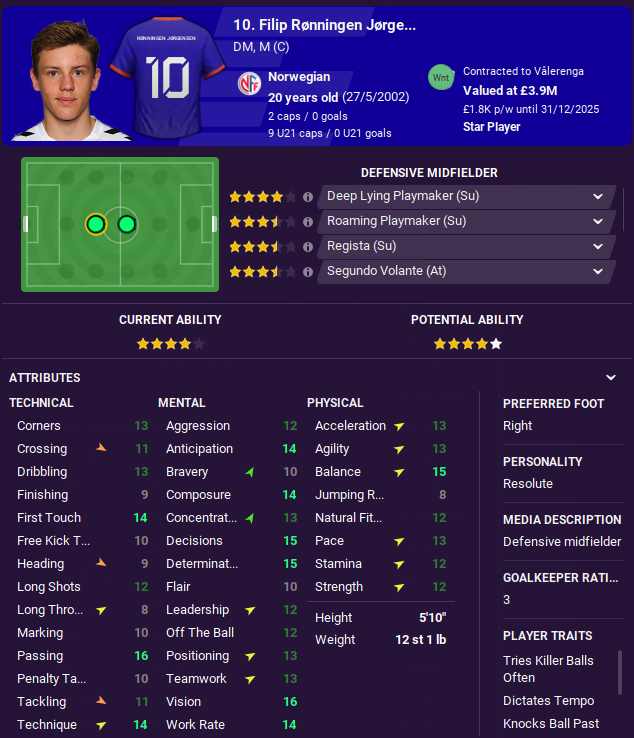 Now 20, he had a brilliant first season which was curtailed slightly early due to a nasty injury. He's bounced back ahead of the new season and has that Regista role in my tactic sewn up. He's made the breakthrough into the Norwegian national team setup now too and attracted a fair few bids in the latest transfer window. It could almost be time to cash in before it goes the same way as the next player.
The chase to sign Max Normann Williamsen was far simpler and he's about to become one of the first to move on from the club as part of our strategy. I'm selling him for more than I bought him for (£2m), but it's a lesson for the future. His contract expires at the end of next season and he had zero interest in signing a new one, I'd waited too long to tie him into a new deal. Maybe with time he might have changed his mind but I decided to sell him now to cash in.
He becomes our record sale at £7m, joining Standard Liege in the summer transfer window, but it could have been much, much more, especially now he's a regular in Norwegian national team squads. One to learn from going forward and I'm now adding in at least one-year extensions clauses as standard to most new deals I'm negotiating.
There's been a fair few other domestic incomings so far, including some young players I've poached to get them into the Vålerenga system as soon as possible. I could just flood this post full of even more screenshots of the likes of Sivert Mannsverk, Syver Aas, Tobias Christensen and more, but they'll maybe appear in other posts. Our strikeforce going into my fourth season is something I wanted to shout about though, it's the perfect example of me snapping up the best Norwegian domestic talent.
I don't think it would be right for me to write a blog at the moment and not talk about Albert Braut Tjåland. He arrived from Molde for just £800k ahead of my second season. Across that season he had to contend with being a back-up behind Kjartansson, who'd played well in my first season. Despite that, he still scored 13 goals in 20 (12) appearances. The decision was made for him to be the main man last season and he showed it was the correct decision by hitting 46 goals in 45 (1) appearances. An unreal season from him. Now worth £2.2m and continually wanted by bigger European clubs, it might soon be time for him to leave.
I've already signed Tjåland's replacement. The big new arrival ahead of season four is Oskar Siira Sivertsen. I've been tracking him for three seasons while he's scored 41 goals alongside perennial Eliteserien top goalscorer, Amahl Pellegrino, for our closest league rivals, Kristiansund.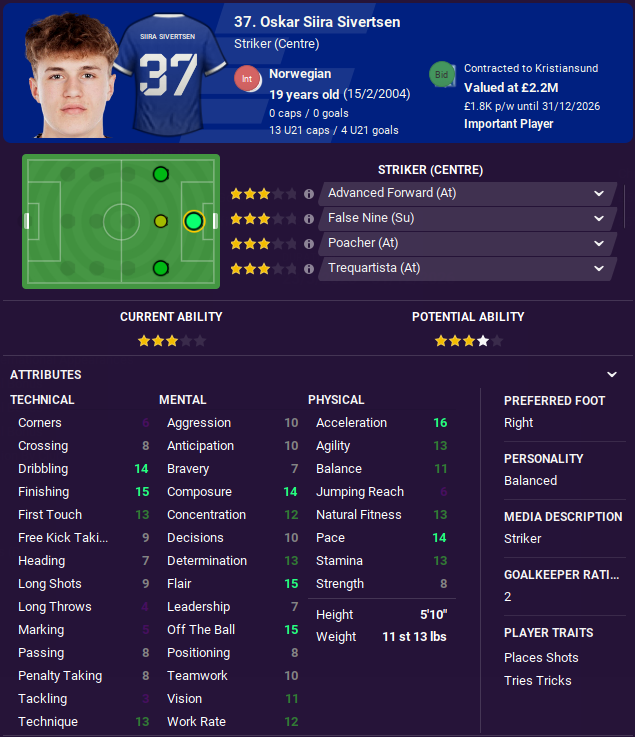 With a £30m transfer budget burning a hole in my pocket, and last season's veteran back-up striker leaving for the Middle East, I thought I'd go for it. A potential £4.8m deal was agreed for the 19-year-old, after a little bit of haggling and watching him in a few pre-season friendlies.
Spoiler alert, he's already got 10 goals in 2 (8) appearances so far in season four, including this delicious dink. I'm excited.
Domestic bargain of the century has to go to this man though, Tobias Sagstuen Andersen. What a find from my scouts, Raufoss should've acted like Odds and put up much more of a fight to keep this man. We snatched him away for just £325. That's not a typo. He was a Perfectionist, although that's dropped to Fairly Determined now. He's come on leaps and bounds and was a permanent fixture in the middle of our three central defenders last season, hitting double figures for goals too as we continue to make set pieces count. It pays to scout the lower leagues in the country you're playing in with him now being worth £1m and tipped for a national team call up by the media.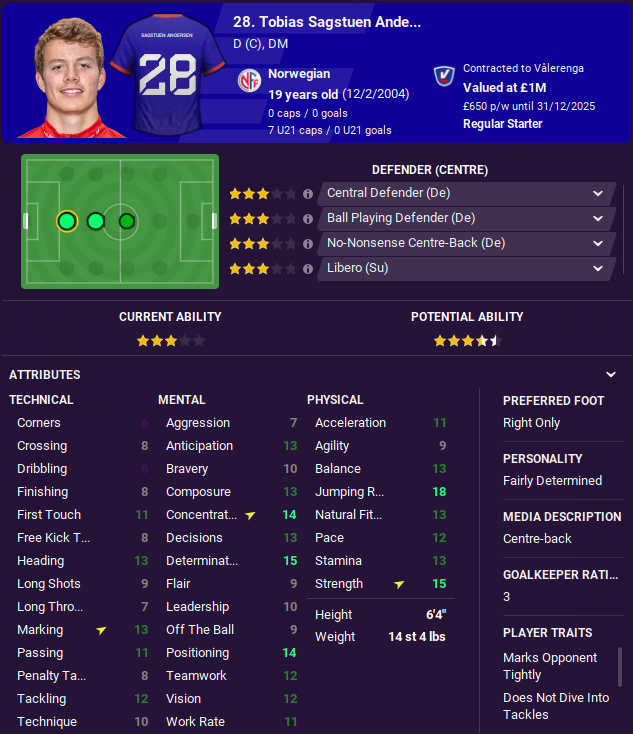 ---
Regional recruitment
Our reputation is increasing across the continent too. I definitely see us on the same perch as Danish clubs FC Midtjylland and FC Nordsjælland when it comes to the different approaches they take compared to the form. I also see us along similar lines to FC København and previous perennial Eliteserien champions, Rosenborg, in terms of the size of club we are now. Players in the Nordic region want to join us to better themselves.
Naatan Skyttä is one of those players. He was a player I'd spotted playing for the Finnish u21 side and snapped him up for £230k. So far he's struggled for a place in the first team and could probably benefit from a loan out or for some other players to be moved on. I really like him though. He's a young, diminutive, flair player that could be very fun to watch. Plus, he's currently highly rated IRL and has one of those YouTube insane flicks and tricks videos, so I'm keeping him.
Andreas Schjelderup is Norwegian but starts the game at FC Nordsjælland, one of those aforementioned clubs. He's very highly rated IRL and I just missed out on signing him from them previously, as he chose to join Hobro in Denmark once his contract had expired.
Undeterred, I kept tabs on him and had my scouts keep watching him. The holy grail is when players become unhappy and want to leave clubs and I jumped at the chance to sign him for £650k. Not a bad profit for Hobro but a relatively low fee for us these days considering our transfer budget.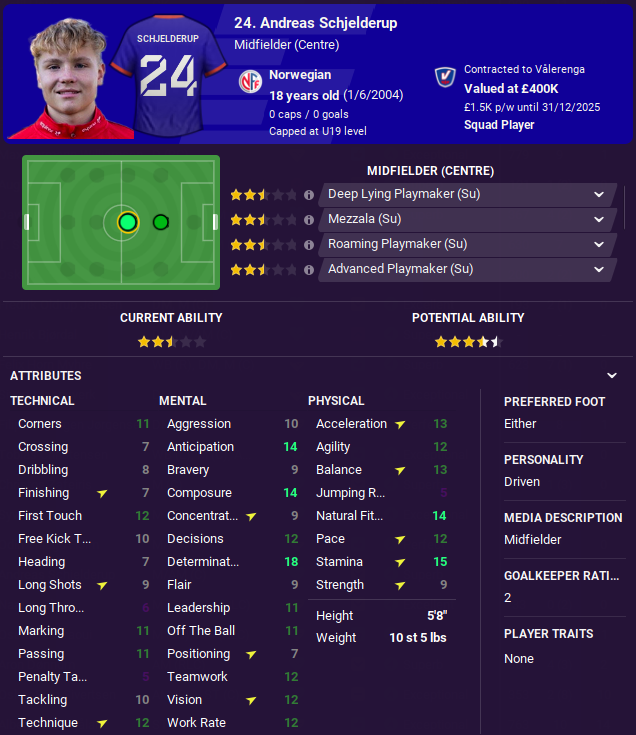 He's got some improving to do but at just 18-years-old, he's got time to do it and he's now at the right club to kick him onto the next level.
I'm always keeping an eye out for players across the region, and Filip Bundgaard is one I've been tracking for a couple of seasons now. He's got a minimum fee release clause of £3.8m for foreign clubs, which of course we are. It's a constant battle whether I should just pull the trigger or not. Should I?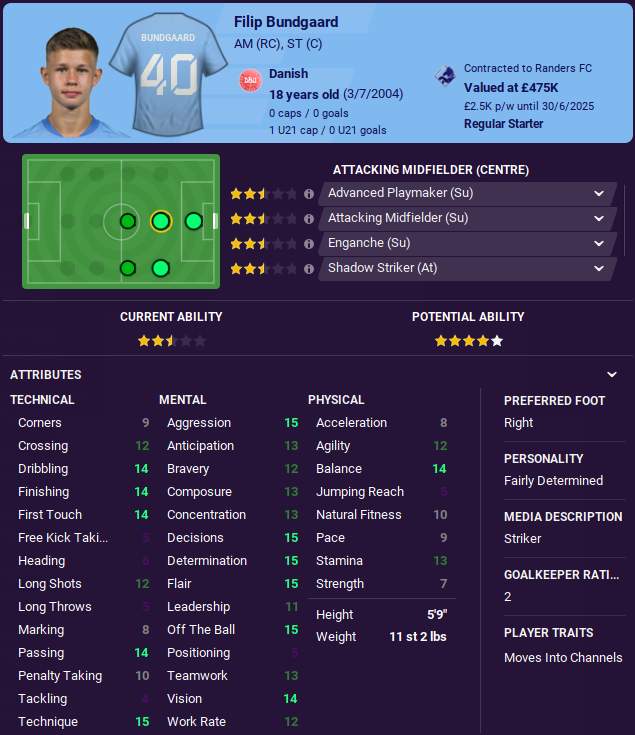 ---
Continental recruitment
My recruitment across the continent has so far been geared towards bringing back talented Norwegians to the country. They're players who left when they were younger and haven't quite been able to make the breakthrough yet at their clubs. Vålerenga can be their platform to get minutes on the pitch, continue their development and put them on the path to make that similar move abroad again.
Dawid Bugaj is Molde-born, half-Polish and had been a player I'd had my eye on since I joined the club, with the expectation that Christian Borchgrevink would eventually move on in the Right Back position. Yes he's still young but he had yet to make a break into SPAL's first team in Serie B. Once Borchgrevink's move to Spurs was finalised, I made the move. Perhaps a potential £4.7m deal was a little bit of an outlay but I think over time it'll be worth it. He'll either make us that back and then some, or he'll be my RWB for the remainder of my time at the club.
Ex-Stabaek and current Sporting central defender, August Frobenius, returned to Norway to join us last season when his contract in Portugal expired. At just 19 he's got some developing to do too, but he should be a solid option for us at the back.
There's a whole host of additional players I want to bring to Oslo. Håkon Evjen is interested but I think we'd be priced out of a move on wage demands. I'm constantly keeping tabs on Chelsea's Bryan Fiabema, who keeps going out on loan. Now 20, he's still got a couple of years left on his current deal. Isak Hansen-Aarøen is another Premier League loanee regular, currently at NYRB from Manchester United, who looks an incredible prospect. Both Fiabema and Hansen-Aarøen are ex-Tromsø. I think our platform could propel them to the next level, or at least help the club out financially when they're sold on.
---
International recruitment
There's only been one incoming transfer from beyond Europe so far and that was when I was randomly presented with the scout report of Lamar Walker from Portmore United in Jamaica. He joined for the measly sum of £1.5k and made less than 20 appearances for the first team. He spent the second year of his deal on loan, and impressing, at Haugesund, before he refused a new deal and left on a free transfer.
I'm kicking myself now. He joined Heerenveen and is now worth £5.5m. More proof that I should insert those contract extension clauses into negotiations.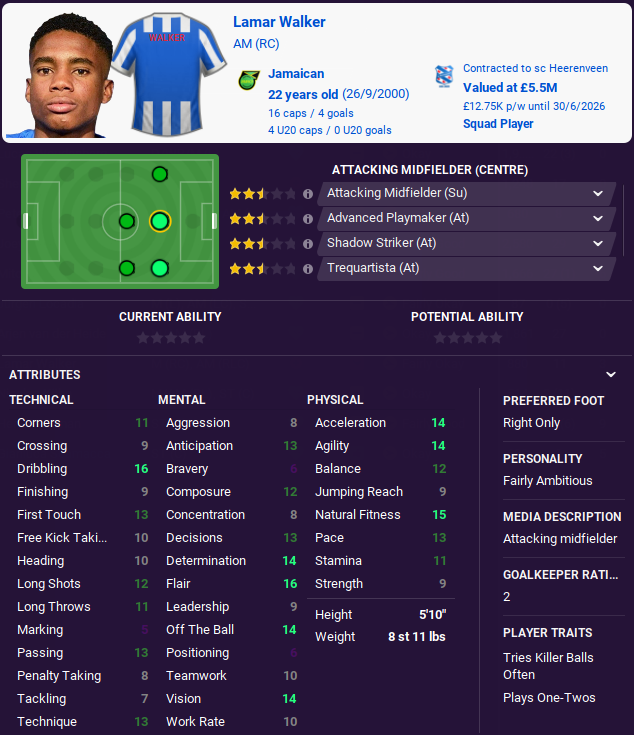 ---
Internal recruitment
After all of that, I shouldn't really be recruiting anyone outwith our club. Our youth system is churning out some very talented young players. Sometimes the lure of signing certain players is too much, as you've seen from some of the players above. They'll eventually move on as planned, and I'll look internally for their replacements.
Tarjei Loen is currently the pick of the bunch, already playing for our 2nd team in the Norwegian third tier at just 16. He should slot perfectly into my current system at LWB.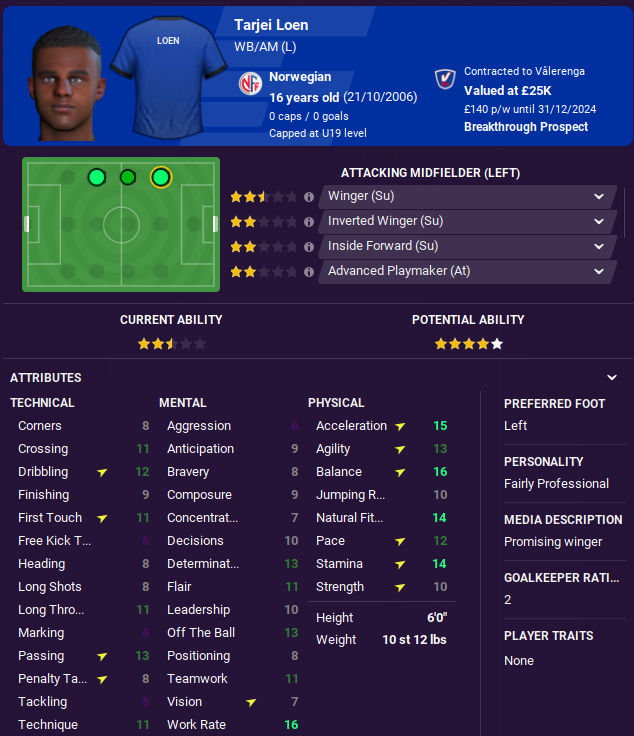 ---
You probably didn't learn too much from this post. I mainly just wanted to show off some of the players at my disposal currently. The squad we've got is really exciting. My fourth season has begun and I'm looking for us to retain the Eliteserien title in style.
---
United to Prevent Suicide
It's time to shine a light on United to Prevent Suicide. It's a campaign aimed at breaking down the perceived barriers of talking about suicide, as a means of preventing it. Talking saves lives, and we should be comfortable talking about suicide to ensure we can do our upmost to prevent it. You can find out more information on the below website.