In my role as Norwegian national team manager on FM21, I need to keep tabs on how my Golden Generation are performing. I'll be creating separate posts to track the key players who'll play a big part for the national side while I'm in charge.
If you're managing a big club, I think you might want to snap Sander Berge up early on.
---
Day One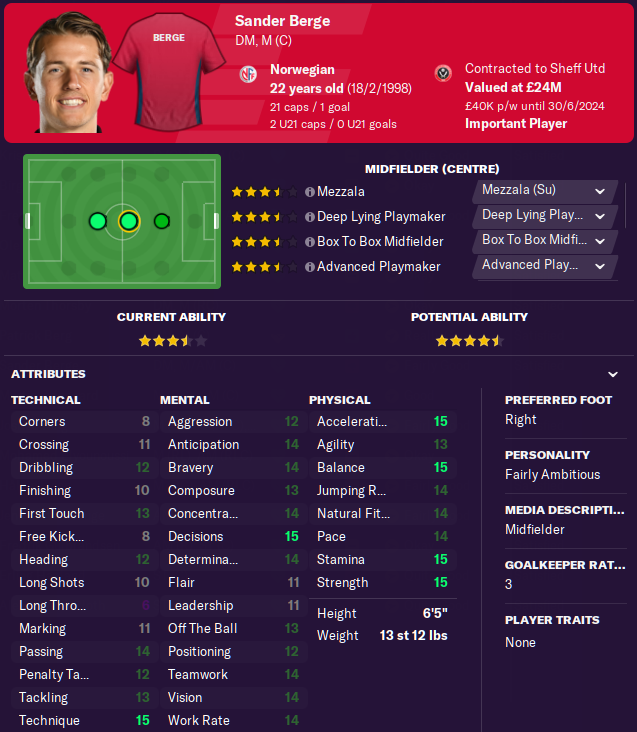 As strange as it may seem, I was more excited about using Sander Berge when I was deciding on managing the Norwegian national team on FM21 than I was Haaland or Ødegaard. I'd come across him a bit more on FM20 than I had done the other two and he developed into a seriously good midfielder.
He's got all the potential to do that again on FM21. He's got plenty of improving to do but I'm tipping him to move from Sheffield United pretty early on in the save. He'll take his game to the next level at one of Europe's top clubs.
What's his best role? The game can't seem to decide and neither can I at the moment. With his physical ability being what it is currently I'm thinking potentially a box to box midfielder, especially if Ødegaard is going to be the main playmaker.
End of 2020/21 Season
Sander Berge's season ended early as he broke his leg at the beginning of April. The current estimation of his time out is between four and seven months, which does mean he misses the European Championships in the summer of 2021. A cruel blow for one of our brightest talents.
Ahead of his injury, he'd been a bright spark in a poor Sheffield United side that battled relegation in the Premier League. He made 29 league appearances, scoring once and providing five assists with an average rating of 6.86.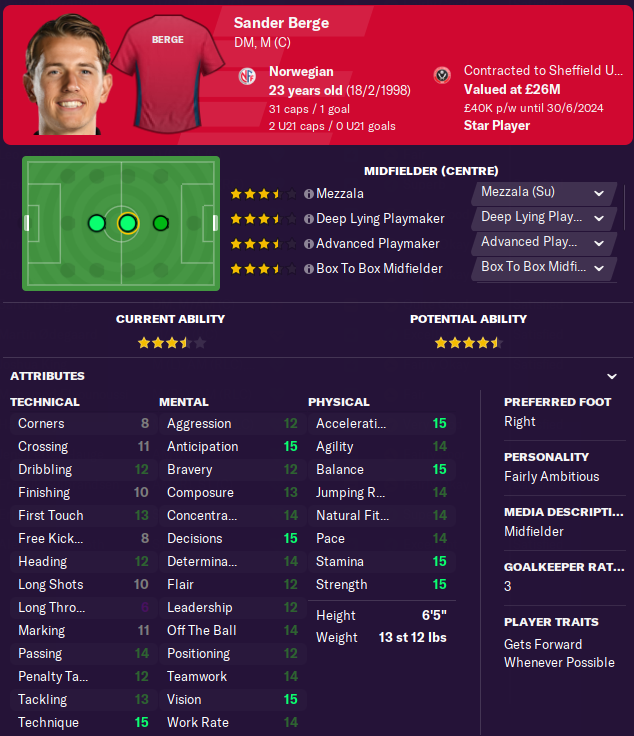 He'd improved slightly too, with his Anticipation, Flair, Leadership, Off the Ball and Vision each increasing by a point. His injury did come at the worst time for him and I wonder whether we will see him move on from the club this summer, or whether that's currently on hold until he regains fitness?
---
End of 2021/22 Season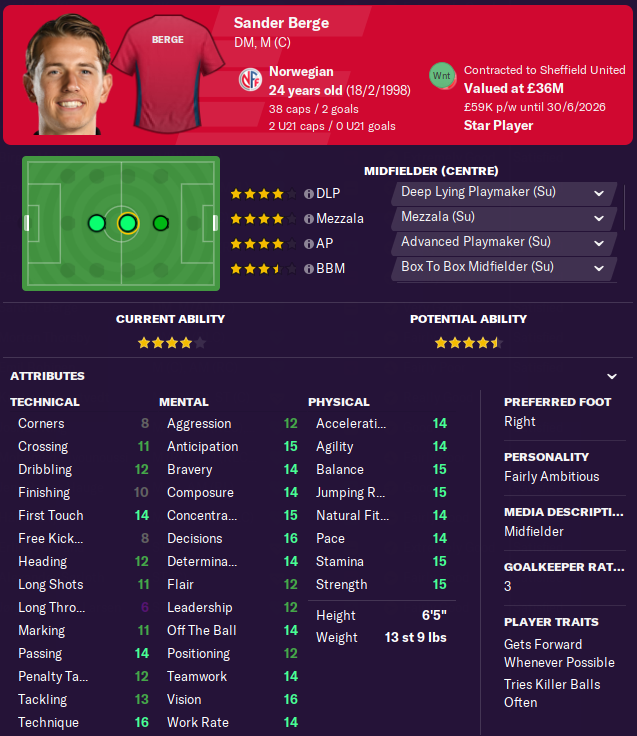 Sheffield United narrowly stayed up last season with Berge missing the crucial end of the relegation battle. This season he's starred and led them to a 9th place finish in the Premier League. He scored three times and laid on 11 assists for his teammates from the Deep Lying Playmaker role he's been assigned.
He scored a penalty against them earlier in the season and now Manchester City are looking to make a double Norwegian international swoop. They're currently closely watching Berge as well as the huge deal in progress for Ødegaard.
Berge's seen attribute growth across the board this season, as he bounced back superbly from that injury that kept him out of Euro2020.
---
End of 2022/23 Season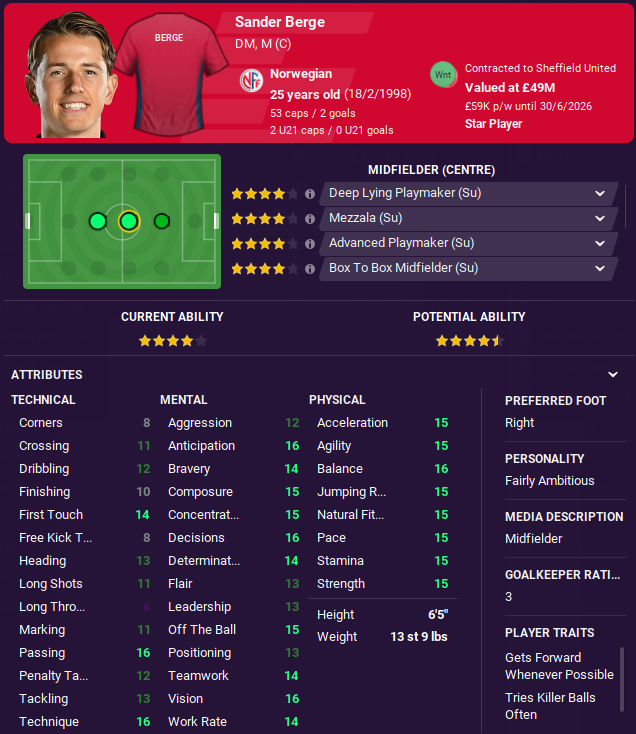 Seven assists and three goals helped Sheffield United stay in the Premier League yet again, finishing in 14th. He won their Supporters' Player of the Year award as well.
It looks as though this could finally be the summer he earns a move to a big European side. He's requested a transfer and Sheffield United have slapped a £50m fee on his head. Arsenal, Spurs, Liverpool, Dortmund, Real Madrid and PSG are all currently interested in him. Where would you go if you were him?
I'm looking forward to seeing how he kicks on at club level. At international level he's slotted in well to the new tactical approach, but his performances have just been fine. He's your classic seven out of 10 player every match.
---
United to Prevent Suicide
While you're here, why don't you visit the link below to find out how you can help break down the barriers of talking more about suicide. If we talk about it more openly, we could save lives.