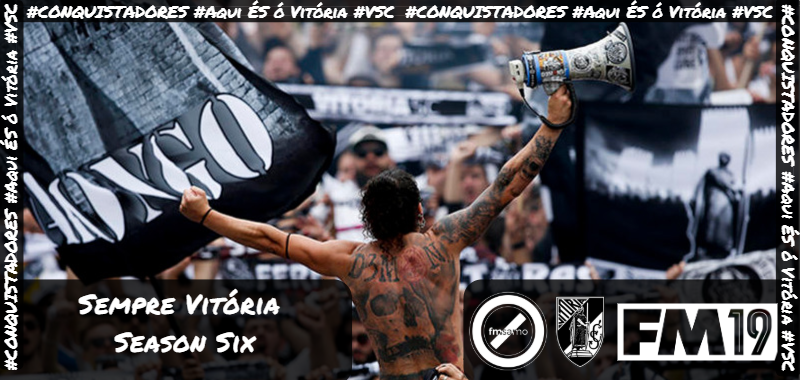 My Vitória side managed to win our first ever Portuguese Primeira Liga title in my fifth season in charge. Over the course of the season we were just that little bit more consistent than Benfica, pipping them to the title by two points. I've told the players that we should be challenging again but luckily the board just expect a top three finish to secure Champions League qualification.
After last season's success I knew there would be vultures circling for my players. Vultures with heavy pockets lined with cash. What can you do when the elite of Europe come knocking for your hugely talented homegrown central defender?
---
Luis Miguel
He was the stand-out of the season one youth intake, rated by the coaching staff as having that elusive black fifth star on his potential ability. He was put straight onto a personal training plan to develop his central defender attributes. I hoped that his physical attributes would improve with age, especially his strength and pace, but he also had work to do in terms of his positioning, his concentration and his decision making.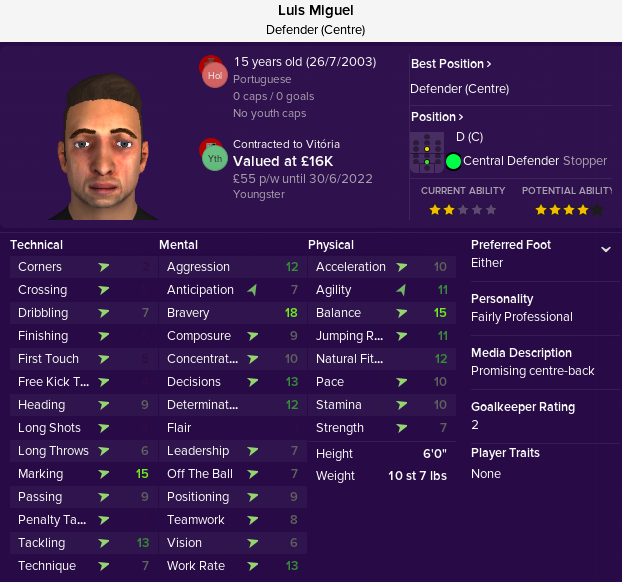 Across the next two and a half seasons he played a lot of youth football, 148 matches to be exact, for the u19 and u23 squads (my u23 squad remains largely empty so my u19 squad plays a lot of football). When he hit 18 it was decision time. His current ability had moved from two to three stars and he'd already been capped six times at u21 level for Portugal. It was time for a step up to the first team squad, bypassing the B team route.
He made huge development strides in those two and a half years. His positioning and concentration both increasing by three points while his gym work was clearly paying off. His strength went from seven to 12 and he made some great gains in his speed and jumping reach as well.
Looking back now, I should've given him more gametime in that first season with the first team. He only made 15 appearances but did very well, averaging a 7.43 rating and scoring his first two goals too. Last season was his breakout year though. He partnered Toni Borevkovic on our way to the title win, making 45 appearances and chipping in with four goals as well.
I knew the summer window going into season six would be a tough one. Manchester City were the first to test my resolve, coming in with a low offer that I negotiated up to £24m and a 40% sell on clause before choosing to reject it. Atletico Madrid were next up, bidding £38m. Miguel had his heart set on a move to their city rivals though. Real were interested, as were plenty of other clubs, but they didn't seem to be making a move as I rejected numerous other Atletico offers.
Just before league matches got underway again in they came and off he went. A new record Vitória sale of a potential £52m.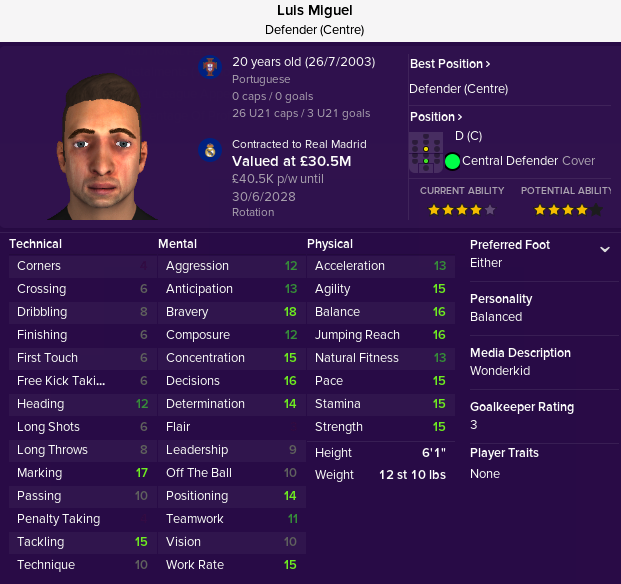 His improvement has just been incredible over the course of his time at the club. His personality might have changed strangely but he's of course deemed a wonderkid. From season one intake to wonderkid to £50m-odd sale to Real Madrid. It's not bad really is it.
What next?
"How do you plug a massive hole in your title winning defence? And would the sale negatively impact us in any way?" were two of the questions I was asking myself as the move went through.
Plugging the hole
The first look to replace any of my outgoing players is always internal now. Despite a few sniffs last season, there was no firm interest or offers for Borevkovic over the summer, so one half of the partnership remained. Teodoro Paredes is going into his fifth season at Vitória, he's still a good player and personality to have around the squad but at 30-years-old he's just a back up option now.
At look at the B team squad saw Aleksandar Vasiljevic waiting to step up. He was found by Eastern European scout, Mico Vranjes, and signed last summer from Partizan for £650k and made 16 appearances in LigaPro, averaging a 7.24.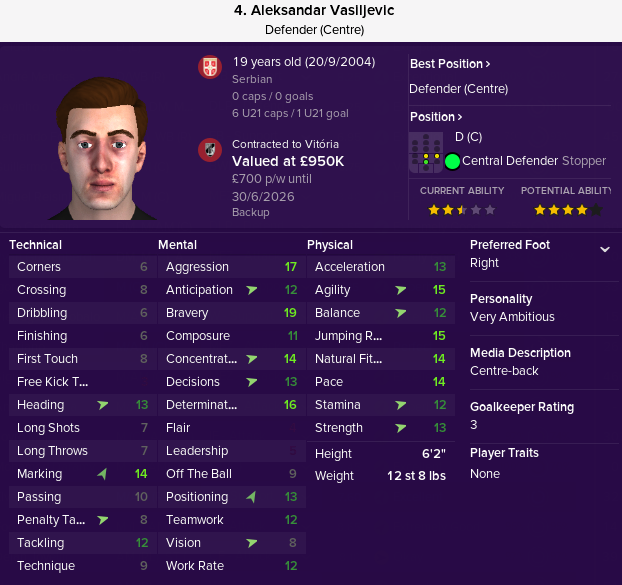 He's tall, brave, aggressive and determined plus our coaches hold him in very high regard. The plan was to have him play another season for the B team but I think now is the perfect time for the 19-year-old to slot in alongside Borevkovic. It'll be great to see Croatia and Serbia working together. As a slight spoiler to the next section, he's already being linked with a move to the Premier League.
With the sale of Miguel my transfer budget stands at around £80m but I have a bit of a problem when it comes to spending a lot of money on players, both in transfer fees and wages. The highest fee I've paid so far has been activating a £5.75m release clause for a Brazilian wide player named Foguete this summer and Mário Ferreira is on £45k a week through a series of new contracts he's deserved through his performances. I naturally gravitate towards a Moneyball "buy low, sell high" save.
However, I decided to do an FMEadster and try searching for players that appear to be similar in quality to Luis Miguel to see if there was any diamonds in the rough I could polish. The short answer is no. We could push the boat out to purchase Rúben Dias (valued at £57m and on £165k p/w) or Niklas Süle (valued at £44.5m and on £170k p/w) but I think I'll stick to my tried and tested method of looking for younger, affordable talent for now.
Would it impact us?
Thankfully it hasn't.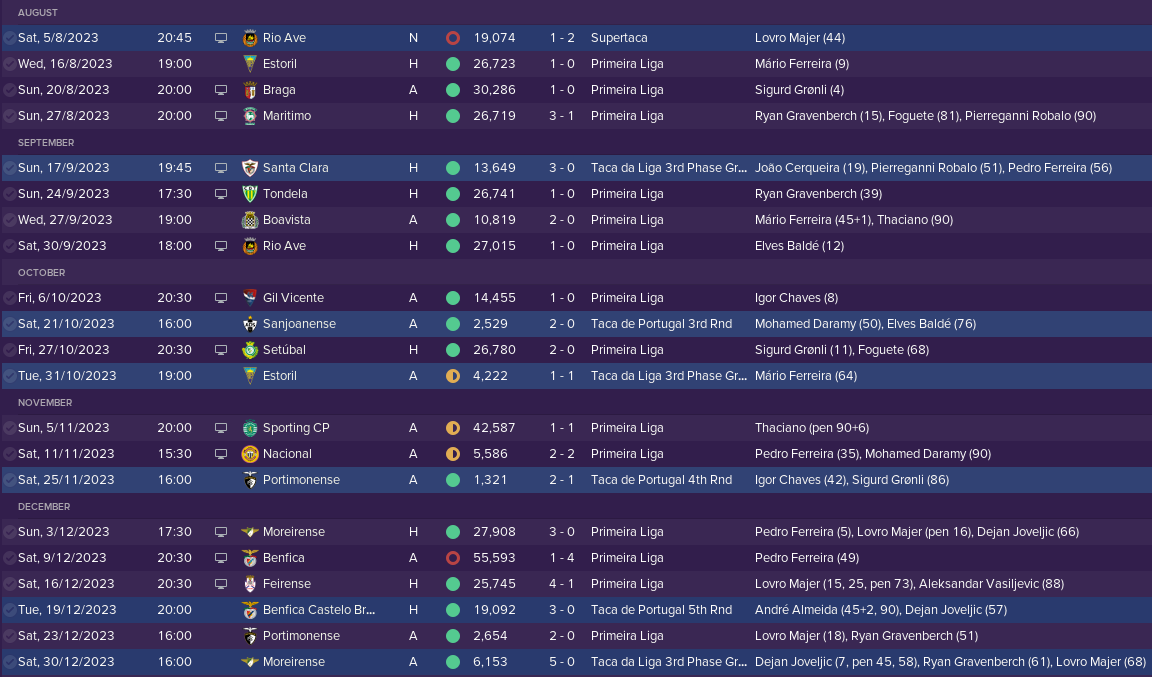 Rio Ave exacted some revenge for our win against them in the Taca de Portugal final just a few months prior by hitting late on to win the Supertaca. Funnily enough, that was Luis Miguel's final game in Vitória colours before his move to Real Madrid, with Vasiljevic replacing him in the side for our great start to the season where we only conceded one league goal in the opening three months. He settled into the side with ease and is coming on leaps and bounds.
November was a struggle. The 96th minute celebrations against Sporting were short-lived after they went up the pitch and equalised in the 97th minute. More points were dropped but it was more like one gained as Mohamed Daramy equalised in the 90th minute against Nacional. We followed that up with a humbling away in Lisbon against Benfica. Unsurprisingly, there's a three-way title race on the cards.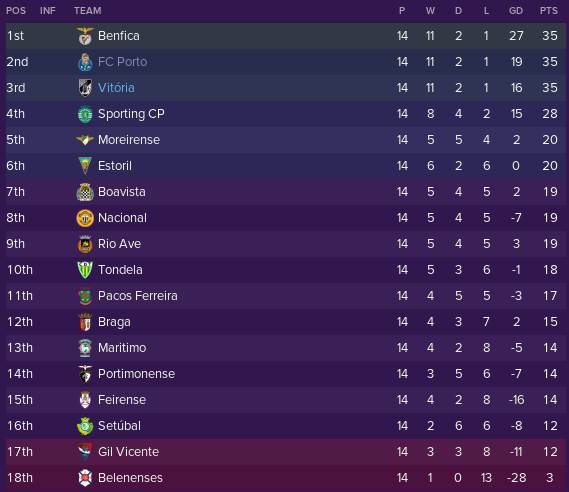 Things are finely poised heading into the second half of the season, where we're competing on four fronts. We secured our usual safe passage into the Taca da Liga semi final and Taca de Portugal sixth round. Our Primeira Liga title win last season meant we were top seeds in the Champions League group stage draw, rather than the usual fourth seed. Lyon, Everton and Olympiakos would stand in our way, a significantly better looking group than last year.

Even with an easier group it's still quite an achievement for us to put in our best showing so far in European competition and go unbeaten. Everton defeated us in the first knockout round of the Europa League in season two, so it's particularly nice to get six points from them a few seasons later.

Atletico Madrid are waiting for us in the first knockout round. It'll be a tough task but we'll give it a shot.
So to January then where I'll be in my best ducking and dodging bids for my star players mode. It remains to be seen whether we'll retain our Primeira Liga title but I'm certainly aiming to sustain the success and bring home some more silverware to Guimarães.
---
If you liked this blog, or any others on the site, then I'd love you to consider donating to charity if you can. A few suggested links to some can be found below.
Donate to Mind or SAMH – charities in England, Wales and Scotland providing mental health support and care.
CALM – leading the movement against the single biggest killer of men under the age of 45 in the UK, suicide.