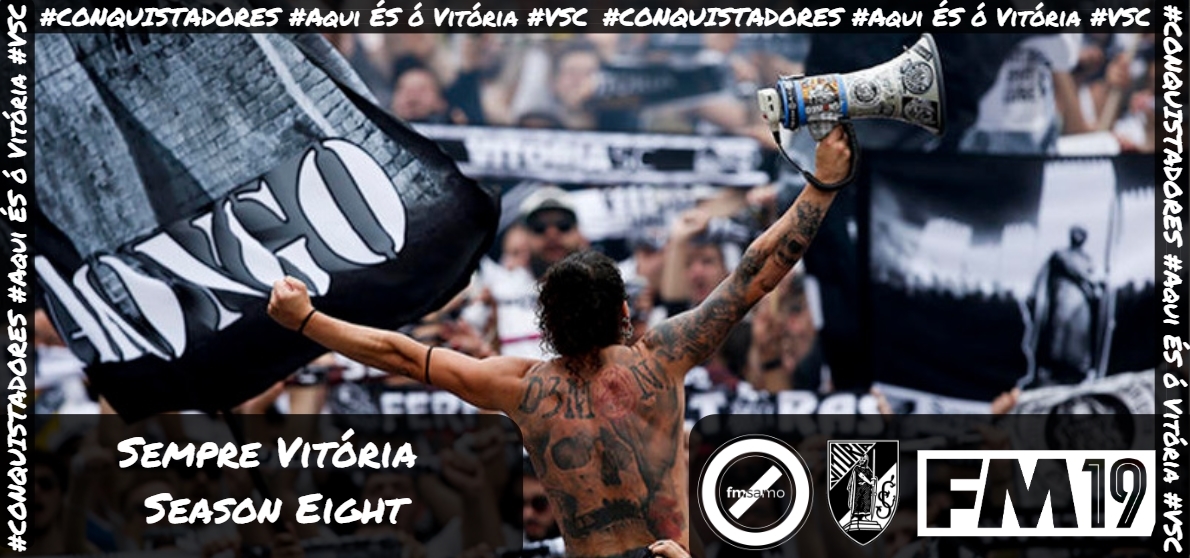 That's it. It's over. My FM19 save with Vitória in Portugal has come to an end. What a journey.
I'll go through how season eight finished up first and then round off by looking at my time at the club as a whole. This is going to be emotional.
---
Season Eight
At the halfway point we were 2nd in the table and trailed Benfica by three points in another two-horse title race. I walked you through a perfect hattrick that Pedro Ferreira scored against Boavista, three of his 31 goals so far at the halfway stage. Would he be able to sustain that form and fire my Vitória side to only our second Primeira Liga title win?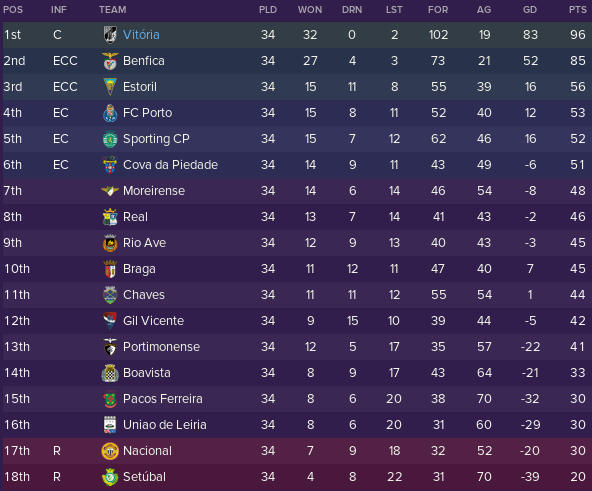 We did it! My time at the club ends with a league win, our second of the save. It was done in style as well, winning every single league match in the second half of the season. Here's a few tales of the tape:
Primeira Liga record points total – 96 points
Primeira Liga consecutive wins record – 24 matches
Most goals scored in a season (during the save) – 102 scored
Vitória's best defensive record (during the save) – 19 conceded
Vitória B won LigaPro
Vitória u23s win their league
Vitória u19s win their league
Pedro Ferreira's 41 league goals is the most scored since Jardel's 42 in 2001/02
Ferreira ended up with 53 goals in 51 matches this season, an utterly ridiculous goal tally and one I don't think any striker I've ever managed on any version of the game has reached before. I said in my introductory post that I wanted to produce and develop a player like Armando Marques, a Balon d'Or winning Vitória youth product from my time at Stirling on FM18. Ferreira was the focus of my last post and you'll remember he didn't come through a Vitória youth intake, but he was signed early enough to become a homegrown player, so I'll take that one as a win.
The save ended with a 3-0 win against Estoril. Two from Ferreira but they were the bread inbetween a long range Sigurd Grønli strike on his 258th appearance for the club. He was one of my first signings and has been incredible for me.
Alongside the league, we won the Supertaca at the start of the season and the Taca da Liga in January, that's a treble! If only we hadn't been embarrassingly knocked out of the Taca de Portugal at the first round we entered against lower league opposition way back in October.
One thing I didn't mention in the last post is that we'd topped our Champions League group that contained Napoli, Valencia and Celtic. The furthest we'd gone prior to this season was the 1st knockout round, falling at that stage in the last two seasons. Atletico Madrid knocked us out two seasons ago, but we gained revenge this time round, overcoming a 1-0 away leg defeat to win 2-0 at home. Vitória youth product, Igor Chaves, getting the scoring underway in that one. A lovely sight.
That took us to Turin to face Juventus and another 1-0 away defeat. The Estádio D. Afonso Henriques is a fortress though and we blew them away in the second leg to go through to the semi final of the Champions League, 4-2 on aggregate. One of the best performances I've seen from us throughout the save.
The semi final almost topped it, almost.
Conceded two away goals in the first leg, 3-0 down in the second leg.

Nothing to lose, go attacking, get a goal back.

10mins to go, go very attacking, get another goal back. One more and we're into the CL final on away goals…

FM you're a cruel wee bitch sometimes aren't you. pic.twitter.com/qaAMIWb98j

— FMSamo (@FM_Samo) October 5, 2019
A good performance in the first leg was almost a great one until we conceded a 92nd minute goal to draw 2-2. Those two away goals would be our downfall in the end, but we were so close to bloody doing it. Spurs went on to beat Milan in the final. What could have been. Football Manager, eh.
---
My Time at Vitória
I didn't know what to expect when I started the save. I always feel like the start of a new save should only have one aim, survival. Once you get through that initial period of uncertainty you can push on. I had an aim to break into Os Três Grandes and in truth we almost instantly overtook Sporting to break into the three, albeit not in total number of trophies won overall. We finished above them in every single season.

Two Supertaca wins, four Taca da Liga wins, three Taca de Portugal wins and two Primeira Liga titles. It's not a bad haul at all. I'm 3rd in the Portuguese nation Hall of Fame behind Rui Vitória and Otto Glória.
I spoke a lot about the development pathway during the save. Portugal is certainly a nation I'd recommend if you're looking for a nation that is prime for youth development. I've had some great players come through our own youth intake, proof of that is in the table below with Luis Miguel, a homegrown central defender, being the record sale of the save.
I was able to snap up some incredible talent early on in their careers from other Portuguese sides too, Pierreganni Robalo being proof of that in the table below. Toni Borevkovic wasn't too bad there either, coming in on a cheap fee from Rio Ave and playing incredibly solidly for six season before moving on to a bigger club and earning the club a big fee.
The links the country has to Brazil meant I had a couple of scouts watching players at all times and while Felix Jorge was the highest fee I paid for a player, a big profit was still made. Then there's the region that you should always be scouting if you're looking for talent, Eastern Europe. Vasiljevic, Gvardiol and Lovro Majer all made the club considerable sums of money. I outlined Brazil and Eastern Europe as key markets for us in my introductory post too so it's great to see it come to fruition throughout the save.
There's so many players still at the club who would certainly make it onto this list of players I've sold for £15m+ throughout the save. I've been knocking back bids of £50m+ for Ferreira and Joveljic for a couple of windows now. Igor Chaves might have joined Luis Miguel on the list as being a Vitória homegrown prospect earning us big money. I picked Didier Navarro up for a cool £9m from Toulouse at the beginning of this season and he might just be one of the best playmakers I've ever seen. He would have developed incredibly with even more game time.
There was just over £1m in the balance when I took over the club at the start of the 2018/19 season. As I get ready to leave at the end of the 2025/26 season, there's £280m in the bank. A 27900% increase isn't too bad a legacy at all. The club is just outside the top 20 clubs in the continent. We're now valued at over £1bn the stadium is packed out every fortnight and all of the facilities are completely maxed out.
---
That's it then. FM19 is over for me. It's been a great save and a great year. Thanks to everyone for following along on here, on Twitter and on Slack too. I'll see if any words come to me for my FM19 summary, just like my previous couple where I look back over the year as a whole, but if not, I'll see you for FM20 which isn't far away at all now.
If you want to snap up the game then have a look at my link to order it from 2Game below. If you enter SAMO at the checkout you'll get an extra 10% off the already discounted price.
All the money I make from this affiliate link (roughly $2 per order) will be going to CALM, who lead the movement against the single biggest killer of men under the age of 45 in the UK, suicide.