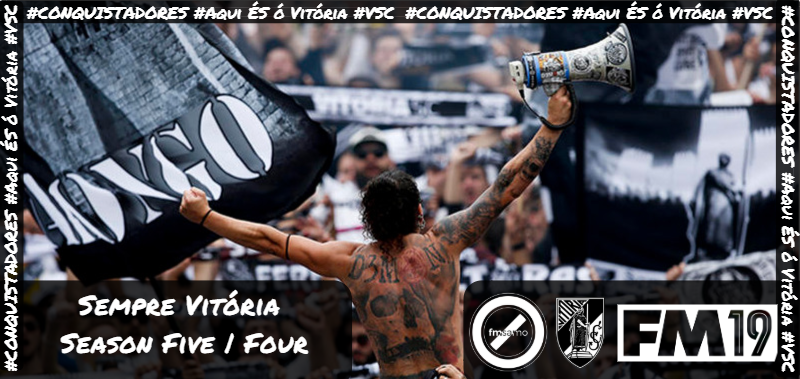 Sorry for leaving things on a cliffhanger last time out. It was partly to build suspense but mainly because I hadn't actually played the next match yet and it just seemed like a good place to move onto a new post!
The Benfica match shapes the league season. Lose and the title is all but theirs. Win and then do what's required in our last three matches and the league title is ours for the first time.
---
April (cont.)
It's business as usual in the week leading up to this one. Nothing changes from our usual approach in training. Ahead of playing stronger teams I do like to schedule in time to work on defending set pieces. Playing against better players means they're more likely to find space and score from a corner or free kick.

Benfica have such a strong side. Matteo Politano is a constant thorn in my side while Brazilian wonderkid, Jociclei, is the Primeira Liga's top scorer so far this season. Santi Ascacibar anchors the midfield with one of their few homegrown youth products in the first team, Tiago Dantas, in front of him. However…

Mário Ferreira scored his seventh of the season to put us one up after 18 minutes, finishing well on the volley after a cross from Gvardiol, who was enjoying his best run in the side at left back after struggling with injury for a big chunk of the season. The aforementioned Dantas equalised in the 85th minute after Úmaro Embalo had robbed our captain, Guillermo Celis, of the ball on the halfway line and sprinted toward goal only to cross for Dantas, who was one of four Benfica players waiting to put the ball in the net.
A draw didn't really do anything for us, a win was required. We'd created the better opportunities throughout the match but it looked as though it would come to nothing. That was until Toni Borevkovic nodded a Leonardo Fernández free kick back across goal and Thaciano had two attempts at it before he slide tackled the ball into the net to give us the win in the 92nd minute. Unbelievable scenes ensued.
That took us two points above them in the league. Was that the hard part or was the hard part winning our remaining three matches to ensure we stayed there come the end of the season?
Benfica played before us and recorded a comfortable 2-0 victory over Rio Ave but we managed to match that with our own comfortable 2-0 win over Gil Vicente, one of the season's surprise packages in the top half of the table. Since I said in the last post that Majer and Ferreira were competing to see who would score the most goals, neither of them had scored until now. Majer got us underway early on with Igor Chaves rounding off the win in the second half.
Players then started dropping like flies and I wondered if it would affect us. Pedro Ferreira, Mário Ferreira and Toni Borevkovic all picked up knocks keeping them out of the nervy 3-1 win over Aves. Again, Benfica had played before us and won so the pressure was on to match their result and go back to the top of the table. Joveljic returned from injury in that match, scoring in the sixth minute of added on time after coming on as a sub in the second half only to then find himself tearing his groin muscle and missing the remainder of the season.
Lovro Majer scored again against Aves, his 23rd of the season to finish as our top goalscorer, but also picked up a slight knock ahead of the huge last game of the season with Savinho, who'd been performing well in the DLP role all season, and Josko Gvardiol, who'd continued his good form since a return from injury, both missing out on it too. Borevkovic and Mário Ferreira thankfully returned so it wasn't a completely makeshift starting line-up.
Matchday 34 would decide the fate of the Primeira Liga title. Boavista had secured 6th place already but they'd be relying on us winning the Taca de Portugal next weekend on whether that qualified them for Europe or not. The nerves subsided slightly when Igor Chaves scored his second goal of the month in the second minute. From there the game just fizzled to nothing, aside from Jhon Murillo being so excited that he got himself sent off two minutes after coming on as a sub. Boavista didn't look like troubling us though despite us being down to 10 men.
That win means that remarkably we've won the Primeira Liga title! We are Vitórious! (©️ Ed Wilson)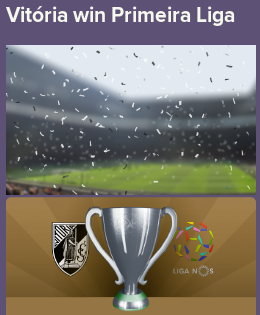 The final league table looks like this.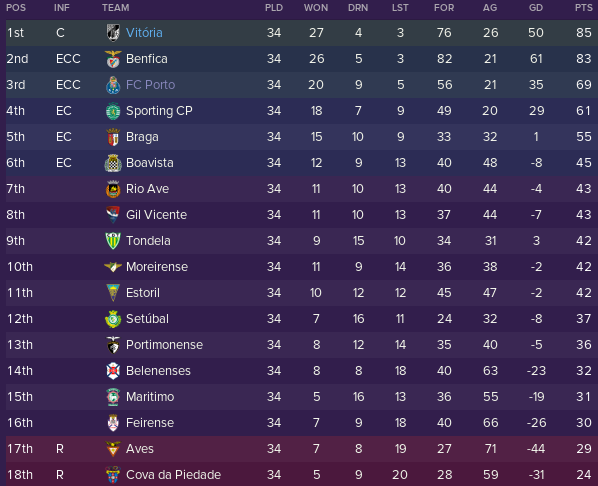 Unsurprisingly it's a new record points total, with our previous best of 75 taking us to 2nd place in season three. We matched our season three goalscoring record but conceded the least number of goals so far across a league season so far. Benfica scored more and conceded less but couldn't convert that into the extra points they required. It's a big surprise to see Sporting concede the least amount of goals over the season on their way to losing nine matches.
Eagle-eyed readers paying attention will notice that EC next to Boavista which means…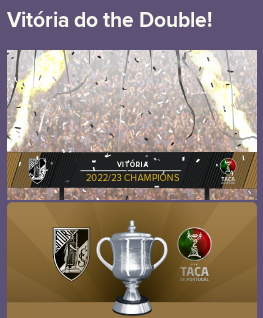 The two most boring matches of the season to watch were reserved for our two most important matches. It took until extra time to overcome a stubborn Rio Ave side. I'd gone to a 4-2-4, moving our DLP up to be an extra striker, and it was that strike duo who scored the decisive goals. Pedro Ferreira scored his 22nd of the season while Herman 'Supersub' Geelmuyden scored his eighth, in just 490 minutes of match action.
That's it for the match action in my fifth season in charge of Vitória, a season that ends with us being double winners! I've been talking a lot on Slack about how I don't really want to win the league. I don't feel like we should be overcoming Benfica and Porto over the course of a league season but I guess I can't really argue if we do actually manage to do it.
Where do we go from here? We come back for season six and try to do it all over again. Before that though, they'll be the usual stats post looking at how the players performed over the course of the season, along with the club as a whole.
---
If you liked this blog, or any others on the site, then I'd love you to consider donating to charity if you can. A few suggested links to some can be found below.
Donate to Special Effect – finding ways to enable people with physical disabilities to play video games.
Donate to Mind or SAMH – charities in England, Wales and Scotland providing mental health support and care.
CALM – leading the movement against the single biggest killer of men under the age of 45 in the UK, suicide.