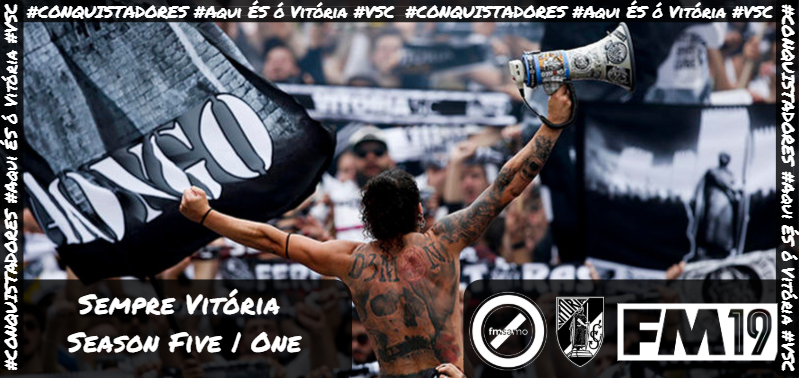 It was a summer of squad overhaul. I didn't plan on losing Branco and García so it'll be interesting to see how we get on without them and how the young players making the step up from the B team cope with Primeira Liga football.
With the 2022 World Cup to navigate around it's a busy start to the 2022/23 season. Read on as I serve up the first portion.
---
August

We entered into the 3rd round of the best placed route for Champions League qualifying and were downed 2-0 by Shakhtar away from home. Our hopes weren't looking good and I was planning for an assault at the Europa League before we came back spectacularly in the second leg to go through 3-2 on aggregate. Three goals ahead of the half time whistle were followed by a professionally solid second half to complete a spectacular second leg comeback.
We took a three goal lead into the second leg against Standard Liege and got the job done to qualify for the group stage and make it three teams representing the country at that level this season. Although I don't think we'll be contributing many more coefficient points after being drawn into the Group of Death.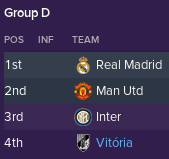 Ouch. Although the blow is slightly softened with the big chunk of prize money for qualifying. The bank balance now sits at just under £100m.
We've started the league season excellently, winning four out of four and scoring seven without conceding. Included in that was a brilliant away win in the Minhoto derby against Braga and a battling 1-0 victory against Sporting. Two tough fixtures down already, it's our best start to a league campaign yet and sets us up for the season ahead.
September
No sooner had I written those previous words and we'd conceded. Pedro Ferreira scored his first goal on his first Vitória first team start but Portimonense hit back to be 2-1 up at the break. Thaciano came out fired up in the second half, putting us ahead by the 50th minute with a double. He was perhaps too fired up though as he got himself sent off with a straight red in the 64th. We held on to keep the winning run going in the league.

The remainder of the month was domestic cup matches and kicking off our Champions League campaign. There was no faffing about as we disposed of Fafe in our first group stage match of the 3rd phase of the Taca da Liga with one of our highest scoring matches of my time at the club to date. Non-league Lusitano Évora were comfortably beaten in the Taca de Portugal 3rd round, the highlight being a first Vitória goal for Jeong Woo-yeong.
In both of those cup matches, I decided to give striker, Pedro Ferreira, the opprtunity to score from the penalty spot to continue his goalscoring form. He scored two good goals against Portimonense and then against Man Utd, but he didn't look like troubling the lower league sides from open play.
Performances don't necessarily get you points in the Champions League. If you score two goals at Old Trafford, it's likely Manchester United (on FM) will score three. If you're leading Real Madrid 1-0 at home going into injury time, you're just as likely to lose the game as you are winning it. We end the first three group stages matches with one point from nine and bottom. The Europa League is a stretch target.
October
It was a return to league action to face a stuffy Belenenses side for the first of our nine matches this month. They had our former captain, André André, in midfield and despite us having 36 shots in total, they actually put up a good defensive effort. It took a long shot, header from a corner, penalty and a free kick to beat them 4-0.
Lovro Majer has probably been our best player so far this season but he was ruled out for three weeks ahead of the Porto match, straining his knee ligaments while jumping for a header in training. We're struggling on the right hand side too with Ferreira and Murillo both ruled out. With these things in mind I made a decision to play the same way we usually do but with very different personnel. Strikers Joveljic and Franzoso played in the wide positions with Pedro Ferreira leading the line, effectively a three man attack.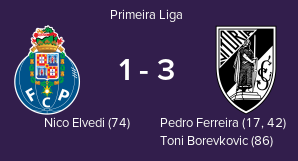 I can't say the decision completely paid off, but we did manage to win 3-1 with Ferreira scoring a double. That's seven wins from seven in the league, a brilliant start.
That was until we faced Maritimo at home. Some really poor defending saw them score their two chances on goal in the first half. When Joveljic pulled one back just after I'd gone through the players at half time I was confident we could at least grab a draw. We couldn't. No excuses for that defeat but like I said we have been struggling with injuries in key attacking positions.
The poor form continued against Inter and that's our hopes all but ended of making the Europa League knockouts. Annoyingly, we weren't that bad, Inter were just ruthless and took the chances they created. We rallied a little bit in the second half, but it wasn't enough. We've given away four penalties in four Champions League group stage matches now this season, that's unacceptable. Is it just that we're facing a higher calibre of player and are incapable of defending well against them?

Some good news in amongst those defeats was Luis Miguel signing a new four year deal. The 19-year-old has already played more matches at this stage of the season than he did for the entirety of last season, cementing his place as a first choice CB with Borevkovic.
We bounced back from the back-to-back defeats with back-to-back league wins, although we're certainly not as watertight as we were in the opening matches of the season. Feirense gave me a scare before Joveljic scored our fourth in the 93rd minute while we needed a Grønli long ranger in the 92nd minute to squeeze past Rio Ave.
Lovro Majer returned to the starting line up in our second match of the Taca da Liga 3rd phase group stage and hit a first half quadruple, including one direct from a corner, to all but qualify us for yet another semi final.
A victory in the Classico Vitoriano sees us going into the winter break for the 2022 World Cup in 2nd place.
Benfica have been unstoppable so far, only conceding one goal on their way to 10 wins from their 10 matches. We sit level on points but have played a game more. Our only defeat remains that disappointing 2-1 reverse against Maritimo.
November
Just one match this month to round off the first part of the season. It's the fifth match in our Group of Death in the Champions League against Inter at home. We gave away yet another penalty, which was thankfully saved by Jori as we went on to grab our first three points of the group with an incredibly comfortable win.

We go to the Santiago Bernabeu at the beginning of January with something to play for. It's a big ask.
---
We're sitting in a great position in the league and going well in both domestic cups. The funny thing is I don't think we've even played particularly close to our full potential yet, especially going forward with the likes of Majer and Ferreira missing around a month through injury. How will the second half of the season go?
---
If you liked this blog, or any others on the site, then I'd love you to consider donating to charity if you can. A few suggested links to some can be found below.
Donate to Special Effect – finding ways to enable people with physical disabilities to play video games.
Donate to Mind or SAMH – charities in England, Wales and Scotland providing mental health support and care.
CALM – leading the movement against the single biggest killer of men under the age of 45 in the UK, suicide.