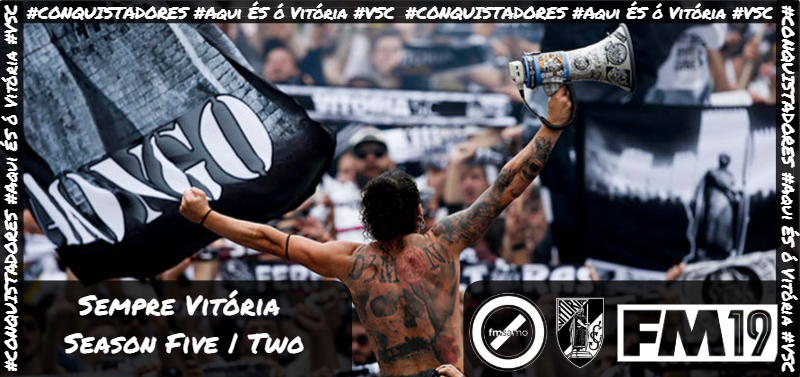 The 2022 World Cup in Qatar is over and it's finally time to get back to domestic and continental football. Brazil won the tournament, beating a very talented Dutch side 4-0 in the final, while Portugal finished 3rd. 37-year-old Cristiano Ronaldo finished top scorer in the tournament with eight goals and then bowed out of international football.
Enough about that though. The first part of the season went well for us, some have predicted that we'll go on to win the league for the first time. Will we? I'm not sure but read on to find out how the transfer window and our matches across January went.
---
January
The first big bit of news as the the clocks ticked over to 2023 is that Pedro Ferreira has won the European Golden Boy. I love it when my players win this award. I celebrated the news by offering him a new five-year deal at the club which he duly accepted.

The second bit of news was the seven young players arriving that I'd secured deals for pre-January. A couple of Serbs, an Egyptian, a Colombian, a Dutchman and a few from Portugal. They'll be dispersed across the u19 and B team squads for now.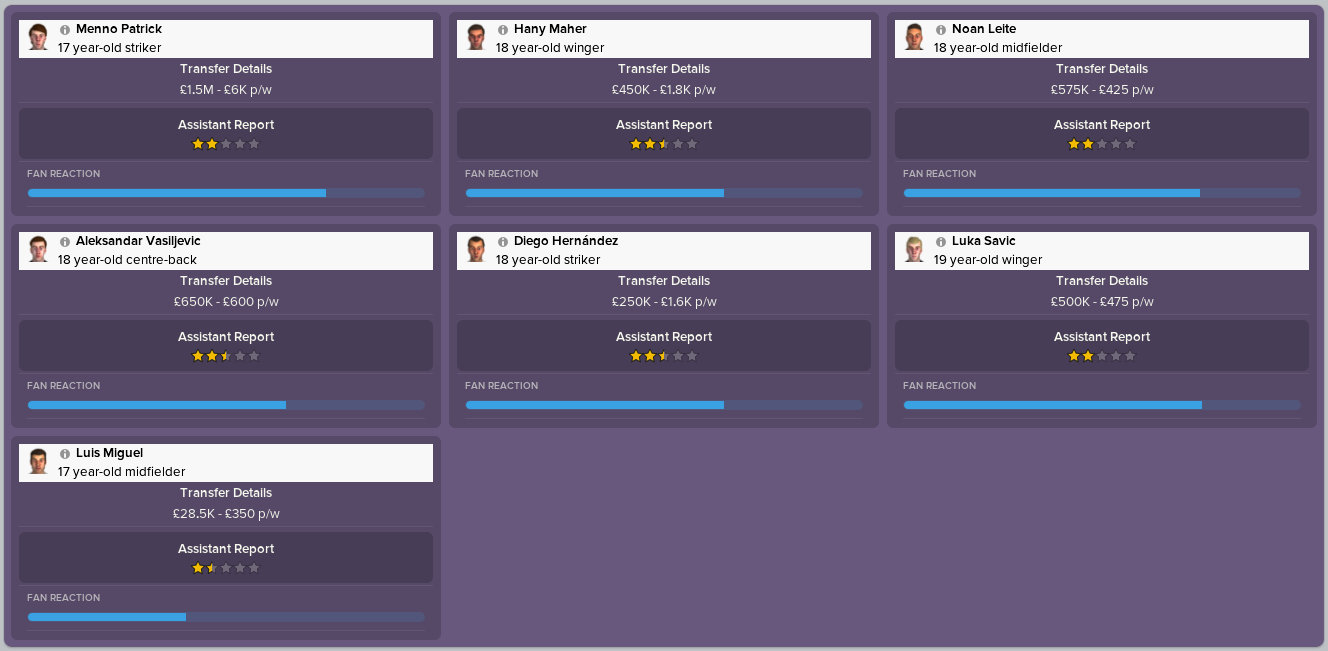 As I write this paragraph I'm not planning any first team business this window, but that could all change when the vultures start circling as I click continue through the month. Igor Chaves spent the majority of the first half of the season unhappy at not being allowed to leave. As soon as I'd accepted a potential £15m bid from Southampton he changed his mind and was happy to stay at the club. I'm happy to accept his u-turn, he's a very, very promising player.
Our return to competitive action was a nice, relaxing trip to the Bernabéu to face Real Madrid in our final Champions League group stage match. A win was required alongside hoping that United would beat Inter in the other match to reach the Europa League. It didn't happen as Real completely dominated and secured a 3-0 win. We bow out at the same stage as last season with two points less. It's four more points than I was expecting from this Group of Death though.

We bounced back from that 3-0 loss with a 3-0 win against Tondela to take us into our fifth consecutive Taca da Liga semi final. The group was kind to us and we comfortably progressed but there's a tough task ahead if we want to reach the final again. Benfica stand in our way with Porto facing Braga in the other semi.

Just two days later we faced Porto in the Taca de Portugal 5th round. This is the earliest we've faced one of Os Três Grandes in the cup, a tough tie to attempt to progress through to try and win the trophy for the third year running. We've got a slight injury and fitness crisis going on at the moment so I'll be delighted if we go through here…

And we do, just. A slightly makeshift and knackered 11 do the job and knock Porto out. Joachim Löw won't be pleased with that. With Benfica already out in the 3rd round, we're the favourites to bring home the trophy again.
I don't think my friendly programme during the World Cup particularly helped as we ran out of steam after three games in the space of a week and struggled to break down a defensive Estoril side. A 0-0 draw is our first in the league this season. They're struggling down at the foot of the table, while Moreirense are challenging for the European spots. So naturally, we showed good bouncebackability to thump them 4-1 on their own turf in the Cidade de Guimarães derby. The highlight being Leonardo Fernández' first goal for the club after struggling with a few niggling injuries so far.
After Raúl Martins' move to Benfica in the summer, we make our second sale of the save to one of Os Três Grandes, with Romain Correia moving to Porto for a potential £4m. He was my fourth choice CB this season and had made seven appearances. He's a homegrown Vitória player, but we have plenty in the first team squad already so I'm not too disappointed about letting him leave.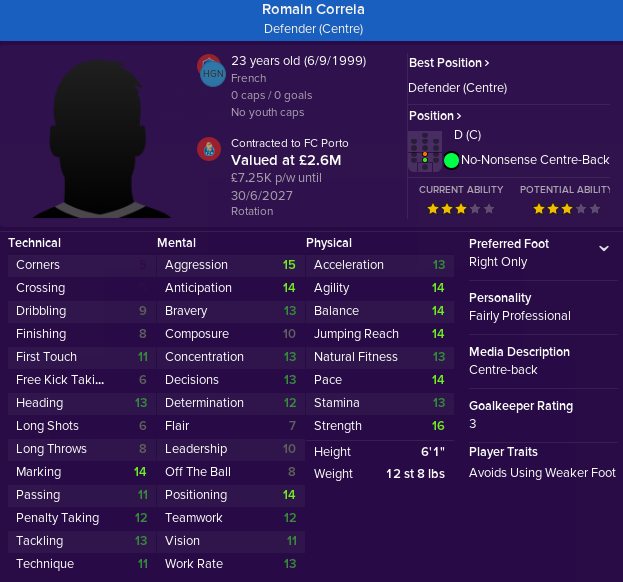 Golden Boy, Pedro Ferreira, hit his 14th and 15th goals of the season in a comfortable 3-0 defeat of Maritimo in the Taca de Portugal. The highlight of our progression through to the semi final can be viewed below.
We've got a two-legged Minhoto derby semi final against Braga to get through if we want a chance to retain the Taca de Portugal this season. One of Cova de Piedade or Rio Ave await in the final.
The day before our Taca da Liga semi final against Benfica they submitted an £11m bid for Toni Borevkovic which he wanted me to accept. After a failed chat in which I tried to persuade him to stay, I've rejected their offer for now and increased his asking price to at least £20m. He's been brilliant over the last few seasons and I really don't want to lose him just yet.
Benfica's underhand tactics to put us off worked as they emerged victorious, 1-0, and head into the final to face Braga. There'll be no Minhoto derby final and our name won't be on the trophy for the first time since the 2019/20 season.
With Correia leaving and me full of the fear of losing Borevkovic I sought out a temporary solution as extra cover at the back. There are some young players on our internal pathway but they're still a season or two away from making the step up. With that in mind in came well-known name, Ethan Ampadu, on loan from Chelsea until the end of the season.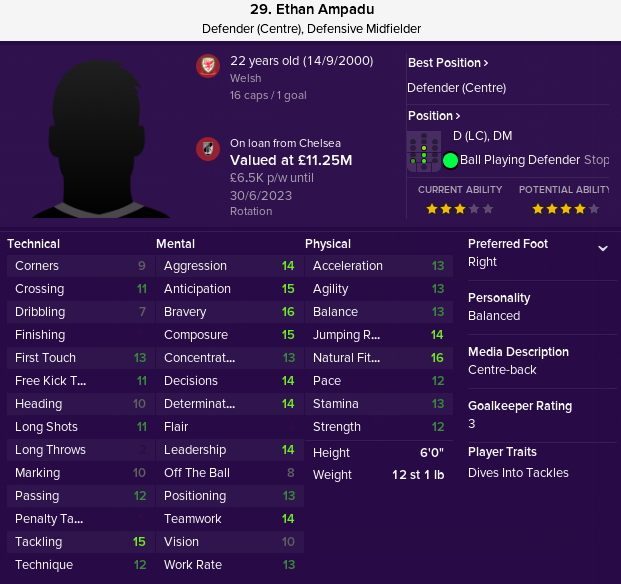 Heading and marking ability aside, the Welsh international has some really good attributes for a CB and should provide ample cover if he's called upon. He's spent the last two seasons in Serie A and La Liga with Lazio and Real Sociedad so he's more than up to the task of a Primeira Liga title race.
We faced a barrage of offers for a number of players on deadline day and managed to sidestep the majority of them. Young Brazilian midfielder, Luiz Fernando, did depart for Aston Villa though for £5.5m and 40% of his next sale.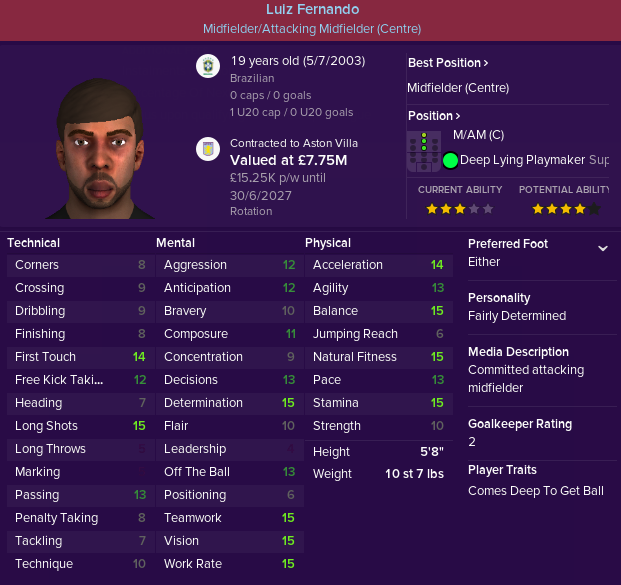 I was excited about him making the step up to the first team this season and he was okay in his 21 appearances in total, scoring four times and assisting once. We're pretty stacked in the central midfield slots though so I didn't put up much of a fight to persuade him to stay. I like working with a much more trimmed down squad in comparison to the first half of the season. We've only got the league and then a potential three Taca de Portugal cup matches to play so it's not a case of playing constant midweek matches and rotating isn't a necessity.

We closed January out with a couple of wins. Gil Vicente were swept aside with ease out of nowhere while we had to work a little bit harder against Aves. That was a bloody long month with us playing nine matches across four competitions. It leaves the Primeira Liga table looking like this…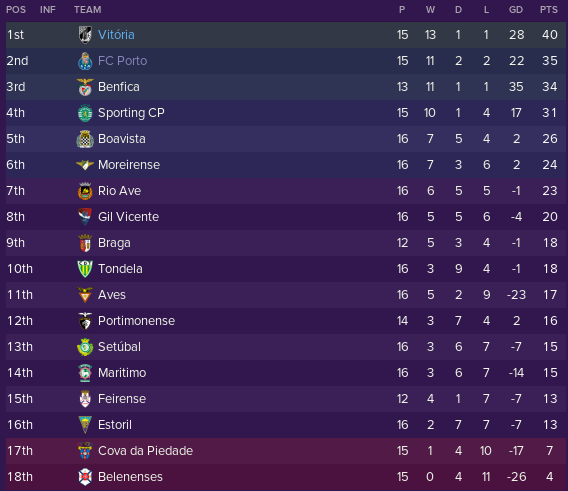 Things are going pretty well aren't they! The World Cup has messed the schedule so Benfica do have two games in hand to catch us at the top, but the title race is well and truly on again in yet another season. Will we sustain the challenge this time and finally bring home the league title?
---
If you liked this blog, or any others on the site, then I'd love you to consider donating to charity if you can. A few suggested links to some can be found below.
Donate to Special Effect – finding ways to enable people with physical disabilities to play video games.
Donate to Mind or SAMH – charities in England, Wales and Scotland providing mental health support and care.
CALM – leading the movement against the single biggest killer of men under the age of 45 in the UK, suicide.