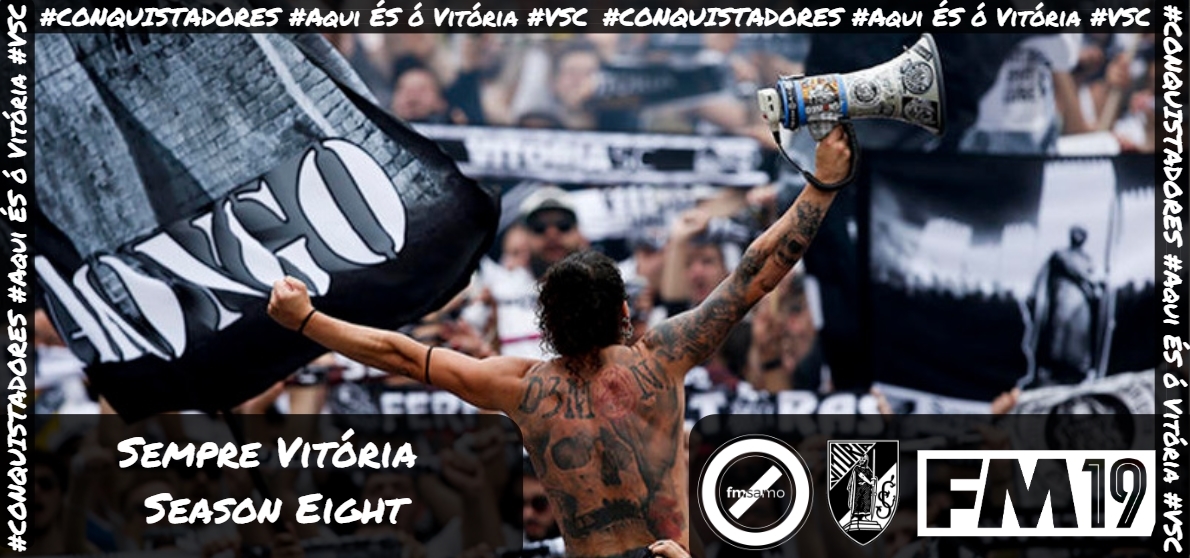 There was yet more heartache last season as we missed out on the title on the last day of the season. Benfica triumphed by one point after coming out on top on our head-to-head record the season before.
After saying I'd be happy going the entirety of FM19 without winning the league with Vitória due to the resources at Benfica and Porto's disposal, I'm now determined to at least win the league for a second time before FM20 is released. Will it happen this season? It'll be tough but there's certainly one player on Primeira Liga title winning form so far this season…
---
Pedro Ferreira
Last season Pedro Ferreira and Dejan Joveljic scored 53 goals between them, a great return for a strike duo. At the halfway point of my eighth season in charge they have 46 between them. They have literally been on flames, but especially so Ferreira. He's got 31 of those 46, in just 26 games. He's scored 24 goals in 16 league games. What's his Vitória story and what's contributed to his form so far this season?
He came through at Rio Ave in the 2018/19 season as a promising 16-year-old. After six goals in 25 under 19 appearances that season you can see he caught the eye of my Portuguese scout, Nélson Oliveira.
It wasn't until 2021/22 that I made the move to bring him to the club. He hadn't really impressed in his 30 or so first team appearances at Rio Ave, only scoring a handful of goals. His development was pretty incredible though in his time at the club. This is how he looked after signing for a bargain fee of £250k.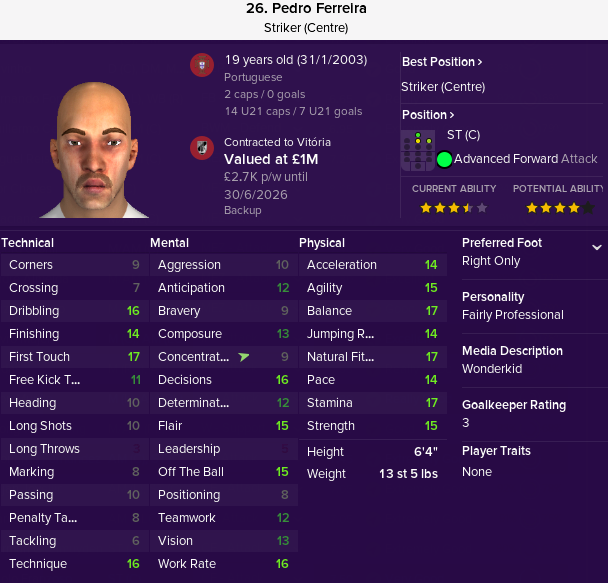 I was derided on Slack because I didn't throw him straight into my first team when he signed. I had the Vitória Development Pathway working excellently and I decided he would have to earn his spot in the first team like every other young player at the club. He joined in January and went on to score nine goals in 19 LigaPro appearances for the B team in the second half of their season, firing them to the title.
Dejan Joveljic had just joined the club that summer and had cemented his position as our main striker, we still played with the 4-1-2-3 formation at the time. Ferreira had to bide his time but as soon as it ticked over to the 2022/23 season, he was promoted to the first team and rotated up top alongside Joveljic. In terms of development, other than regular game time he was just put onto a Complete Forward on Attack training focus. Over the last couple of seasons I've been specifically focusing on improving his Shooting, which trains his Finishing, Long Shots and Technique. I'll likely move this onto Final Third, which incorporates Composure into the additional focus.
His performances saw him just shade the first choice role, making 44 appearances compared to Joveljic' 38, alongside outscoring him 22 to 14 as their goals contributed to our first ever Primeira Liga title that season. Long time readers will know I'm big on rotation but it was so tough picking between them on a match-by-match basis. After that first season of doing that I knew I had to go back to a two striker formation and get them working together as a duo up top, but it wasn't until last season that I made the move back to the 3-5-2 to incorporate them both into the starting XI.
Fast forward to 31st December 2025 and he's an elite striker now.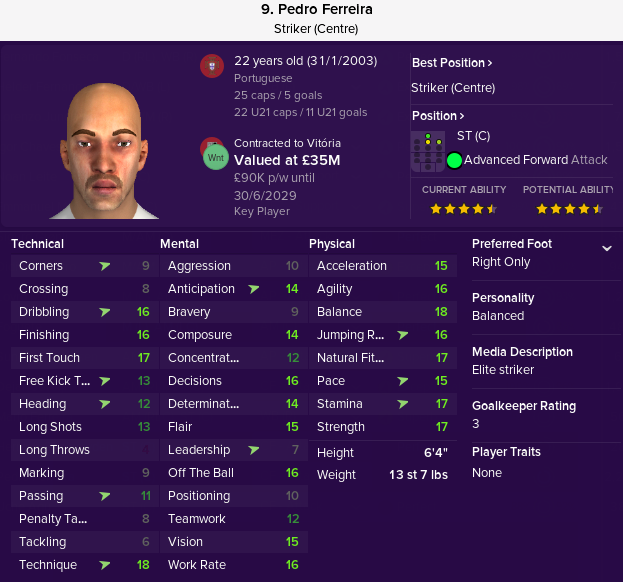 Like I said earlier, he's got 31 goals in 26 games so far this season (but did just pick up a timely pulled calf in our last match of the first half of the season as we had a two week break until our next fixture). 24 of those goals have come in the league, he's already beaten the previous totals for top goalscorers across an entire season since 2018/19 (Kelvin for us in 2020/21 with 22). He couldn't beat Héctor Yazalde's 46 from 1973/74, could he?
He's scored four hattricks this season and it's one of those hattricks that I want to show the goals from. He scored three in a 4-0 win away against Boavista and it was a coveted perfect hattrick.

Goal one
His first came from a devastating counter attack. A Boavista cross is dealt with initially by Vettorazzi (a summer signing to replace the outgoing Vitória stalwart, Toni Borevkovic) and then an accurate clearance from Savinho from the edge of the area finds Ferreira on the halfway line. He and Joveljic are set to swap positions throughout the match so at this point he was playing as our Deep Lying Forward on Attack. He expertly holds the ball up before playing the ball inside to Lovro Majer. With our players now streaming forward he sprays it to Andre Mendes, the Right Wing Back.
It's a hopeful lofted cross into the box where Ferreira has busted a gut to get on the end of the ball after his lay off to Majer. He's not the best at Heading, 12, but he's got a Jumping Reach of 16 and gets up and over Nathaniel Clyne to head past the goalkeeper.
Goal two
Our pressing had forced a throw in down in the right hand corner of which the second ball from was picked up by our Mezzala on Support, Didier Navarro at the time (a French wonderkid) who passed it inside to Savinho, playing Carrilero. It's one of those classic switches of play to our full backs who are wide open and available in acres of space, similar to goal one.
Helder Fernandes whips a great ball into the box for Ferreira who springs into action and fires home for his left-footed strike. His Off the Ball attribute of 16 coming into play here I think, with a little bit of sudden movement to get away from his marker.
Goal three
Nullify us out wide and you'll probably beat us. If you don't manage it, you'll lose. It's a wing back to wing back pass, as Mendes sprays it left to Helder Fernandes. As a Complete Wing Back on Attack, he takes on Nathaniel Clyne and plays a lovely ball to the back post where predator Ferreira is waiting to complete his hattrick with a right foot finish.
More great Off the Ball movement here from the frontman and a touch of his 14 Anticipation to predict what's going to happen before it does.
---
Have his goals fired us to the top of the table at the halfway point of the season?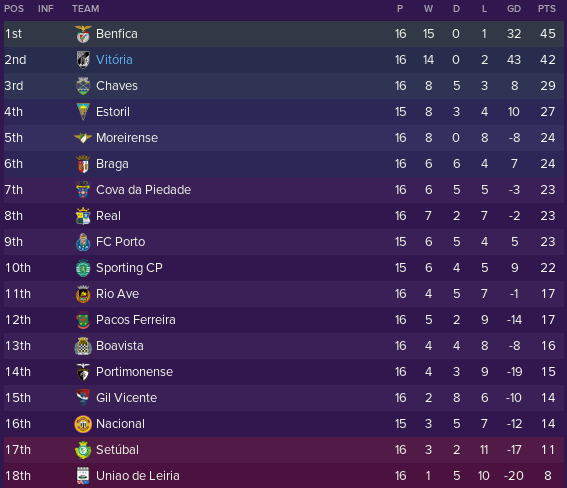 No, no they haven't. It's another two horse title race between Benfica and ourselves though. We've scored a whopping 53 goals so far and conceded 10 while their defence is stronger, having conceded just seven goals and they've scored 14 less.
Again though, we've come unstuck when it comes to playing against Benfica.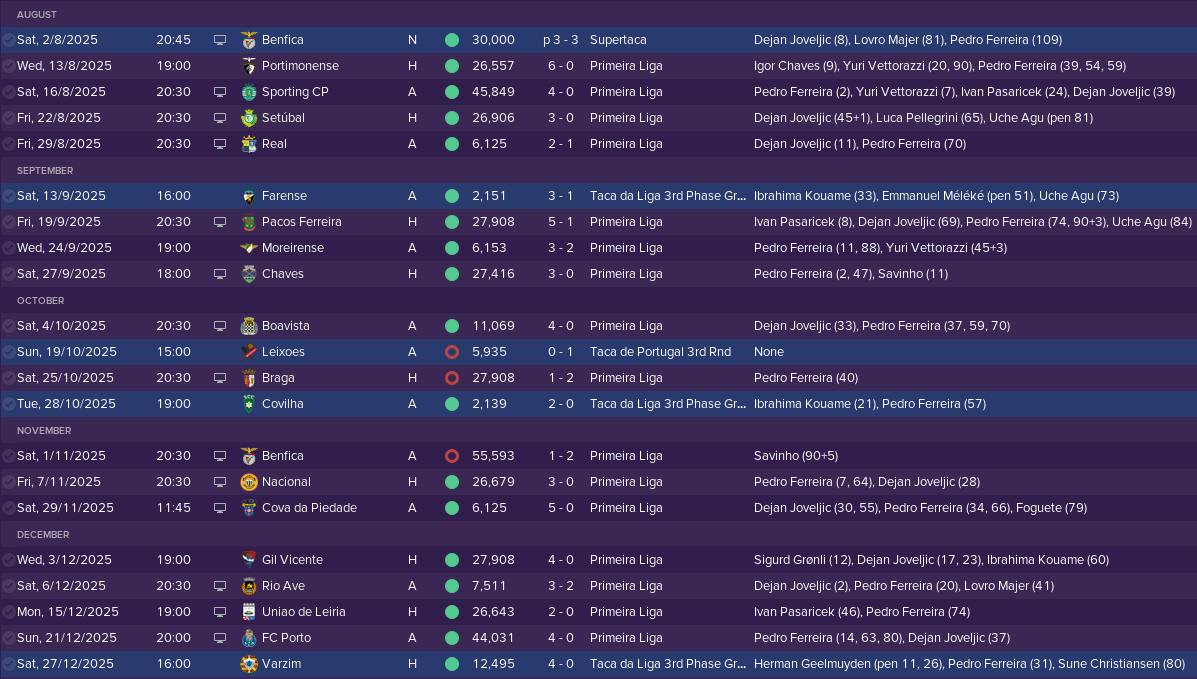 We did manage to get one over on them in the Supertaca, coming through on penalties for another trophy win. Two lapses in concentration (one particular shocker from Mário Ferreira, who completely vacated his right wing back role and Úmaro Embaló for the opener) was our undoing in Lisbon though. It was a poor performance on the whole with us not performing in the same way we have done against them in the past. The lessons from Failing Forward last time out almost paid off.
Painfully, it was our second league defeat in a row as we'd absolutely battered the door down against Braga but it was our rivals that came away from Guimarães with the three points. That shock defeat came after another against Leixoes as we went out of the Taca de Portugal at the first round we entered.
We are into the Taca da Liga semi final as usual, where we'll play Benfica at the end of January but there's work to do if I'm to secure our second Primeira Liga title…
---
The time has come to start thinking about ordering FM20! The headline features have been announced and if you like the sound of them and want to now snap up the game then have a look at my link to order it from 2Game below. If you enter SAMO at the checkout you'll get an extra 10% off the already discounted price.
All the money I make from this affiliate link (roughly $2 per order) will be going to CALM, who lead the movement against the single biggest killer of men under the age of 45 in the UK, suicide.