Kristoffer Samstrøm took over Vålerenga on the 18th of May 2020.
Around 200 days later, they were crowned champions of Norway for the first time since 2005.
#LunchtimeFM

Accidentally won the league.#FM21 pic.twitter.com/ZchhVKRGWs

— FMSamo (@FM_Samo) December 1, 2020
Here's a snippet from my intro post.
I wanted to pick a side that weren't quite at risk of relegation but weren't quite up at the top of the table challenging. Vålerenga finished 10th out of 16 teams in the 2019 Eliteserien, 6th in 2018 and 8th in 2017. Perfect.
That worked out well then didn't it.
I had to wait until my last season on FM20 for a trophy and then one comes along this early on FM21. I get ripped into on Slack because I often say that I could happily play a save without winning anything. This time though, I'm happy to have brought home the Eliteserien this early. Sometimes things just go really well and don't go as well for your rivals. This was definitely one of those seasons.
And yes. A season already, in what feels like ultra-quick time for me. That's what:
A week off work
A 30 match league season
No domestic cup in season one
No European football in season one
and FM21's ridiculously speedy processing
Will do for you. Let's get into it.
---
2020 Eliteserien
League Table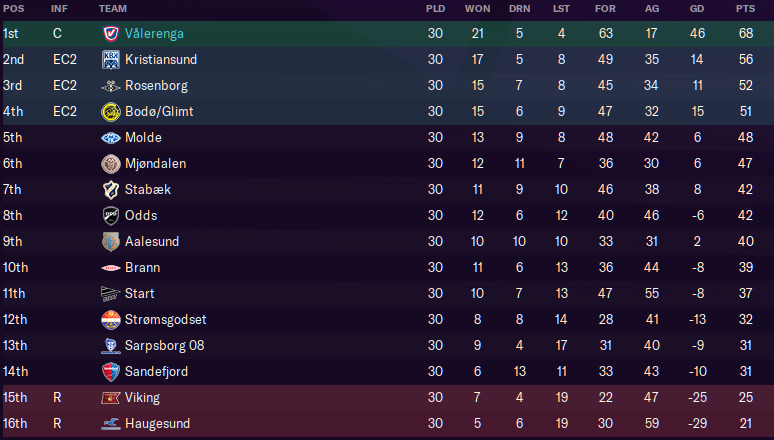 It took until matchday 15 to taste defeat, when Rosenborg ended our unbeaten run with a 92nd minute winner. Before that it was probably one of the best starts to a league season I've ever had on the game. July being a particular highlight as we trounced Odds 4-0, Viking 4-0 and Start 5-1.
Our lead was a slender three points at the halfway stage of the season. So the second half of the season was about continuing what we'd done so far. While we managed to do that, our two nearest rivals fell away. Bodø/Glimt only picked up 18 points across the second half of the season, losing seven times. Rosenborg fared a little better, but only just, picking up 22 points.
We wrapped up the title with four games to spare. An awesome achievement. Everything about the team just clicked and we played some glorious football at times. We did immediately lose the following week after winning the league as you'd expect to happen. I'll blame the hangover.
Headlines
We had the best defensive record in the league by some distance. Kristoffer Klaesson kept 18 clean sheets and played in every single minute of the league season. Our xG against was only 17.35 across the season, and we conceded bang on 17.
We outperformed our xG of 51.65 by scoring 63 goals in total. 30-year-old Icelandic international, Viðar Örn Kjartansson, was the hero up front. He scored 19 goals in 23 appearances, finishing just outside the top three goalscorers.
We put a huge focus on set pieces, taking inspiration from FC Midtjylland's Superliga win in Denmark a few years back. 10 of our goals came from corners, and I'm sure a few more from second phases of play from them. Just two of our goals came from indirect free kicks, which definitely felt like it should've been more. Our three main central defenders scored seven goals between them.
Making the most of our wide options was also a huge facet of our play across the season. Right Back, Christian Borchgrevink, got eight assists while Left Back, Sam Adekugbe, got seven. Aron Dønnum's assist total (11) was inflated by the fact he was our corner taker, but he managed to score eight times too from the Right Wing. Osame Sahraoui also scored eight times and provided five assists from the Inside Forward position on the left.
Our squad average age of 24 was just a year older than Strømsgodset's. The future is bright.
A Look At – Odin Thiago Holm
I identified Holm as one of the possible stand outs for my side before I joined. The 17-year-old was raw but had promise (on the left on desktop, first image on mobile). He's yet to celebrate his 18th in the second image but you can see he's developed really well across season one.
Training
He's been focusing on developing his Advanced Playmaker attributes with an additional focus on the Final Third attributes of Composure and Decisions. That additional focus has worked superbly, with Composure increasing from 11 to 13 and Decisions from 11 to 14.
His technical ability has improved, with Dribbling, First Touch, Passing and Technique all going up by one. There's increases in his physicality too, Acceleration, Pace and Balance have all gone up, plus a move into that beautiful bright green in Agility as it hits 15.
If you don't already, I'd recommend setting your default training intensity level for players to double. They can handle it, and it helps. They might moan, but ignore them.
Minutes
For me, match action is one of the most important factors in player development. There are lots of things that go into it under the hood, but I value minutes over most.
I had aimed to make him our playmaker playing just behind the striker and for the first half of the season that's where he was playing. I couldn't settle on a role for him to get more involved in the play than what I was seeing, but the important thing was that he was getting gametime. That issue ultimately led to a change in formation, and he dropped back into the central midfield strata. This deeper role allowed him to use his trait of running with the ball through the centre a little more, but his output only marginally improved.
He got his first, and only, goal of the season in a 2-1 defeat against Kristiansund, but it was exactly what I wanted to see from him.
My striker has come deep, my Inside Forward has come inside and Holm, as our CM(A), makes the well-timed run in behind and finishes well.
His training routine and minutes on the pitch certainly contributed to some developmental growth this season.

What's Next?
There's much more to come from him. His output next season has to be better. One goal and one assist isn't good enough from a creative midfielder.
I'll be shifting his positional training to a Central Midfield role, possibly a Mez(A) to round him a little more. His additional focus will be on his Attacking Movement to get working on that Off the Ball and Anticipation so I see a few more examples of that goal above.
---
Oslo has been starved of footballing success for so long, this title win could be the catalyst that inspires future generations of Norwegian talent. Let's hope so.
It's time to go shopping as well, as the transfer window finally opens (I didn't get a transfer budget for the entire first season after I'd disabled it for the first window). I've got my eye on a few very promising young Norwegians. Couple that with a £5m budget and I think I'll be able to snap a few up.
I'll introduce them, and a few more of my current players, in a few future posts. Nothing turns me off more than a blog full of player screenshots.
---
United to Prevent Suicide
Across FM21 I'll be shining a light on United to Prevent Suicide. It's a new campaign aimed at breaking down the perceived barriers of talking about suicide, as a means of preventing it. Talking saves lives, and we should be comfortable talking about suicide to ensure we can do our upmost to prevent it. You can find out more information on the below website.