Don't worry, the title of today's post doesn't mean I'm abandoning Vålerenga. It refers to my fourth season in charge at the club being one where things were chopped up and changed. It was time to move some players on to make way for the next raft of talent to take their place.
Would this unsettle us on our way to try and clinch a fourth consecutive Eliteserien title? Let's see what happened.
---
Who's Gone?
It was our first season without Kristoffer Klaesson, as his one and a half year loan spell with the club came to an end after his £4.8m to PSG. He's actually already moved from PSG as well, with Napoli securing his signature and making him their number one. I decided not to recruit a goalkeeper externally and promote his previous number two, Kjetil Haug, who's fine but is certainly a downgrade on the attribute eye-test.
Mid-season is always a tricky time in Norway. The major European transfer windows open ahead of their new seasons beginning and it usually means we tend to get bombarded with transfer offers.
I'd already touched on the sale of Max Normann Williamsen in my post covering off my approach to recruitment. It was a huge fail on my part, with me selling him earlier than I perhaps needed to due to some contractual confusion, but his £7m sale to Standard became a club record transfer fee received. He's now a Norway regular and he'll no doubt go onto bigger and better things to make me rage even more than I didn't get to insert a sell on fee percentage.
Tobias Christensen arrived from Molde for £950k ahead of my second season and had a superb time on the left wing, scoring 16 and assisting nine. He transitioned into a LWB as part of the move to the 3-3-2-1-1 formation in my third season. He arguably had an even better time, 55 appearances later in that position he'd scored 10 and laid on 22 goals for his teammates. The £4m fee Bournemouth paid for him might seem like not much, but I was happy to take it and make way for a younger, homegrown LWB to come through. We'll receive 30% of his next sale as well.
Sivert Mannsverk signed for £1.6m last season but remained with Sogndal for the first half of the season. He then made 28 appearances in his two half seasons in Oslo with us before Udinese signed him for £6m. He was fine on the pitch but I always felt he had the ability to do more. We'll receive 30% of any profit made on his next sale.
The final big sale of the season came on deadline day across Europe as Brighton made Odin Thiago Holm theirs for a Norwegian and Vålerenga record sale of £12m. He was having a good season for us from the centre of midfield, with 10 assists and nine goals in 24 appearances, that was the most goals he'd scored in a season so far for us. He's been superb for me, one of the bright spots of the save so far and at just 20-years-old he should go on to bigger and better things. I'm hoping he does because we'll get 35% of his next sale.
The club finances are overflowing at the moment. There's more money than I know what to do with, especially with my approach to recruitment being geared towards youth development and domestic talent. The facilities are all pretty much maxed out as well. Any other suggestions of what to do with the cash?
---
2023 Eliteserien
League Table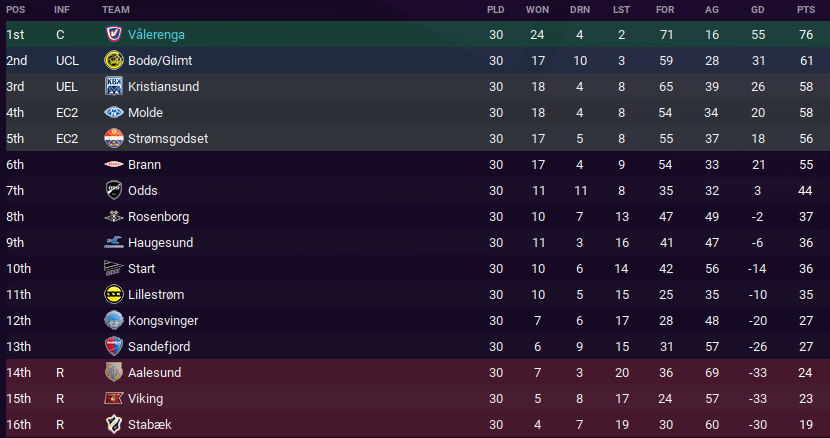 Winning! We secure our fourth consecutive Eliteserien title.
Our two league defeats both came in July, as Molde and Brann inflicted defeats at the Intility Arena. In the prior three seasons we'd only suffered one home defeat in total in the league. We followed that up by not conceding a goal across our four league matches in August.
There was no slacking off once the title had been confirmed this season. We finished the season with six straight wins, scoring 18 goals and conceding three.
Headlines
Our number of wins in the league goes:
2020 – 21 wins
2021 – 22 wins
2022 – 23 wins
2023 – 24 wins
So that's fun. 25 next season?
Our points tally of 76 is a new record, and the 15 point gap to 2nd place is the most we've won the league by so far.
Our two defeats this season was one more than last, but we finally beat our goals conceded record. 16 conceded across the season is one less than the 17 we've conceded in each of the past three seasons. Maybe we didn't need Kristoffer Klaesson after all. We scored six less goals this season compared to last, though.
Related to that, the biggest headline of the season for me has been our wastefulness in front of goal. Our xG per game was 2.47 and we scored 2.37 goals per game, that seems good on the surface. Digging a bit deeper, we take a huge number of shots per game in comparison to our league opponents, our total of 618 is 178 more than Stromgodset. Our shots on target ratio is around the same as the league average but our conversion rate is bottom half of the table worthy at just 11%.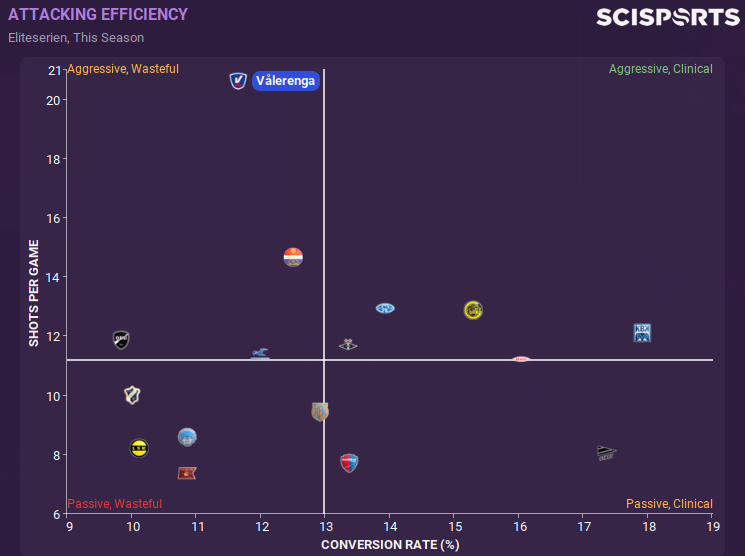 I mentioned it in the recent tactical post too, I think the game might be slightly punishing us for being so dominant. I tried to remedy it by dropping our tempo, the thinking behind that being that we're rushing things when we get the opportunity. A proportion of our shots are usually blocked, and it might be poor decision making from the players themselves, but I need to see whether I can do something on my side.
45% of the first team squad is now homegrown at the club and our current average age is just 21. That's likely to be even younger next season as the two oldest players in the squad are due to depart. I'm really excited about a few of the young prospects developing in our 2nd and u19 squads at the moment.
---
Domestic Competitions
It was another clean sweep of the Norwegian domestic competitions this season, our second consecutive treble. Albert Braut Tjåland ended last season with a hattrick in the Norwegian Cup final and he began this season with a hattrick in the Norwegian Supercup final.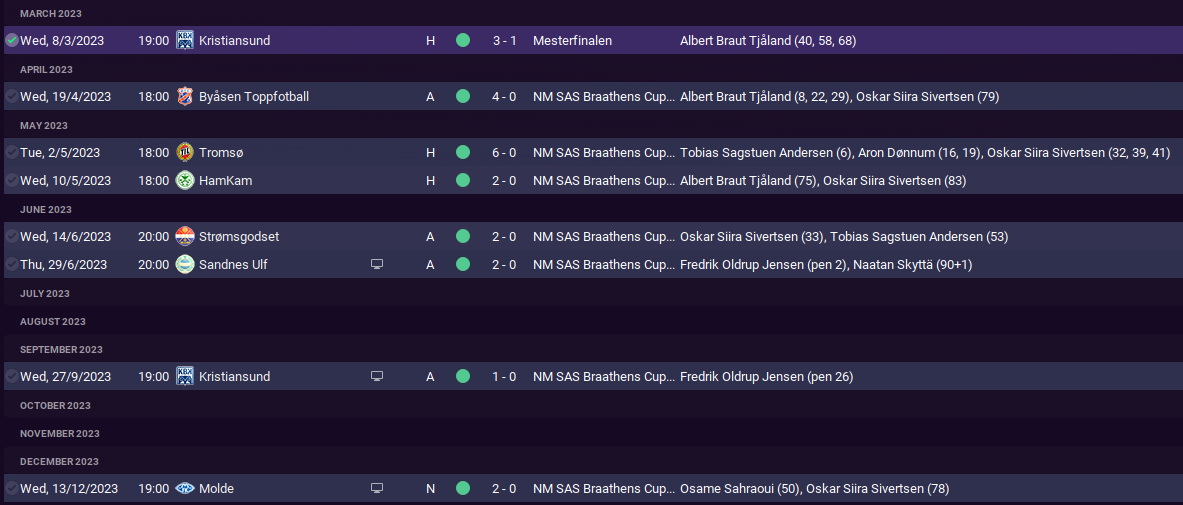 We brought home our second consecutive Norwegian Cup without conceding a goal this season, impressive. It did take a dodgy penalty to squeeze past Kristiansund in the semi final though, we'll take it.
---
Continental Competitions
Last season we had some Europa League knockout football to contend with along with the start of the new season. A run to the quarter final was an incredible achievement. We then proceeded to get drawn into a group of death in the Champions League and finish 4th, which meant there'd be no knockout continental football to start this season. I think it helped with our early league form.
As usual, we had alllllll of the Champions League qualifying rounds to contend with. Sparta Prague gave us a scare in the 1st round and we just snuck through after extra time. It was relatively smooth sailing after that against Stjarnan and Partizan.
Safe to say I wasn't happy when Chelsea, Milan and Atlético were drawn out the pots. After two matches and two 2-0 defeats, I was pretty much resigned to finishing 4th. What came next was pretty ridiculous.

Where would six points against Milan, a draw against Chelsea and a thrilling final matchday showdown against Atléti put us in the table?

Wow, remarkable. Has anyone ever topped their Champions League group with a negative goal difference before? Other than the financials and helping towards increasing our reputation it hasn't done much difference, Barcelona await us in the 1st knockout round.
---
A Look At – Tobias Sagstuen Andersen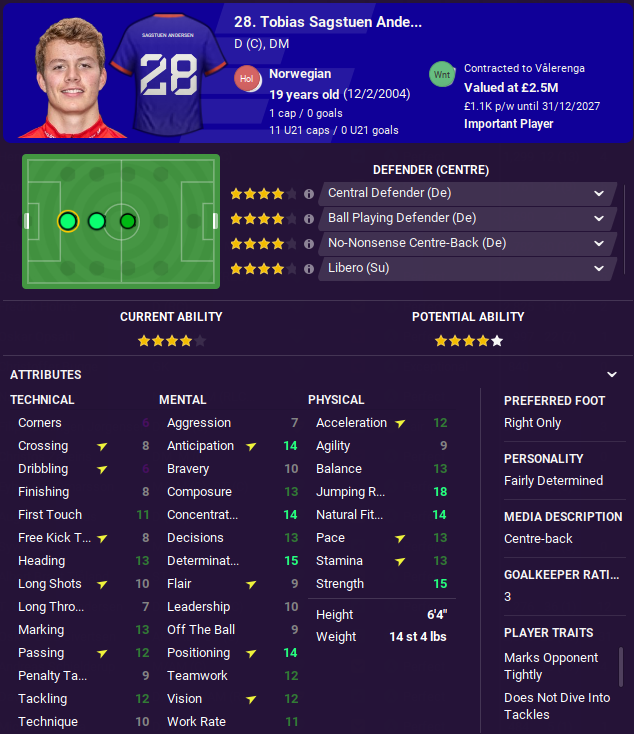 What a season the big man at the back had. Well, had at both ends of the pitch really.
Our defence was largely rock solid across the season and he finished as third highest scorer, with 12 goals from his 37 appearances. Seven of those came in the league as he finished on a 7.51 average rating and swept up at the end of season awards bash.
He won Eliteserien Players' Player of the Year, Eliteserien Player of the Year, Eliteserien Young Player of the Year and made the Eliteserien Team of the Year as well. Our supporters, of course, nominated him as their Player of the Year too. I think I've got my money's worth out of the £325 signing. He is now attracting the attention of LaLiga, Seria A, Bundesliga and Chinese clubs, so it'll be interesting to see how long I can fend off interest for. We'll certainly be making a big profit on him if and when he does eventually leave Oslo.
After my Tweet about him I've had a few people get in touch saying they've managed to pick up a bargain for themselves. It's always good to serve as your Norwegian scout!
---
As always, I think it'll be all change again during the Norwegian off-season. I'll be battling to keep my players during the January transfer window, but if they do go we'll be well placed to recruit internally. The money is there if I want to splash out a little bit on that special Norwegian talent.
Talking of special Norwegian talent, I barely mentioned the signing of Oskar Siira Sivertsen. He was really unlucky to miss out on being singled out, as he finished top scorer ahead of Albert Braut Tjåland despite featuring in less minutes over the course of the season. The £4.2m man repaid a big chunk of that with some important goals in Europe. I'm still determined to put something together that seamlessly fits them both into the side. Suggestions on a postcard please.
---
That season took a little longer to finish than I would've liked, but in comparison to what seems like plenty of others, FM isn't my only priority. Things are starting to open up again now and the weather is hopefully going to improve so who knows when I'll be back with the 2024 season. Whenever it is, I hope you'll join me. In the meantime, feel free to join FMSlack if you want to keep up to speed a little more in real time whenever I get the chance to jump on and play a few matches.
---
United to Prevent Suicide
Hopefully you haven't just skipped over this final section. United to Prevent Suicide is a new campaign aimed at breaking down the perceived barriers of talking about suicide, as a means of preventing it. Talking saves lives, and we should be comfortable talking about suicide to ensure we can do our upmost to prevent it. You can find out more information on the below website.