Vålerenga's hold on the Eliteserien continues. We're champions yet again.
There's a difference this season though. We're treble winners, dominating domestically. We retained the Mesterfinalen and won our first Norwegian Cup since 2008.
Here's the story of that dominance and a look at a player who had a huge role in making it happen.
---
2022 Eliteserien
League Table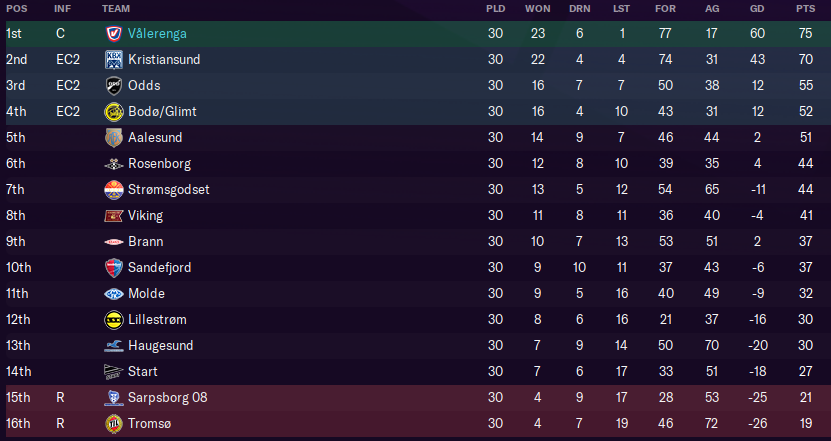 Kristiansund inflicted our one and only defeat on matchday four and took us close. Our 3-1 win against them on matchday 20 was huge, as they were sitting just three points behind us at the time.
The highlight of the season was our 9-0 demolishing of Strømsgodset, probably one of the most ridiculous matches I've managed on any version of the games in recent years. Everything we hit went in and there was a late flurry of three goals in the final five minutes too. The most unheard of #FMThings.
One worrying aspect of all three seasons so far is that we seem to stumble towards the finishing line. The title was sealed with a 0-0 draw in season one, we lost on the next matchday immediately after winning the title in season two and we ended this season with three draws in our last five.
Headlines
Kristoffer Klaesson was impenetrable yet again. He kept 15 league clean sheets this season, one better than his tally for last season but a few away from his 18 in the 2020 season. 17 goals conceded across the 30 matches is exactly the same number we conceded last season and the season before. We're consistently impenetrable at the back.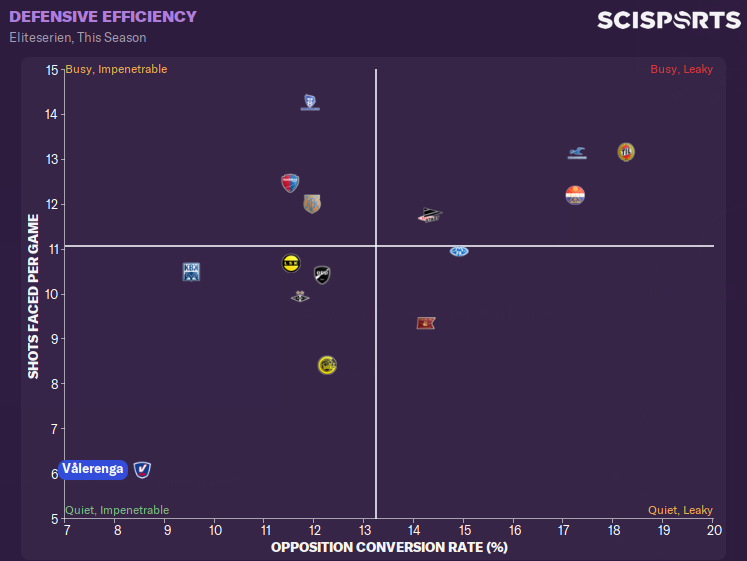 However, this season's title win can't solely be attributed to the defence. We scored a whopping 20 more goals this season compared to last season, with 77 goals a new record. We broke the record for the most wins across the season, the least defeats across the season and the points total too.
This doesn't tell the whole story. The five point margin between 1st and 2nd was the smallest one yet. Kristiansund played incredibly across the season too and would've been worthy champions themselves if it wasn't for us. Amahl Pellegrino finished as the league's top scorer with 29 goals from 28 matches. Oskar Siira Sivertsen was out for a month and still bagged 16 in 25. They're a formidable strike duo. Maybe it was our strong defensive showing that won us the league after all.
There's a separate post to come on this, but around halfway through the season we made the shift away from the so far trusted 4-1-2-3 to what I'm currently calling a 3-3-2-1-1. It played some really excellent football, including that aforementioned 9-0 drubbing of Strømsgodset. It did mean a little shuffle of some roles and positions. Tobias Christensen isn't best pleased that he's currently playing LWB for example, but he's been superb there.
There might also be a separate post to come on this but the player pathway opened right up this season. There was a first for my time at the club, with a homegrown youth product making the step up to the first team for some appearances plus a couple of additional players I'd inherited when I joined making the step up too. We cemented our spot as the top club in the country, not just on the pitch but off it too, as we secured the signings of some of our domestic rivals top talent. It's all part of the strategy. Oslo should be the place Norway's talent wants to live, and Vålerenga should be where they want to play their football.
---
Domestic Competitions
We weren't necessarily known as a high scoring team before this season so I'm not quite sure where the 5-1 thumping of Bodø/Glimt to secure our second consecutive Mesterfinalen trophy came from. We'll take it.
Last season's attempt at winning the Norwegian Cup was a failure. A third round exit at the hands of Rosenborg was avenged by beating them in this season's final. We made it through to the semi final without conceding before squeezing past Haugesund and overcoming a first half deficit in the final. Rosenborg scored with their only shot on target.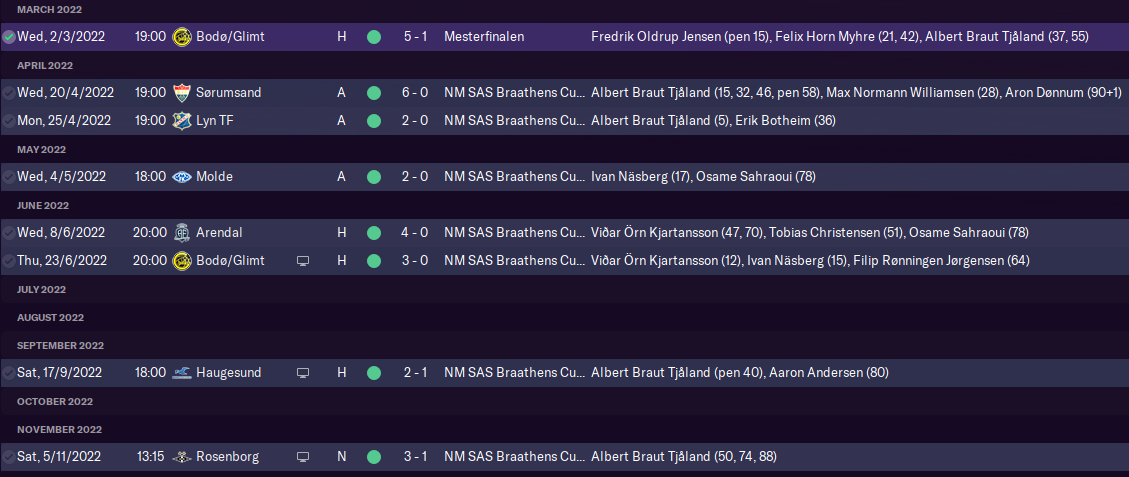 The final belonged to one man and there's more to come on him later.
---
Continental Competitions
You'll know by now that the domestic seasons stretch over a calendar year. This meant we had the 2021/22 Europa League knockouts to contend with in the early stages of the 2022 league season. Bordeaux and Lille were dispatched but the quarter final against Napoli was just a step too far, although we did manage to win in Italy to end the campaign. The damage had been done in the home leg though.

Norway's European coefficient is due to improve in the coming seasons but it currently means we still enter into the first qualifying round of the Champions League champions route. We overcame the Armenian, Croatian, Cypriot and Danish champions and went 2-0 up after 32 minutes against Barcelona on matchday one of the group stage.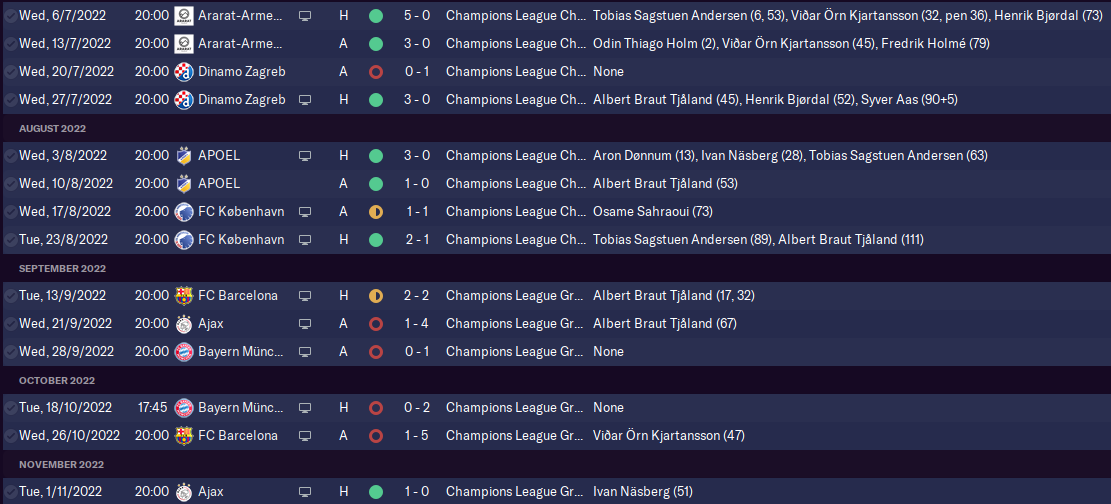 That joy was short-lived. Messi and Coutinho grabbed Barca a draw and we went on to lose our next four to be unceremoniously dumped from European competition. Ajax managed to beat Bayern on matchday five so our win against them on matchday six meant nothing, when I really wanted it to be a 3rd place showdown.
---
A Look At – Albert Braut Tjåland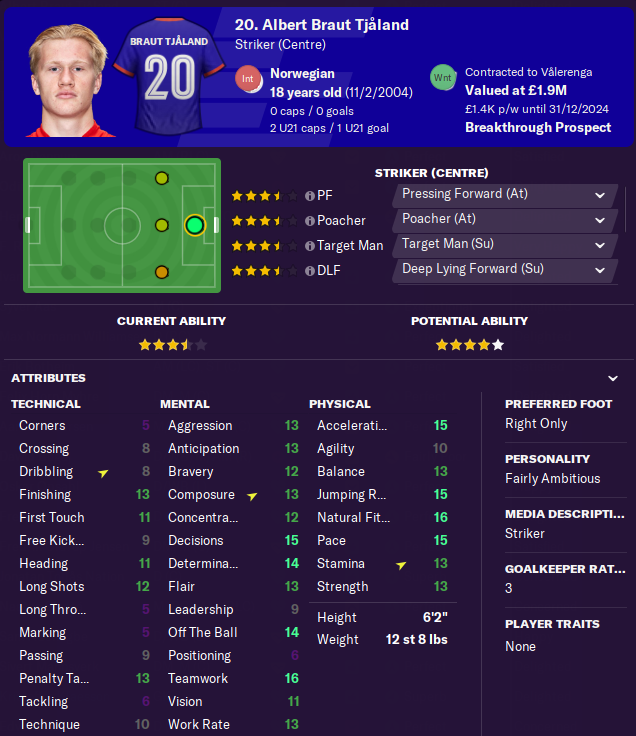 Haaland's cousin is one of those players that you think you've stumbled across, discovering a rare FM gem, only to realise that everyone else has found him too and he's just another wonderkid.
After 13 goals in his first season mainly playing back up, 2022 was his breakout season for us. I made the decision to make him our main starting option up front, with Kjartansson deputising well as a veteran 32-year-old. The 18-year-old rewarded me with 46 goals in 46 appearances. I could be wrong here but I think that's the highest goal return I've had from a player on any version of the game. I know others have had much higher totals from their strikers, and a couple have had higher returns with Tjåland himself, but I'm really happy with it.
His double in the 5-1 win over Bodø/Glimt in the Mesterfinalen to start the season set the tone. He scored five hattricks across the season, including one in that 9-0 win against Strømsgodset. His goals coming in a 12 minute spell in the first 22 minutes before being taken off with a knock.
At just 18, there was a fine line between him scoring as many goals as I could get him to versus not burning him out. Kjartansson made 13 starts across the season, coming into the starting eleven when I did finally decide to give ABT a rest, or when he needed one. The 15 goals he scored across those starts, and his additional 19 sub appearances, shows what could have been with the main man too. Still, ending the season with a goal every 82 minutes isn't half bad at all.
If I can fend off the vultures I'd love to get another season out of him. We received some derisory summer transfer window bids from English Premier League that I rejected without much fuss. He's still got areas to improve, I've got him working on his Ball Control currently, and I'd love him to improve here in Oslo.
---
The off-season ahead of the 2023 season feels a bit like a changing of the guard moment. Kristoffer Klaesson's loan deal back to the club from PSG expires, while a similar deal for Right Back, Christian Borchgrevink, ended in the second half of the season with him picking up an injury. I still haven't decided who'll replace Klaesson but I've already replaced Borchgrevink. Plenty more of our players are wanted, there's players ready and waiting to make the step up to replace them. Let's see what happens.
Before all of that though, there's the 2022 World Cup in Qatar to contend with. How will Norway do? See you next time to find out.
---
United to Prevent Suicide
Hopefully you haven't just skipped over this final section. United to Prevent Suicide is a new campaign aimed at breaking down the perceived barriers of talking about suicide, as a means of preventing it. Talking saves lives, and we should be comfortable talking about suicide to ensure we can do our upmost to prevent it. You can find out more information on the below website.