Change is constant at the Intility Arena. Talented players join Vålerenga, they train in the best facilities in the country, are coached by the best coaches, get meaningful minutes on the pitch, show off their talent, and leave for bigger clubs.
Over the past season, nine first team squad players have left the club for a grand total of just over £70m. Of the nine, six were regular starters in the first team. Of the nine, six had been at the club since I joined or were club youth products. Change is good though. Change can bring different results, better ones.
The title of the post maybe gives the game away, but here's how the 2024 season went.
---
Who's Gone?
Like I said in the intro, it was another eventful season of player sales.
Filip Rønningen Jørgensen has been the most expensive player signed by the club in my time so far, just hitting £8m in total at the beginning of the 2022 season. His success-laden couple of seasons always attracted interest and it was Premier League Everton that eventually secured his signature for an eventual fee of £20m. That made him the most expensive export from the country to date.
Oskar Siira Sivertsen came, conquered and left. He joined for £4.2m from Kristiansund at the beginning of last season, scored 31 goals over the course of the season, finishing as our top scorer in all competitions, and left for Beijing for £15m. It's difficult to knock back those Chinese bids for Norwegian players because they've got the ability to massively increase the amount they make in wages.
I was disappointed to let Tobias Sagstuen Andersen leave, especially after he'd swept up in last season's awards and had come on leaps and bounds in his time at the club. Just a reminder that I signed him for £325. There's no numbers missing from that figure. He was attracting all sorts of interest after his stellar season and it was Al Hilal who eventually secured the £10m deal. Not a bad profit at all.
When you join a new club would you look at a player out on loan in your reserve squad worth under £50k and think that he could be useful and you'd be eventually selling him for £5m? Fredrik Holmé managed to improve his game, break into my first team and earn a move to Leeds Utd. Here he is at 18 and here he is after his first 12 months at Leeds.
Aron Dønnum, Osame Sahraoui, Henrik Bjørdal, Oskar Opsahl and Aaron Anderson all also left the club for a combined total of £19m. Anderson was in my first batch of youth players and had incredible mental ability but just didn't quite have the technical or physical skills to break into the first team consistently. The other four players were all at the club when I first joined, and have all performed superbly for me during my time so far. Especially Dønnum and Sahraoui, who often at times rotated between them as the man behind the striker in my 3-3-2-1-1.
Similarly to last season, we've still got more money than I know what to do with. I've splashed some out on transfers, including signing up some promising young players to come in and develop, but as it stands at the end of this season, we're sitting with £120m in the bank and not a lot to do with it.
---
2024 Eliteserien
League Table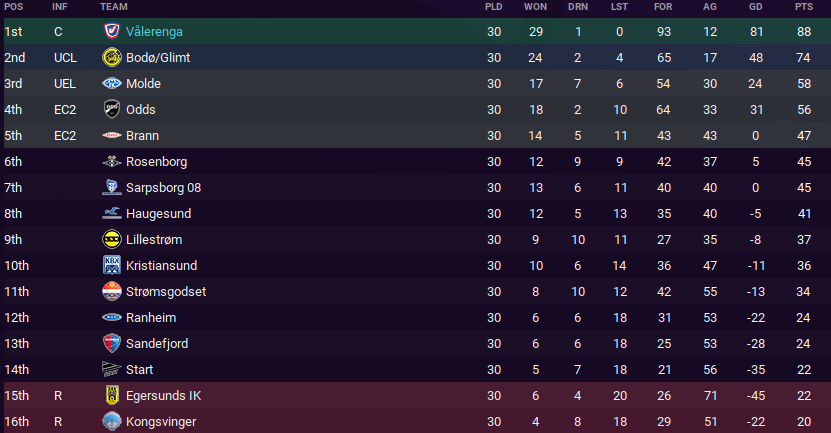 Headlines
An undefeated league campaign is the big headline from the season as we win our fifth consecutive title! I'm delighted to finally achieve it after going close over the past couple of seasons. Am I annoyed about that draw which ruins the perfect 30 wins? Yeah probably a little bit but it does still give me something to aim for. At one point it looked as though we'd only concede single figures across the season too but we conceded three goals in two matches in the final month of the season against 13th placed Sandefjord and relegated Kongsvinger.
The other big headline is the 93 goals we scored, an average of 3.1 a game. Not bad at all! It's a new Eliteserien record along with our points total. Last season, we were aggressive and wasteful in the analysis of our attacking efficiency. Our conversion rate was around 12%. This season we managed to whack it up to over 15%, as we were aggressive and clinical. Other than a tweak of the tactic midway through the season, not much changed across the seasons other than some of the bodies on the park. Despite him finishing as our top scorer last season, maybe picking Sivertsen ahead of Tjåland was the wrong move from me.
Bodø/Glimt had their best season yet as well, even making the Champions League group stage which is huge for the nation as a whole. They pushed us pretty closely up until the final few months of the season where they had three of their four defeats and they were who our solitary draw was against at the end of July.
---
Domestic Competitions

Albert Braut Tjåland loves the Norwegian Mesterfinalen. That's two hattricks he's scored in each of the last two season showpiece openers.
We secured the domestic treble for the third consecutive season by winning the Norwegian Cup again. We've gone two seasons now without conceding a goal in the competition, last conceding in the 34th minute of the 2022 final against Rosenborg. Although, we couldn't quite break down a stubborn Odds in the final this season, sneaking the trophy on penalties.
---
Continental Competition
Our only defeats across the whole of 2024 came in the Champions League. Barcelona beat us in both legs of the 2023/24 1st knockout round, a well deserved 4-0 thumping on aggregate. It took an 87th minute ABT goal to take us through in the 2024/25 Champions Playoff. We did lose 3-2 on the night against Kobenhavn, but went through 4-3 on aggregate thanks to that late goal.
What followed was rather unexpected.

We absolutely dominated our Champions League group. Last season, we did well to spring a surprise and top the group. This season, only a draw in the San Siro prevented us from maximum points. New signing, Emil Ceide, benefitted from the tactical change and scored six goals across the group matches. He actually scored 16 in total across his 22 appearances since joining on a free transfer at the beginning of August after being released by PSG. Five assists too, not a bad signing so far.
Borussia Dortmund await us in the 1st knockout round.
---
A Look At – Albert Braut Tjåland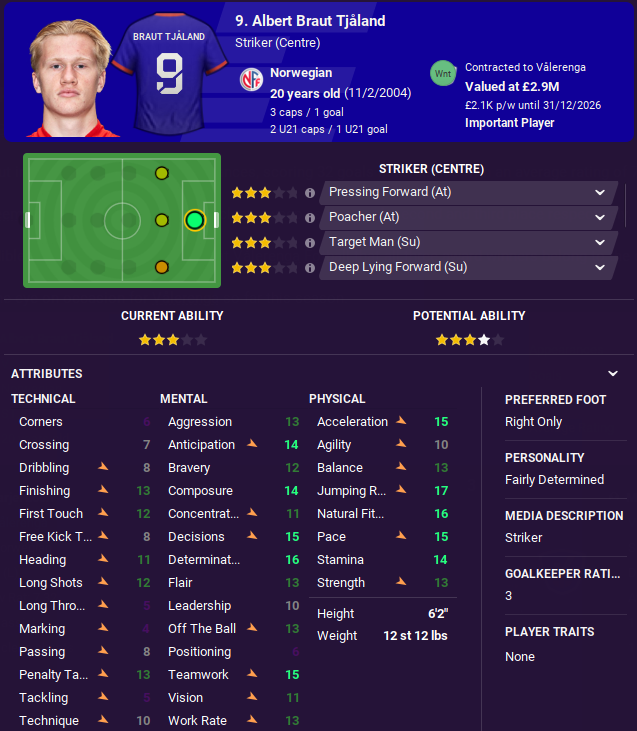 For the first half of the season he was the main man up top again in the 3-3-2-1-1 formation, but following a few incomings and outgoings, a change of tactic meant he was joined up top by a strike partner. I think it helped him even more. He broke the league goalscoring record which had stood since 1968, firing in 32 goals in his 29 league matches. He's also now the record league goalscorer in Vålerenga history with 83 goals in 101 league matches. He's got 132 in total for us now in 163 appearances, and this 47-goal season beats his previous highest total of 46 two seasons ago.
He just loves to play on the shoulders of opposition defenders and get in behind them. Here he is slamming one home against Porto in the Champions League.
He won the Eliteserien Young Player of the Year and the Norwegian Players' Player and Young Player of the Year awards alongside his league top scorer award and a place in the Players' Team of the Year.
He's still only 20-years-old. Will he get better in a technical sense? I'm not quite sure but I'm still trying to develop a few of those attributes. I'd love to see his Finishing increase up 14, going bright green in my attribute colours.
---
The first team squad we ended the season with has an average age of 20.6. The future is more than bright in Oslo. Who knows which first team players will leave this coming off-season and be replaced by the next raft of talent coming through our system.
That's what keeps me going in this save, it's what I set out to do. Have a conveyer belt of talent coming through the club and keep on doing my best to develop players. Will we get the same level of success next season? Who knows…
---
United to Prevent Suicide
Hopefully you haven't just skipped over this final section. United to Prevent Suicide is a new campaign aimed at breaking down the perceived barriers of talking about suicide, as a means of preventing it. Talking saves lives, and we should be comfortable talking about suicide to ensure we can do our upmost to prevent it. You can find out more information on the below website.