Vålerenga are Eliteserien champions again.
It's only the second time in their history that they've retained the Norwegian league title. A brilliant achievement for Kristoffer Samstrøm (me).
Last season's title win might have come as a surprise to me, but I knew if we played as well this time round as we did last time we'd have a big chance again.
---
2021 Eliteserien
League Table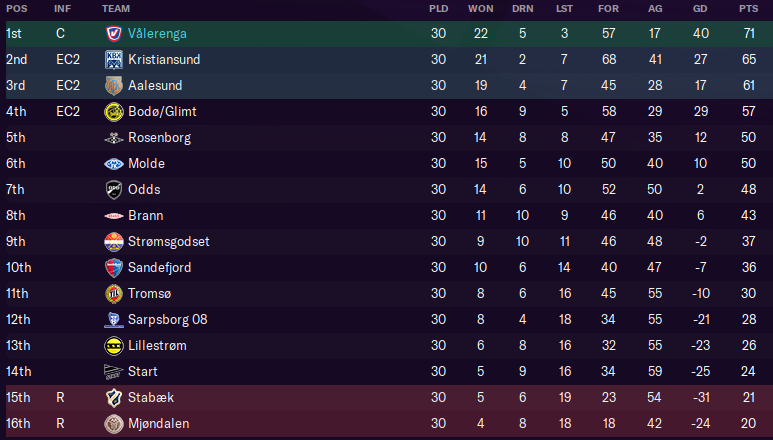 Three 5-1 wins were the highlights of the season. Tjåland (a little more on him later) hit a early hattrick in his Vålerenga career against Sandefjord, while Lillestrom and 2nd place Kristiansund were demolished in August.
Our defeat against Aalesund on the last day of the season ended a run of 18 matches unbeaten. The final few months of the season were much more of a "do what needs to be done" rather than free-flowing football and us generally impressing. Our other two defeats came early on against Kristiansund and Bodø/Glimt.
It was much closer this time round, and that's good, right?
Headlines
We, yet again, had the best defensive record in the league and that's what secured the title this time round. There's more on this if you read on, I'm dedicating our title win to Kristoffer Klaesson. As FM puts it, he was impenetrable.
We would've beaten the Eliteserien points and most wins records if we hadn't faltered in our last two league matches once the title had been secured. That Aalesund last defeat came after a 1-1 draw against Brann.
Set pieces were, again, a big factor in our success as we look to capitalise on them. We scored nine from corners, four from indirect free kicks and three direct free kicks this season. They were all scored by new signing, Tobias Christensen, as he finished with 11 goals in the league, our top league goalscorer. That was some way behind the Kristiansund strikeforce of Amahl Pellegrino and Oskar Siira Sivertsen, who scored 44 between them. Ivan Näsberg impressed with his aerial prowess, scoring six goals on his way to winning Fans Player of the Year. That's three more goals than last season.
I wouldn't have been surprised if we hadn't won the league in the end as injuries hit the club at various stages across the season. Osame Sahraoui was one of last season's top performers but he only played 964mins of action this season as he was out for five months. My right hand side was depleted at the same time as Aron Dønnum (RW) and Christian Borchgrevink (RB) missed two months of the season. I had a crisis up front in the last month of the season. Viðar Örn Kjartansson added 18 goals to his 19 from last season but missed two months out injured. Tjåland missed the last month of league action too.
Domestic Competitions
We triumphed over Viking in the early season Mesterfinalen, the domestic Super Cup between the league and cup winners. Technically this makes us double winners this season, what an achievement!
The less said about the Norwegian Cup, the better. The board expectation was to reach the final and we were knocked out in the Third Round by Rosenborg. Admittedly that was a tough tie but I wasn't happy to go out like that, especially at home. Must do better next season. If only someone had written about how to do better in domestic cup competitions before…
Congratulations to Ed's Bodø/Glimt on their cup win.
Continental Competitions
We did superbly to qualify for the Champions League group stage, coming through the qualifiers with a 100% win record. It's a thing of beauty.

I knew the group stage would be tough, but after seeing the draw I was quietly confident. When Krasnodar beat Lyon on matchday one though, I was fearing the worst. When Krasnodar equalised late on against us in the home tie, I again was fearing that bottom place finish. However in the vital away match, Sigurd Grønli (fans of the FM19 Vitória save will recognise that name), popped up with an 88th minute winner which ultimately sealed our spot in the Europa League knockouts come 2022.

A Look At – Kristoffer Klaesson
It's rare to see goalkeepers talked up in the same way as other positions on the pitch in an FM sense. They're not often discussed in blog posts or shown off in Tweets proclaiming them to be the best wonderkid they've seen. I'll hopefully buck the trend a little bit by saying that Kristoffer Klaesson is the best goalkeeper I've managed on any FM save. What's making me say that though? Let's dive in.
First off, the money shots. His development.
One thing you maybe noticed from the latest screenshot, he's on loan with us from PSG. They came in for him during the mid-season transfer window and I couldn't stand in his way. The potential £6m deal is a club record sale and the key part is he remains with us on loan until the end of the 2022 season. This gives me more than enough time to hopefully find a replacement, but he'll be a tough act to follow.
His 14 league clean sheets were less than the 18 from last season but he had a total of 21 across all competitions this season. I'm actually surprised when we concede, he's been that good between the sticks. I was going to litter this section with GIFs but it's so painful to capture past match action on FM21.
I've managed to grab this one though. This massive save came in the 93rd minute to win us a vital away point against Bodø/Glimt in what was a poor overall performance.
While his saves in our 2-0 home defeat against Chelsea in the Champions League didn't earn us any points, he certainly kept the score down with a 7.8 rating after making nine saves in total.
What's making him produce so many top saves and look so good? My coaches deem him to be very consistent and reliable, I'd agree 100%. His One-on-One ability, Reflexes and Agility are all superb, I think the GIF showcases two of those attributes really well. For his Concentration to have increased by three as well in just two seasons is excellent.
He's now the Norwegian international number one, making his debut in a 6-1 win over Northern Ireland and playing every minute since. He's looked every bit an international quality goalkeeper.
---
Vidunderbarns
The internet informs me this translates as "child prodigies", so here's a look at some of the promising young players currently at the club. I the big goal of my save is to develop players after all.
After one goal and one assist last season I said I needed more from Holm. He delivered this season. That output increased to six goals and 12 assists. He's come on leaps and bounds this season too, probably playing too much actually. It's difficult to remember he's still just 18-years-old.
Max Normann Williamsen
I chased MNW for the entirety of FM20 and he constantly rejected my Eibar side. I knew I wanted to manage him on FM21 and had to sign him when I received the budget for the 2021 season.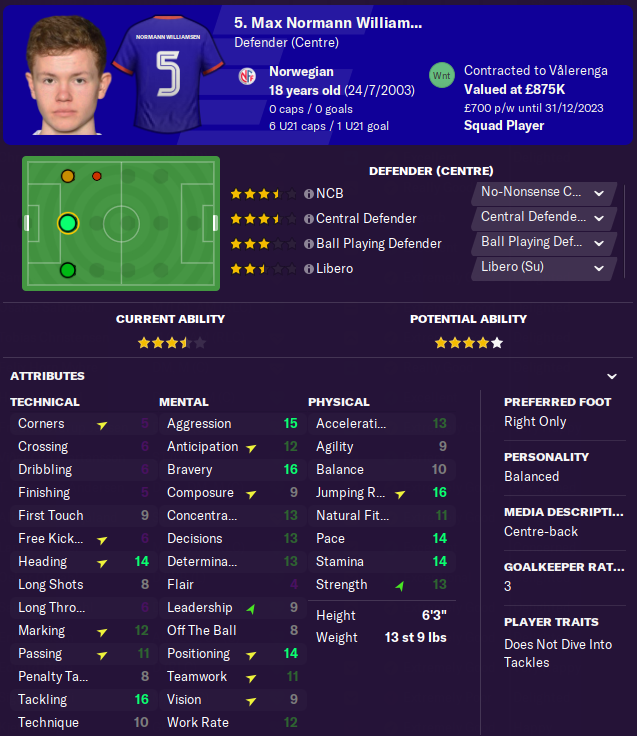 After the season that Kristiansund had I think they're probably wishing they'd fleeced me for a bit more than the £1.6m I eventually paid. They'll receive 10% of the profit when we sell him though, and we will sell him. Arsenal and Spurs are already interested after a very good first season for us. He finished runner up in the Eliteserien Young Player of the Season.
A £325 signing from Raufoss in the second tier. Yes, that does say £325. He was having an incredible season in the third tier for Vålerenga 2 that it was becoming difficult to ignore him and leave him there. He made nine appearances in the second half of the season for the first team and continues to impress in training. He's a potential Perfectionist colossus at the back.
Albert Braut Tjåland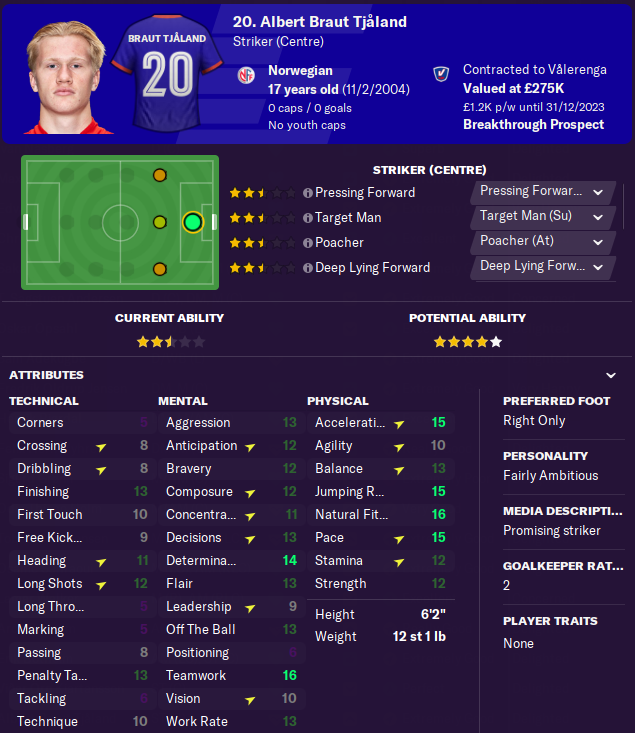 He's the talk of Twitter and Slack. Erling Haaland's cousin signed for £800k from Molde in January and had a good first season at the club. He scored 10 league goals in 12 starts and 13 goals overall as he had to contend with rotating with Kjartansson. If his Finishing and Composure continues to improve we'll have a potential monster on our hands.
Aaron Andersen
Andersen is the most promising prospect from the 2020 youth intake, my first one at the club. He's got mental attributes rarely seen in a 17-year-old but has some work to do yet on some of his technical and physical abilities.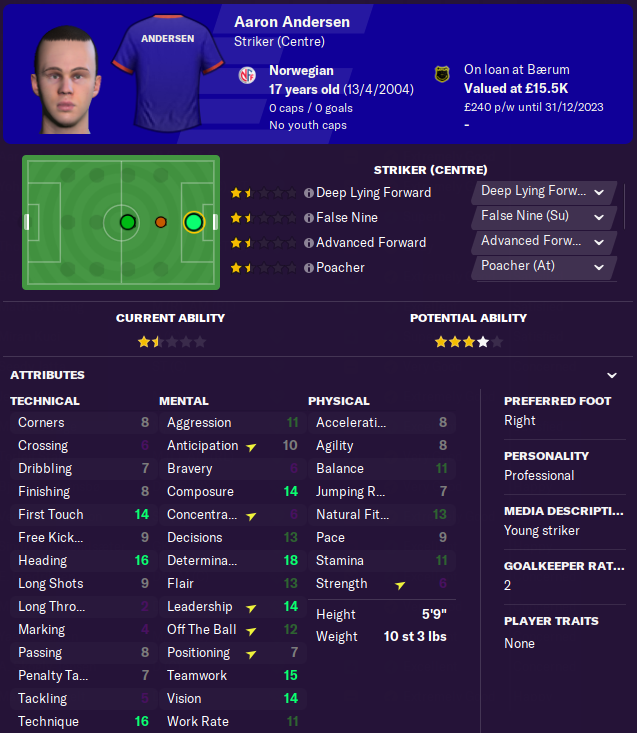 As such, I'm not really sure what he is yet. He's small with great Heading. He's got great Vision but doesn't quite have the Passing ability. He's got good Composure but not great Finishing. Answers on a postcard would be appreciated.
---
The future continues to look bright. This season's average age was 22 compared to 24 last season. Our influx of Champions League money this season has allowed me to improve club facilities in the hope of bringing through a couple more Aaron Andersen's, meaning I don't have to splash out as much on promising players elsewhere across the nation.
That being said, there's a couple of cracking youngsters I've already secured the signatures of ahead of the 2022 season. Coming soon…
---
United to Prevent Suicide
Across FM21 I'll be shining a light on United to Prevent Suicide. It's a new campaign aimed at breaking down the perceived barriers of talking about suicide, as a means of preventing it. Talking saves lives, and we should be comfortable talking about suicide to ensure we can do our upmost to prevent it. You can find out more information on the below website.