If I didn't think Norway had a Golden Generation of talent at their disposal, I wouldn't be managing the National Team on FM21.
I've run through results from 2020 and my first six months in charge in which I led us to Euro2020 (in 2021). Then came the tricky bit, picking a 23-man squad for the finals.
To help me decide I took a look at our squad depth. This included immediate first team options, squad players, potential back ups and then looking at who'd be replacing them in the coming years followed by some potential stars of the future further down the road.
---
Goalkeepers
I'm not particularly enamoured by any of our current "Now" options (first choice and back ups) but in the early days of my time in charge I've been sticking by them. I don't want to rock the boat by introducing some younger players too early.
Ørjan Nyland probably just shades it as current first choice goalkeeper. The 30-year-old stopper is a free transfer at the beginning of your save but was snapped up by Atlanta United in MLS for £2.3m. All four of those current "Now" players are much of a muchness, none of them particularly stand out.
I've decided to take Nyland, Grytebust (31) and Rossbach (25) to the tournament. Like I said, I didn't want to rock the boat too much and it's important to have consistency and experience. However, once the tournament concludes, I'll be making Kristoffer Klaesson the first choice Norwegian goalkeeper.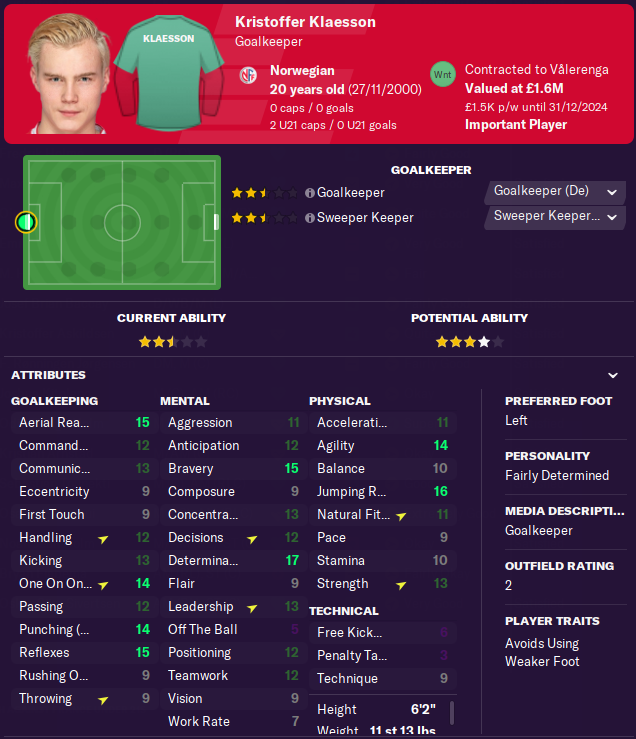 The Vålerenga stopper, obviously also managed by me at club level, has been incredible so far and is developing superbly. Now 20-years-old and worth £1.6m, he's tied to the club until December 2024 but is currently being tracked by PSG.
Isak Solberg is very highly rated too and looks as though he could challenge Klaesson in future. The 17-year-old played for Spurs' under 18s as they finished 2nd in the under 18 Premier League South.
---
Right Backs
Jonas Svensson and Omar Elabdellaoui are 28 and 29, respectively. They're in their peak and they're on the plane for Euro2020.
Svensson made 35 appearances over the season and averaged a 7.04 as AZ finished 2nd in the Eredivisie. Elabdellaoui helped guide Galatasaray to 2nd in the Turkish Super Lig with a 6.92 average rating. Both players have shared the Right Back role so far in the national team. Svensson assisted a goal against Romania while Elabdellaoui got two assists in our two matches against Austria in 2020 and he's followed that up with three assists in the run up to the tournament beginning.
The back up options of Aslak Witry and Julian Ryerson haven't been needed in any squads so far. They're 25 and 23, respectively, so there's still plenty of time for them to be needed in future squads. Christian Borchgrevnink (22) is another Vålerenga player, maybe not one that looks as though he'll set the world alight though. He could be a solid option if needed in future.
I've got high hopes for Dawid Bugaj though. The 16-year-old with Polish duel citizenship joined SPAL from Molde in the summer of 2020 for just under £100k and looks as though he could be a real talent in future. One to keep an eye on for sure.
---
Left Backs
We're sorted for, if I'm being honest with myself, the entirety of my save at Left Back.
Fredrik André Bjørkan moved from Bodø/Glimt to Crystal Palace in the English Premier League for £3.8m and played 24 times over the course of the 2020/21 season.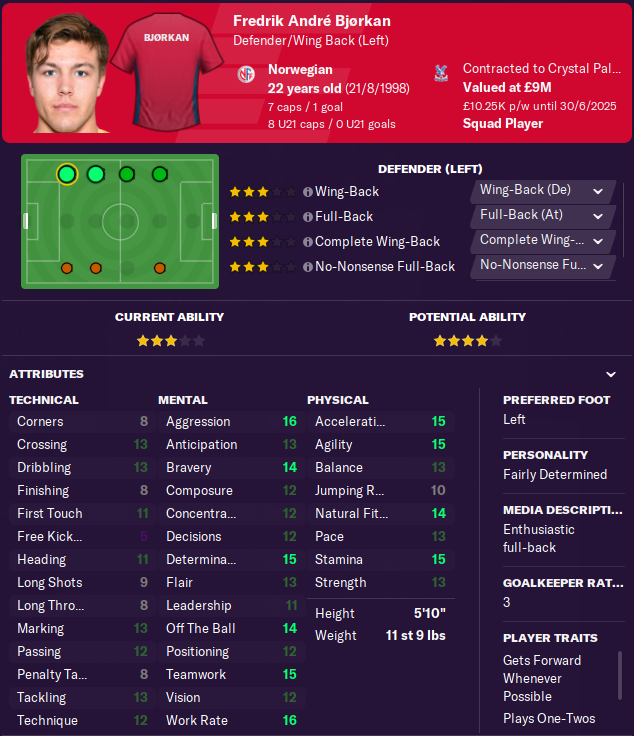 He's almost everything you want in a Full Back and I can see him moving on again fairly soon from Palace, especially as they got relegated down to the Championship. I didn't immediately introduce Bjørkan into my squads and that's now ridiculous looking back. His first cap came in November 2020 against Northern Ireland. He's now got seven caps going into the tournament and is definitely the number one choice at Left Back.
Birger Meling and Anders Trondsen (both 26) are more than capable back ups though, with Meling being my initial first choice. He didn't do anything wrong at all, providing four assists across 2020, but Bjørkan is just far trendier. Meling joins Bjørkan in the squad, Trondsen misses out.
John Kitolano (21) and Josef Brian Baccay (20) are my current picks for potential future back up options for Bjørkan.
---
Centre Backs
Kristoffer Ajer (23) is of course in the squad. I've already said plenty about him and he's one of our key players. He'll be joined at the back by Leo Østigård (21) and Håvard Nordtveit (30). I've been switched between them so far as Ajer's partner, so much so that I can't actually decide who'll partner him when we line up for our first group match against Germany.
It could be a risk to only take three central defenders in the squad but we have such a raft of quality attacking options that I've chosen more midfielders and attackers as opposed to taking one more CB. I'd usually like at least two players for each position but we do only play a back four so having at least player for cover for the pairing is fine for me. Hanche-Olsen (24) would have been that fourth CB but he's injured and misses the tournament anyway.
In the future, there's a raft of young Norwegian central defenders that could make the step up. I'm obviously excited about the potential of Max Normann Williamsen, who after three separate failed attempts to join my Eibar side on FM20 finally signed up to play under me. He's currently in the under 21s at just 17-years-old after his £1.6m move to Vålerenga at the beginning of 2021. He's on the "Future" list here, but in truth, he's just as likely as any of the "Next" list to be called upon for the full squad.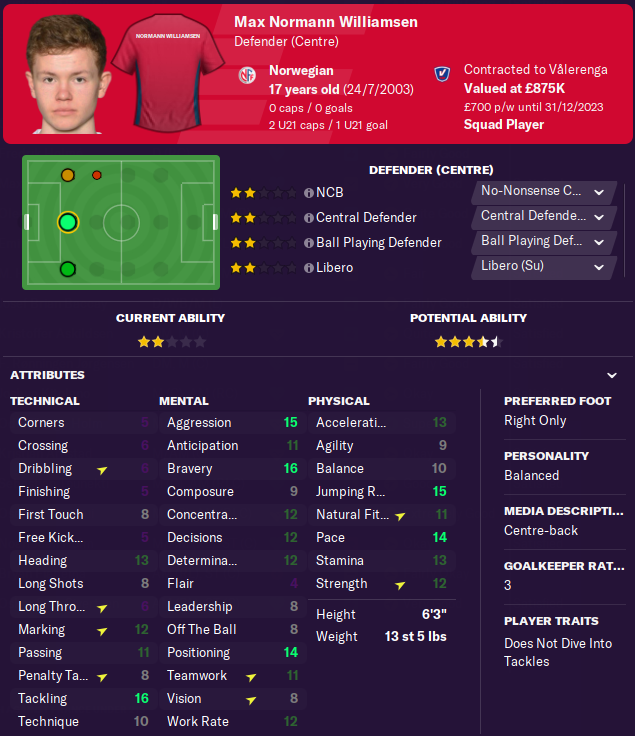 Leo Fuhr Hjelde is also 17-years-old but looks a little behind MNW at the moment in terms of his development. He's contracted to Celtic and has huge potential, but looks as though he'll be much more of a slow developer as opposed to MNW who's almost good enough to step into the main squad now.
As a slight aside, I'm really excited about a future squad when my CB options are:
Max Normann Williamsen
Philip Alexander Kolberg Slørdahl
Ole Martin Kolskogen
Nicolas Pignatel Jenssen
Leo Fuhr Hjelde
What a superb set of names.
---
So far the Euro2020 squad looks like this.
Next time I'll be going through our Midfielders, Attacking Midfielders and Forwards.
---
United to Prevent Suicide
While you're here, why don't you visit the link below to find out how you can help break down the barriers of talking more about suicide. If we talk about it more openly, we could save lives.