Last time you heard from me, I told you I decided to take a look at the squad depth of the Norwegian National Team to help me pick a 23-man squad for Euro2020.
That post looked at the goalkeepers and defenders, this one will look at the midfield and forward options at my disposal.
10 spots were already filled in the squad, meaning there was 13 to go from the following positions.
---
Centre Midfielders
Sander Berge cruelly misses out on Euro2020 after breaking his leg in April. He'd be one of the first names on the teamsheet, never mind in the squad.
The other four names in the "Now" column make the squad. Patrick Berg is probably the current "on trend" name there. The 23-year-old left Bodø/Glimt for Spurs in a £3m deal but has since joined Ulsan Hyundai in a strange season-long loan deal.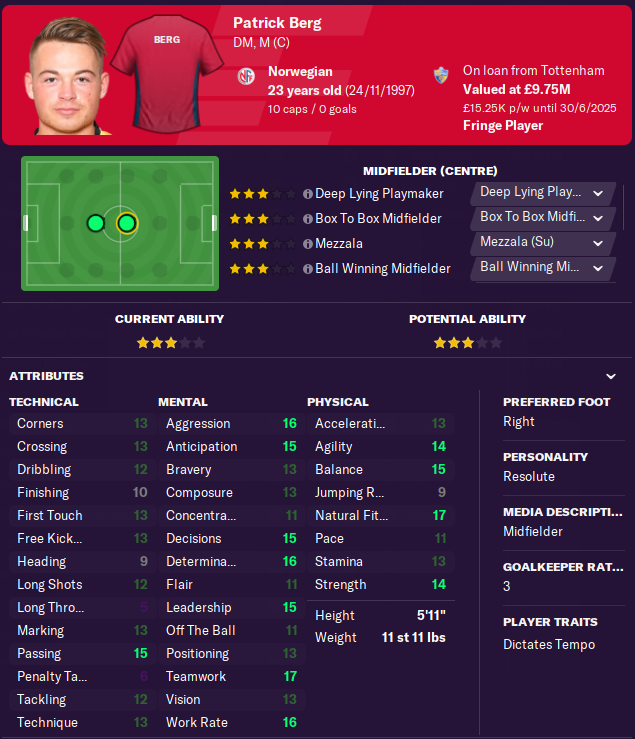 At the moment the tactic contains a midfield trio, with a Playmaker at the base. Berg, Thorsby (25), Midtsjø (27) and Selnæs (26) are able to slot into pretty much any role of the three, which gives me good options or a selection headache, whichever way you want to look at it. Thorsby and Midtsjø, in particular, are two cracking options to have with them being a Model Professional and Perfectionist, respectively.
Beyond the "Now" options, there's a whole host of young, talented midfielders that could step up in the coming years. I missed out on signing Kristoffer Askildsen (20) in the January pre-season window, as he opted he join Rosenborg for £2.8m instead of Vålerenga when he decided to return to Norway from Sampdoria. Edvard Tagseth (20) spent a couple of seasons with Liverpool before returning back to Norway too, where he's currently playing alongside Askildsen for Rosenborg. Joshua Kitolano (19) is developing well at Odds as well, but it's one of his teammates that's currently catching my eye.
The next big central midfield star though is surely going to be this man. Remember the name. Filip Rønningen Jørgensen.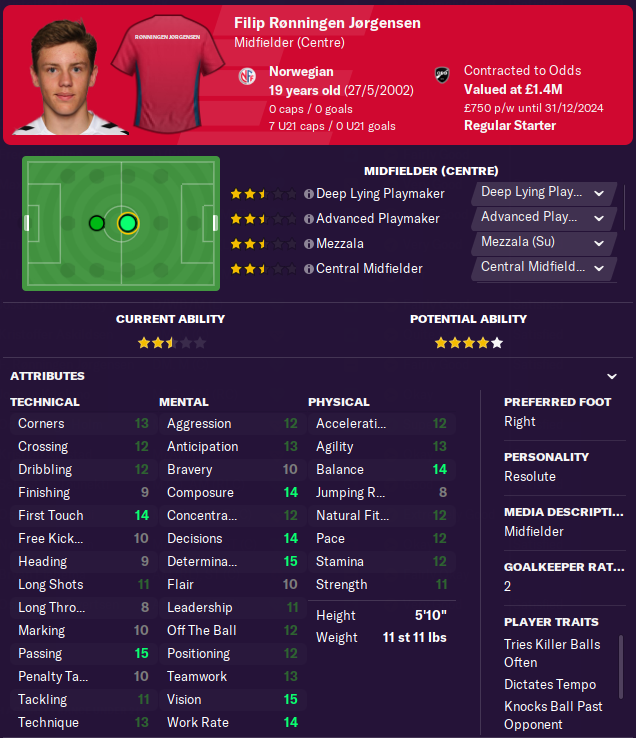 I just think he looks excellent. Yes there's areas of his game that he could improve upon, especially if he's going to make the step up to senior international football. At the moment though, he looks as though he's going to develop into the perfect playmaker for our future midfield.
Our midfield depth could go on and on. There's a raft of older players, including Fredrik Aursnes, Iver Fossum and Mathias Normann (all 24) that could come in as cover too. Fredrik Ulvestad (29) is currently the fourth most valuable CM available to me, but he gets nowhere near my squad.
Attacking Midfielders
I'm including Attacking Midfielders in this, despite us not currently playing with one in the main tactic. Looking at our current depth in this position, despite Martin Ødegaard being Martin Ødegaard, it's unlikely I'll bring an AM back into the tactic.
There's a few other things to say here. The first is that thanks to Sander Berge's injury a spot opened up in the squad and I decided to give it to Kristian Thorstvedt. He scored eight and assisted seven in 35 appearances for Genk this season and looks like a really decent playmaker. A decent back up option for Ødegaard.
I'm not sure why I've included Thorstvedt's Genk teammate, Mats Møller Dæhli, really. He has some really nice attributes and is just 26-years-old still, but I'd be inclined to call up any of the previous Central Midfield options I just walked through as opposed to him.
The final player to discuss is another Vålerenga man, Odin Thiago Holm. He had a focus in my post after my surprise title win in season one with the club, and he could one day make the step up to the full national team squad. For now, the 18-year-old will stick with the under 21s.
Wide Midfielders
There's talent here. All four players in the "Now" section make the squad.
Jens Petter Hauge (21) is the trendy name after his move from Bodø/Glimt to Milan in the non-FM world. He didn't have quite the breakout on FM than he did in real life and spent the second half of the season on loan at Gladbach.
This man has actually been one of the standouts of my time in charge so far alongside Kristoffer Ajer.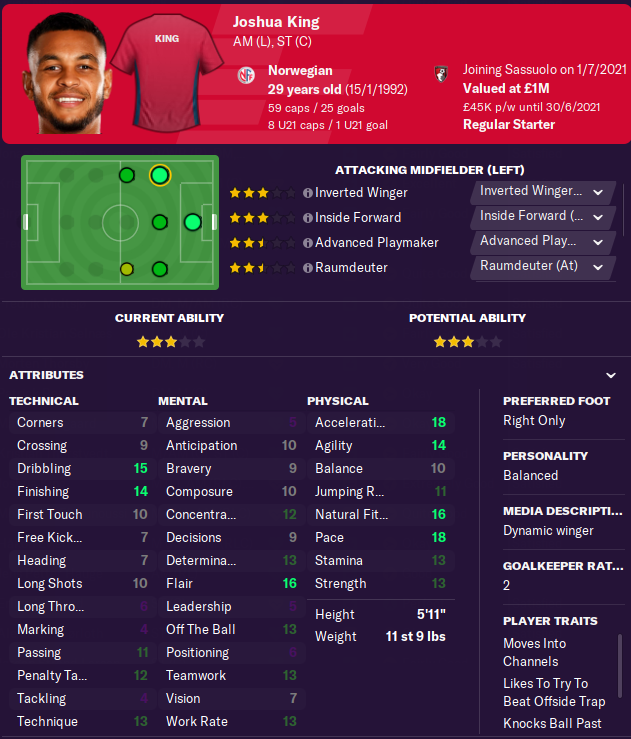 Dan Gear has pestered me quite a bit about Josh King, presumably he's a fanboy. He scored three goals in 2020 and has followed it up with four already in 2021 going into the tournament. The highlight being a hattrick in our last warm-up match against Iceland. He had a good season with Bournemouth in the Championship, scoring 13 times as they got promoted. He won't be there though as he's joining Sassuolo on a free transfer.
Mohamed Elyounoussi (26) and Håkon Evjen (21) will rotate with the other two aforementioned players depending on form and fitness.
A couple of the future options look really promising. Bryan Fiabema (18) is currently getting some first team game time on loan from Chelsea at Molde. Oscar Bobb (17) is contracted to Manchester City. My list doesn't even contain key Vålerenga wide man, Osame Sahraoui (19) though he is currently in the under 21 squad.
Most likely to make the step up in the near future is Emil Ceide. He moved for £3.7m from Rosenborg to PSG at the beginning of the French season and actually made a couple of first team appearances for them. He's got all the makings of a dangerous Winger. That Dribbling and Speed combo, oh my.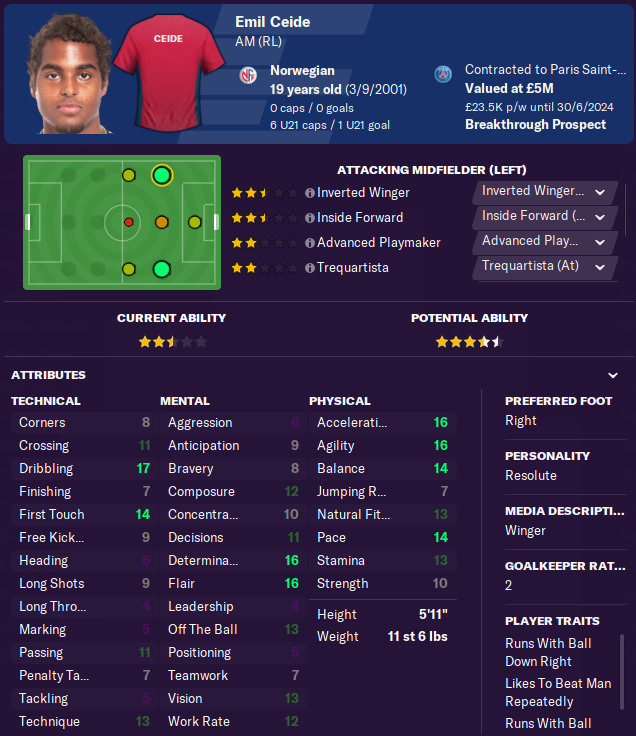 Strikers
It's obviously all about Erling Haaland. As discussed in my post summarising 2020 in charge of the national team, how the heck do we get the best out of him? Pray and hope for the best.
Similarly to a few players, I imagine, all things crossed, that I'll be with Haaland for the remainder of my time playing this save. He's still just 20, ffs. Monster.
He'll be backed up by Alexander Sørloth (25) though. It's not a bad back up to have at all. He actually outscored Haaland this season, scoring 22 for RBLeipzig compared to Haaland's 19 for Dortmund, though Haaland outscored him in the league by one goal.
I had been using Gulbrandsen (28) as additional back up for them both but decided to sensationally drop him for the Euro2020 and bring in the "Next" option now, Jørgen Strand Larsen. He had a good season in the Netherlands with Groningen. I see him as a younger option with room to grow a little bit, even though at 21 he's already older than Haaland.
Herman Geelmuyden should be a name that fans of the blog recognise. He was a member of my Norwegian contingent at Vitória on FM19. Now 19, he's at PSV but it remains to be seen whether he'll breakthrough there. Oskar Siira Sivertsen (17) is having a breakout season at Kristiansund with 11 goals in eight league appearances in 2021 so far. It's another 17-year-old that I want to highlight though.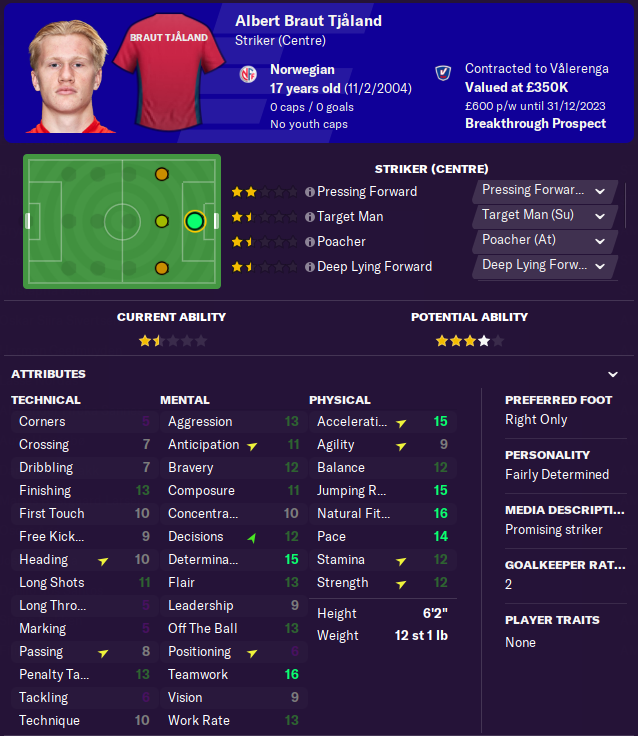 Could we one day see cousins partnering each other up front for Norway? Albert Braut Tjåland joined my Vålerenga side from Molde for £800k in January and has four goals in four league starts a the moment. Based on the chat on FMSlack, a fair few people have signed him so far. He's playing incredibly for Ed's Bodø/Glimt side. I'm excited.
---
Euro2020 Squad
Here's a link to me discussing the Goalkeeping and Defensive options, and here's the squad in full.
We face Germany, Sweden and Croatia. It's a tough group. How will we get on?
---
United to Prevent Suicide
While you're here, why don't you visit the link below to find out how you can help break down the barriers of talking more about suicide. If we talk about it more openly, we could save lives.