I said in my introductory post that playing through the 2020 season with Vålerenga gave me the opportunity to rewrite history for the Norwegian National Team.
A Sergej Milinkovic-Savic double downed them in the Euro2020 qualification playoff semi-final on the 8th of October 2020. They finished 2nd in their UEFA Nations League group behind Austria but ahead of Romania and Northern Ireland.
Let's see what I could do in my first six months in charge.
---
International Management
I also said in my introductory post that international management was much maligned by many FMers. I think it's a bit of a double-edged sword for a few reasons.
Firstly, international management in the non-FM world is probably far more boring than club management. You barely get to work with the players, when you do you're often having to make do with who's not prioritised their club and pulled out injured. Getting the players familiar with a style of play and formation is probably very difficult. I'm definitely finding that's the case on FM21.
However, there should be some sort of training available to us on the game when you're managing a national team. It's quite frankly embarrassing that there isn't. The players report for international duty, you're able to hold a meeting with them to chat through expectations for the upcoming matches. Training could begin then and give us the same options from a club perspective. That would allow us to schedule some pre-match preparation modules to work on familiarity, getting the team gelling and giving us a slight boost for our upcoming match on the likes of teamwork, pressing, defensive positioning and attacking movement.
I'm sure Gareth Southgate spent the entire summer of 2018 working on England's set pieces with his players. It got them vital wins over incredible Panama and Tunisia sides. 75% of their goals in the tournament came from set pieces, taking them all the way to 4th place.
The lack of training also brings around an issue with player condition. This will be an issue in future for me at tournaments, but it was also an issue with the 2020 triple header international breaks in October and November, especially as the season had only just started in many leagues.
The final thing I'll say just now is that I think many see international management as boring on the game, so they don't play it, and because they don't play it, it's not as valued by SI when it comes to improving it in future editions. I'm not sure what will break that vicious cycle.
If you want more on international management then head here to read FMRensie's take on it from FM20. You'll be unsurprised to hear not much has changed.
---
Trying and Failing…
To settle on a formation
Following on from similar issues I had at Vålerenga, I've flicked between a 4-2-3-1 and a 4-1-2-3 for the national team as well. At club level, I wanted to get the best out of Odin Thiago Holm. Martin Ødegaard was the man that was supposed to be our playmaker and dictate proceedings at national team level.
I'm not doing a Club and Country save, I'm doing a Club and Country save so I have two manager profiles. I wanted to do this so I could manage both separately and not be influenced by one or the other, but so far tactically, that hasn't been the case. My switch away from using an attacking midfielder for club has been mirrored for country, and Ødegaard is now deployed as a CM(A).
This is the current tactical setup.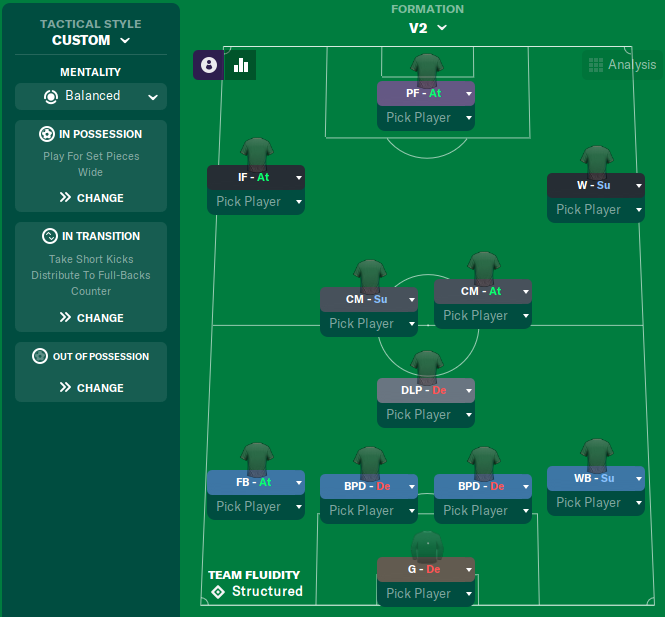 Switching formations certainly hasn't helped training to gain tactical familiarity. It's a work in progress.
To get the best out of Erling Haaland
If I was struggling to get the best out of Ødegaard then bloody hell I'm struggling to get Haaland going.
I've thought of a couple of reasons why.
The aforementioned tactical issues
He cuts a lonely figure up there all on his own. There's been matches where he's had single figure pass numbers and just one shot, for example. He played 90 minutes against Israel and got a 6.4. He had just 23 touches across the match. Woeful. He got a 6.6 against Scotland, a 6.4 against Austria and a 6.2 against Northern Ireland (but he did miss a penalty).
My lone striker for club is a Pressing Forward and he's often getting on the end of chances from out wide or in behind opposition defences. When I've tried Haaland as a Complete Forward, it's been a little better (he was involved much more against Romania in a 4-1 win where he scored a double) but then followed it up with that 6.6 against Scotland. I've even tried a Poacher.
What this is showing me is that I probably firstly, need to figure out what I want from my forward role and secondly, stick with it. I'm tweaking too much in the constant hope that he'll score a hattrick in every match that he plays. Which leads me onto the next point.
Unrealistic expectations
Let's put it mildly, he's an absolute monster. I said he was more of an Elite Striker as opposed to a Wonderkid in my post that I'll be using to track him across the save.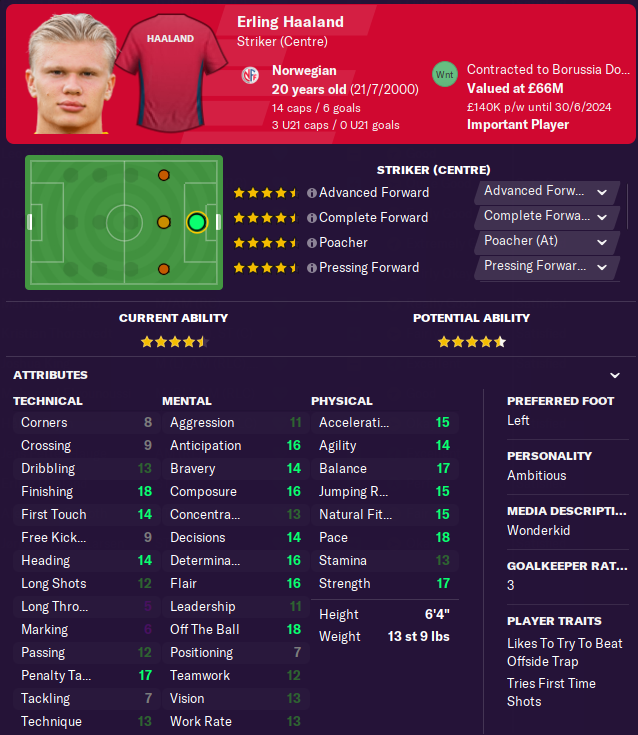 I'm expecting him to dominate. I'm expecting at least a goal a game. I'm actually expecting multiple goals a game.
He scored five goals in nine caps across 2020. That's absolutely fine for a forward. I'll persist with him as a Pressing Forward for now. I need to temper my expectations a little bit. As good as Alexander Sørloth (25) and Jørgen Strand Larsen (21) are, I'm not going to drop Haaland.
---
Trying and Succeeding…
To not lose competitive matches
After all that moaning, we didn't lose a competitive match in 2020.

We even played fine in that 2-0 defeat against Chile. I was fearing the worst after following it up with a 1-1 home draw against lowly Northern Ireland but we came back from that to top our Nations League group and get promoted to the Nations League A groups. We'll need to up our game against Europe's elite.
To qualify for Euro2020 in 2021
We only went and did it. The semi final against Israel was one of the most ridiculous matches I've played on any edition of Football Manager. 3-0 down after 25 minutes and facing an embarrassing defeat, the goal we pulled back four minutes later was vital. The second half was all Norway but it took until the 90th minute for Kristoffer Ajer to grab his second goal to secure the comeback win.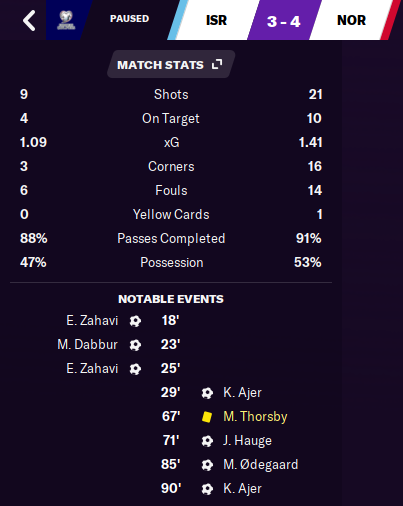 Ajer has been absolutely vital so far, as similarly to something I mentioned in my last post detailing the Vålerenga league win, we're playing for set pieces for the national side too. Ajer scored five goals across his nine caps in 2020, equalling Haaland's total. You might have noticed my snide comments about Southgate's England earlier. If you can't beat them, join them.
Of course the FM gods would throw me a playoff final tie against Scotland. It turned into one of the poorest 180 minutes I've watched, with only seven shots on target across both teams. Penalties decided it and we scored all five of ours to secure our spot at the Championships in 2021. We've been drawn in Group F alongside Croatia, Sweden and Germany. A tough group I'm sure you'll agree.
---
2021 and Beyond
After that 2020, our FIFA ranking hasn't actually changed much, we're in 38th spot.
Discounting potential knockout matches at the tournament, we've got a whopping 14 matches across the year, with qualifiers beginning for the 2022 World Cup beginning in March. I'm quite pleased with our group. We'll be facing Israel and Northern Ireland again, alongside Denmark and Latvia.
Next time you hear from me on national team duty I'll be walking through our depth and then picking the squad for Euro2020 in 2021.
---
United to Prevent Suicide
While you're here, why don't you visit the link below to find out how you can help break down the barriers of talking more about suicide. If we talk about it more openly, we could save lives.