It's time to play the 2022 World Cup in Qatar.
I've got a squad to pick and I've enlisted the assistance of Norwegian football expert, Ben Wells, to answer some of my burning questions around my players and our approach.
Let's go!
---
Qualification
How did we qualify? It wasn't as comprehensive as it maybe looked like it'd be on paper with the talent at our disposal.

A Kasper Dolberg penalty in the 81st minute gave Denmark a 1-0 win in Copenhagen on matchday one and that was followed up with a disappointing 0-0 home draw against the group's surprise package, Israel.
We beat Latvia with an aggregate score of 12-0 and did the double over Northern Ireland too, 6-1 and 3-1, respectively.
The campaign was split across 2021 and we seemed to hit our stride once Euro2020 in 2021 was out of the way. As I type that out I realise I haven't yet let you know how we got on. One win against Sweden and two defeats against Germany and Croatia somehow saw us finish in 2nd place in the group and progress to the Second Round. Unfortunately a strong English side sent us packing.
Post-tournament saw us exact some revenge against Denmark with a 2-1 win. We couldn't beat Israel across both our matches against them but other results went our way, with Northern Ireland doing us a favour against Israel, and that saw us top the group.
Haaland's eight goals actually came in five appearances though he played all eight matches. Since we're comparing them against each other now, it was a little way off Mbappé's 13 goals from 10 matches in qualifying.
---
The Group
We'll face Argentina, Portugal and Japan in Group B. There's no additional wacky changes (other than it being in Qatar and in November/December) to the World Cup so the top two go through. We've got a fight on our hands to topple the South American and European giants in our group.
---
The Squad
The squad does largely pick itself and there's only a few changes from the Euro2020 squad.
I said post-Euros that Kristoffer Klaesson would come in as our first choice goalkeeper, and he has. The PSG man, who's been back on loan at Vålerenga since his move to the French giants, now has 13 caps.
In defence, Vålerenga starlet, Max Normann Williamsen is preferred to 32-year-old Håvard Nordtveit. A shift in approach sees an additional defender called up, and 25-year-old Andreas Hanche-Olsen is that man. Christian Borchgrevink can perhaps feel aggrieved at missing out on the squad after his move to Spurs from Vålerenga, but the experience of Jonas Svensson and Omar Elabdellaoui has been preferred.
Fredrik Midtsjø misses out through injury and Sander Berge has been a mainstay in the squad since the cruel injury that ruled him out of Euro2020. Mathias Normann is preferred to Ole Kristian Selnæs with Normann's European experience being preferred over Selnæs' gametime with Shenzen. Josh King is a casualty of the formation switch, as he drops out for that additional body at the back.
The only debate up top was whether domestic goal machines, 45-goal man Albert Braut Tjåland or 36-goal man Amahl Pellegrino, would get the nod. In the end, neither did and the forward options remain unchanged since Euro2020. Jørgen Strand Larsen only kept his place as the third-choice by playing in a slighter higher calibre of league.
Is the squad strong enough to progress from that tough group? I'm not sure but we'll do our best.
---
Our Approach
I've still been trying and failing to settle on a style and formation for the national team. We went with the previous 4-1-2-3 for Euro2020, post-tournament I switched to a 4-4-2 which did work to good effect at times but still had some deficiencies against bigger sides.
Going into a World Cup is the best time to change your tactical approach isn't it?
I thought it was about time I got some assistance from an expert. Ben Wells is one of the most knowledgeable people out there when it comes to Norwegian football, if you don't already then give him a follow. He's writing a book all about Norwegian football that's due to be released in 2022 so keep an eye out for that too.
Haaland Pressure
Getting Haaland on the scoresheet regularly is going to be key to any tactical setup for Norway both in FM 21 and also in real life.
I was initially really struggling to get anything out of Erling Haaland. He scored four times for me in my first nine matches in charge across 2020. It doesn't take rocket science to figure out that he's our best player and it's good to see Ben agrees with me that he should be getting on the scoresheet regularly.
He also went on to add, "I wouldn't want to burden him with too much creative work if possible." I think this could be it. You'd potentially look at how good he is and think "Complete Forward, I want him to do everything". All we need to do is get him on the end of our chances, and we should be creating chances for him too. Ben thinks that "A high-tempo, short passing style of play could be key to unlocking defences and getting him in behind the back four. His aerial ability still isn't great compared to his other attributes, so I wouldn't waste too much time crossing into the box." I like wide play and crosses so that'll be a tricky one for me to try and move away from.
Ødegaard Puzzle
You want Ødegaard to be the creative hub of the team, without expecting vast amounts of goals coming from him.
That shift to 4-4-2 I mentioned saw Martin Ødegaard come into his own a little bit. He was playing as a Wide Playmaker on the right hand side, and provided plenty of assists and created plenty of excellent chances when coming inside. I've got to agree with Ben though when he says "I think Ødegaard is always better when played in the middle of the pitch, rather than out wide where he will have extra defensive responsibilities."
Is Ødegaard more important than Haaland to the side? That's not for me to say but if Ben wants Haaland on the end of chances, who's going to create them? "Ideally, Ødegaard would be the assister or pre-assister of the team. He is certainly something of a luxury player but it's key to have him in the correct role otherwise his value in any team would be wasted." Some food for thought for Arsenal there as well.
Berge Paradox
Berge is a very unique player in many ways, and many have incorrectly pigeon holed him as a defensive midfielder due to his physique and ability to win the ball back.
What is Sander Berge? I love him and I think he looks like an excellent player, but Ben is absolutely right. He's 6'5″ and physically superb. His mental ability, including how well he anticipates what's going to happen and how hard he works, means he's pretty much an all-rounder. Especially so when you factor in his excellent range of Passing and superb Technique. Ben thinks he should be a Mezzala, "he can operate almost a wide box-to-box midfielder, utilising both his physical prowess and ball-carrying abilities." I'm known to love a Mezzala, so I'm more than happy to implement that and try it out.
Ben pointed out that Berge has thrived in a similar role for Sheffield United at times and that was definitely seen in my save too, with him providing 11 assists across the 2021/22 Premier League season.
Settling on a Style
The players in this squad lend themselves well to a positive possession based tactic.
Ben already alluded to a high tempo, short passing style of play that would suit Haaland down to the ground. He doesn't think a counter-attacking style suits this squad as "many of the attacking players such as Hauge, Evjen, Elyounoussi and Ødegaard rely on their technical brilliance to create chances rather than their physical attributes." I agree that counter-attacking shouldn't be the overall style of the team, they shouldn't sit back and soak up opposition pressure, but I think that counter-attacking should be a facet of this side. Ødegaard's got any key to unlock a defence, and Hauge has technical brilliance as Ben said, I see both of them being key when we do win the ball back. I think we could catch teams out.
"In possession, they will thrive with shorter passing, playing out of defence, a high tempo and narrow setup. Out of possession, forcing the opposition wide with a semi-aggressive counter-press and defensive line should get the most out of this crop of players." Ben suggested a move to variations of a 4-2-3-1. Berge is part of the midfield two as a Mezzala on Support, Ødegaard is in the hole as an Advanced Playmaker or as a Roaming Playmaker shifted back to form a midfield three, and Haaland is up top as an Advanced Forward, supported on either side by Inside Forwards (Hauge and Elyounoussi) getting close to him in support. Ben wants Ødegaard to be enabled to be as free as possible by his recommended midfield two behind him of Berge and Normann, they're "the key to this success, if they are able to undertake their offensive duties without compromising the defensive side of the game."
However, in true Football Manager style, I'm about to completely disregard a lot of what Ben told me. Not all of it, there's a lot of it that'll be highly relevant to what I'm about to walk through. Plus, he kind of alluded to it himself too here…
I've long thought that 3 at the back could compliment Norway well, though personally I only think it works if you start in a 3-4-3.

Berge x Normann as the midfield 2, with Haaland, Hauge & Ødegaard (acting as a kind of wide playmaker) as the front 3. RM/LM always up for debate. https://t.co/6x5TgPCGYF

— Ben Wells (@FRfotballBen) February 7, 2021
I mentioned in my latest Vålerenga update, and also on Twitter, that I'd recently moved to what I'm calling a 3-3-2-1-1. When I thought about what Ben said, along with how I think we should line up, it fits perfectly with the national team too.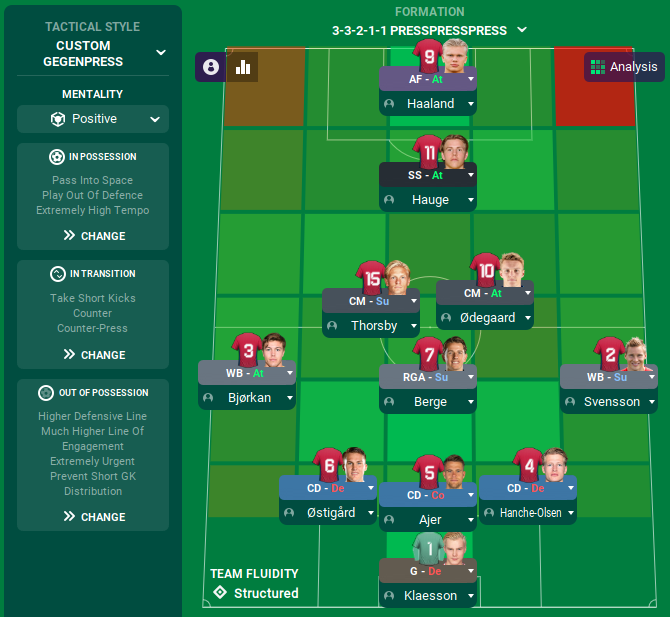 Haaland as an Advanced Forward ✅
Ødegaard centrally ✅
Berge dictating play ✅
Positive, encouraging possession ✅
Playing out of defence ✅
High tempo ✅
Relatively narrow (Wing Backs the only wide outlet) ✅
Where I've ignored Ben's points, alongside the formation, is on our pressing. He wanted me to opt for a semi-aggressive press, whereas I've got us pressing high up the pitch with a high defensive line. I also think, with Haaland and Hauge, and by opting for Morten Thorsby (Work Rate 19, Teamwork 20, Stamina 19, Determination 19) in the centre of midfield, we've got the players to quickly press our opponents when we lose the ball too.
How's it going so far? Well it got a 4-1 win and a 1-0 win over Germany and Italy, respectively, on our way to topping our Nations League A group plus a 5-2 win over the Netherlands in a World Cup warm up match. Haaland scored six times across those three matches… would he fire us to World Cup glory too?
The Tournament
He certainly was firing on all cylinders during the group stage. He got us underway in the 51st minute against Japan, scoring a delightful dink after a brilliant run from Hauge. Evjen grabbed a late second after coming on as a second half sub for Hauge. A comfortable 2-0 win over the Samurai Blue was the perfect start.
Portugal and Argentina had drawn 0-0 in their fixture, so a good result against Portugal on matchday two could be huge for us. And we got it.
Hauge followed up his incredible assist with the opener. Who else would equalise but a 37-year-old Cristiano Ronaldo. The now-PSG player bulleted a header past Klaesson from a Bruno Fernandes free kick. With three minutes left of the 90, Gonçalo Guedes rocketed one into the top corner but with two minutes left of the 90 that man Erling Haaland equalised to grab us a 2-2 draw.
Japan nicked a 2-2 draw of their own against Argentina, so a positive result against the South Americans in the final group match would see us through. And we got it.
Haaland picked up where he left off, putting us ahead in the 2nd minute and we were playing excellently. Sander Berge provided the pass of the tournament to put Haaland through only for him to be fouled and pick himself up to dispatch the penalty.
Gonna dream about this Sander Berge pass tonight 😱🔥

(Haaland scored the penalty) pic.twitter.com/ChsfRpt91Z

— FMSamo (@FM_Samo) February 18, 2021

I was absolutely delighted to top the group and it gave us a meeting with Peru in the next round. They'd finished 2nd behind Ghana in a group that also contained Mexico and the hosts, Qatar. Haaland downed them as well, scoring the only goal in the 17th minute. We dominated the match and should've scored much more than one, but on we went to the quarter final.
Nigeria had produced the surprise result of the knockout rounds, beating Germany 1-0. Again, we dominated and should've scored much more than our two. Evjen wrapped up the match in the 84th minute with his second goal of the tournament, both coming from scrambles after a corner.
The quarter final win set up a semi final tie against the number one team in the world, Brazil. Seeing it on my screen took me right back to the 1998 World Cup.

We gave them a good game but in the end our chances didn't seem to fall kindly for us and they were clinical. Marquinhos scored from their first shot on goal after we'd had a few early chances and Gabriel Barbosa finished us off in the second half. Too many of our key players underperformed, with Haaland scoring a 6.3 and Ødegaard a 6.5. Brazil went on to beat France in the final.
We dusted ourselves off and prepared to face Portugal again in the third place playoff. It wasn't a classic and it was settled by a long range effort from Right Back, Jonas Svensson. A few good results and a somewhat favourable run to the semi final sees us rocket up to 10th in the latest World Rankings and grab the title for biggest overachievers of the tournament.

Haaland lit up the tournament, scoring five in total. Just one behind Duván Zapata and Ante Rebic but he had the most man of the match awards with three. Shockingly though he was overlooked for the Dream Team, with only Jonas Svensson making it in. Mbappe's four goals and five assists saw him make it in alongside winning Best Player, if we're still comparing them.
What next for this Golden Generation? European Championship qualifying! Our group consists of Czech Republic, Ukraine, Kazakhstan and Northern Ireland, again. I'm confident in our ability to make it to the tournament but will we better our second round showing? That remains to be seen.
---
United to Prevent Suicide
Hopefully you haven't just skipped over this final section. United to Prevent Suicide is a new campaign aimed at breaking down the perceived barriers of talking about suicide, as a means of preventing it. Talking saves lives, and we should be comfortable talking about suicide to ensure we can do our upmost to prevent it. You can find out more information on the below website.