In this extra special bonus blog, I'll be analysing the reasons why I can't seem to win (or even progress past a couple of rounds in) the Copa del Rey on FM20 with Eibar.
TL;DR we've been really crap.
---
Our Copa del Rey Record
Here's a quick summary of how crap across each of my five seasons in charge.
2019/20
| | | | |
| --- | --- | --- | --- |
| Round | Opponent | Result | |
| 1st round | Cercedilla | 5-0 | W |
| 2nd round | Barakaldo | 0-1 | L |
2020/21
| | | | |
| --- | --- | --- | --- |
| Round | Opponent | Result | |
| 1st round | Gondomar | 5-0 | W |
| 2nd round | Gimnastic | 4-1 | W |
| 3rd round | Osasuna | 0-2 | L |
2021/22
| | | | |
| --- | --- | --- | --- |
| Round | Opponent | Result | |
| 1st round | Cercedilla | 9-0 | W |
| 2nd round | F.C. Andorra | 3-0 | W |
| 3rd round | Hércules | 3-0 | W |
| 4th round | Real Betis | 3-3 p | L |
2022/23
| | | | |
| --- | --- | --- | --- |
| Round | Opponent | Result | |
| 1st round | San Roque de Lepe | 6-0 | W |
| 2nd round | Gimnastic | p 1-1 | W |
| 3rd round | Real Valladolid | 1-2 | L |
2022/23
| | | | |
| --- | --- | --- | --- |
| Round | Opponent | Result | |
| 3rd round | Deportivo | 2-0 | W |
| 4th round | Real Valladolid | 0-1 | L |
That makes for difficult reading. We haven't progressed past the 4th round of the Copa del Rey. It's not like we're one of the poorest teams in the league who struggles down the lower end of the table season-by-season. In every single season so far we've been beaten by clubs lower down the table than us, and in some cases, in lower leagues than us.
---
What's going wrong?
Priorities lie elsewhere?
Winning the Copa del Rey has never been something I've specifically set out to achieve in my time at Eibar. A cup win is never certain, especially so when you play in a country with such strong sides such as Barcelona, Real and Atlético. I'd really like to win it at some point though as it's highly unlikely I'll be winning LaLiga any time soon.
My priority is always on the next game. I've never been one to deliberately play a weakened side in order to focus on other competitions, even in seasons when we've had continental competition to juggle alongside the league. Were our eyes on the league and doing as best we can in that competition? Maybe, but we've also had some good results in Europe too and been able to juggle those competitions.
Too much rotation?
Heavily rotated starting line ups are usually the order of the day when it comes to top tier clubs in cup competitions. I've never had a huge squad available to me at Eibar but I am usually quite partial to rotating players on a regular basis. Is this the reason why we haven't progressed further in the cup?
In our defeat against third tier Barakaldo in season one, of the eleven that started the match, five played over 3,000 minutes across the season, a further two played over 2,000 minutes and another two of the eleven played over 1,000 minutes. It was only Runar Hauge and Iván Ramis that could've been considered as me rotating the squad. This shouldn't have had too much of an affect on the outcome of the match. The crux of my squad that managed to defy the predictions and finish 5th in LaLiga really should have beaten a third tier outfit, especially one that ended up getting relegated to the fourth tier come the end of the season.
It could've tripped us up against Osasuna in season two. I brought in my sub 'keeper alongside Erik Tobias Sandberg, Idrissa Toure and José Angel, who between them only played just less than 2,000 minutes across the season. On the surface you could say that's a change to the goalkeeper, one of my centre-backs, my left wing-back and my defensive minded midfielder. On the flip side though I could say that my other two centre-backs were first choice for the whole season, my other two central midfielders made 56 appearances between them and my right wing-back was my first choice one. Should it have been enough? I'd say so.
Bottlejob merchants?
I'd navigated through three relatively comfortable ties in my third season in charge before being drawn at home against Real Betis. Our record against them was even up to this point, we both had two wins, two defeats and then a draw earlier on that season. With the score level at full time we took control of the tie with two quickfire goals early into extra time.

Raging. Jan Sobocinski shoved Aïssa Mandi for Borja Iglesias to grab his second before Maxime Gonalons fired in a long range equaliser. Three missed penalties out of four later and we'd bottled a 3-1 lead in extra time to be eliminated.
Just not good enough?
The Barakaldo defeat speaks for itself in being not good enough. We dominated but the opportunities we created weren't good enough or they weren't tucked away when they really should have been. Sergi Enrich really should've put these chances away.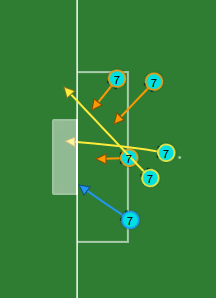 Our match against Osasuna in season two was quite close, evenly matched on shots and possession. Just because you create more "clear cut" and "half" chances, as the game classifies them, doesn't mean you should automatically beat your opponents, but we should've put at least one of our total of seven compared to their two.
If our play going forward wasn't good enough then I don't know what this defending is for Osasuna's opening goal. I'm not quite sure, as the free kick comes in from the right hand side, why Pedro Bigas is marking four of their players while three of our players are marking each other? Number 8, Darko Brasanac, had an easy finish at the back post. Really poor. Osasuna went on to be eliminated by Sociedad in the 4th round and relegated from LaLiga at the end of the season.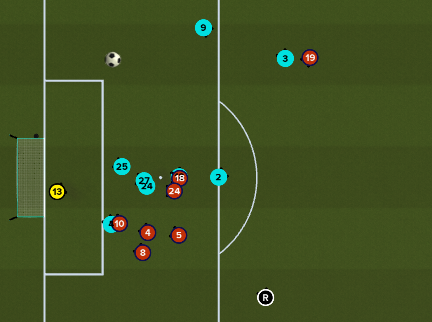 The two defeats that annoy me the most from my five seasons so far though are the two most recent ones against Valladolid. Sergi Guardiola, has scored three headers against me across two matches to put us out two seasons in a row.
In season four we'd just equalised through Thomas Amang for Valladolid to then kick off, win a free kick and score their winner. We outshot them but it means nothing if they don't go in, their 'keeper did make nine saves though…
I couldn't quite believe it in season five when Valladolid rolled around again and Guardiola had downed us in the cup again.
He ghosts into the box and chucks us out the cup. We had 17 shots in this match, seven of them on target but none really troubled them in all honesty, most of them were headers. Valladolid completely shut down our attack. I was stubborn in that I didn't want to change our way of playing,
---
What do I want?
Well, I want to win the Copa del Rey. It's one of our best chances of silverware with Eibar on FM20. How will I win it? I'm not quite sure yet. Maybe the best question to tackle first should be how will I progress to at least the quarter finals of the competition.
While I mentioned my priorities don't exactly lie elsewhere, maybe I should prioritise the Copa del Rey. That will mean ensuring our strongest team possible plays in every round of the cup, rotating elsewhere potentially sacrificing a couple of points in the league or not progressing as far in the Europa League.
I should "dial it in" more. I'm just playing the same way as we usually do in the cup versus normal fixtures. Prioritising the cup stretches to my approach to game management during the ties too. Are the chances we're creating not going in? I should try and tweak something. Do we have a two-goal lead in extra time? I should try and defend that lead and see out the match.
Next season I'll be aiming to progress further in the Copa del Rey. Wish me luck!
---
We're living in strange times. Things are a struggle for everyone but if you can at all, the below charities are vitally important and will certainly continue to be at this time, please consider donating to them.
---
Donate to Mind or SAMH – charities in England, Wales and Scotland providing mental health support and care.
CALM – leading the movement against the single biggest killer of men under the age of 45 in the UK, suicide.